64th National Film Awards 2017: Dominance of Marathi films in winners list isn't a fluke
The Marathi film industry has always nurtured cinematic gems, and films like Kaasav, Ventilator and Dashakriya winning 2017's top National Awards is proof.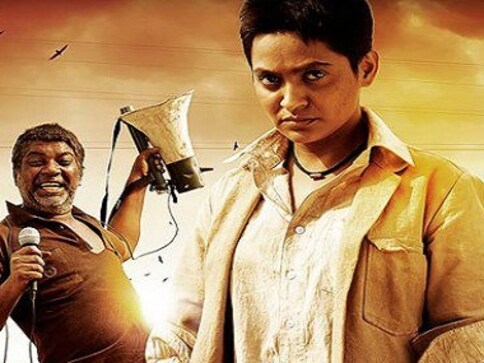 Editor's note: The 64th National Film Awards were announced by the Directorate of Films on Friday, 7 April 2017. And while previous years have seen Bollywood — for better or worse — dominate the winners' list, this year, the situation was a tad different. While there are a smattering of films and actors from the South industry that are named, the top honours have a fair representation of Marathi films. This includes the Best Feature Film (won by Kaasav, Mohan Agashe's cinematic ode to battling depression and loneliness), Best Director (Rajesh Mapuskar for Ventilator), Best Editing (again, for Ventilator, which incidentally marks Priyanka Chopra's foray into Marathi films as a producer) and Best Supporting Actor (Mohan Joshi, for Dashakriya). But this shouldn't be a surprise, considering the Marathi film industry also marked one of its first 100-crore blockbusters in 2016: Nagraj Manjule's Sairat.

This article, originally published on 4 June 2016, looked at the gems Marathi cinema had to offer, and argued that Sairat certainly wasn't a fluke. We're republishing it in light of the 2017 National Awards. Read on…
***
In April 2013, a little Marathi film named Touring Talkies quietly arrived in theatres. It disappeared just as silently, completely slipping under the radar. Directed by prolific Marathi filmmaker Gajendra Ahire (probably one of India's most accomplished yet underrated directors), it was an ode to the movies like no other. A film about the quaint tradition of the travelling cinema, apart from its rare insights into the balance of the art and commerce of films, it also happened to have a refreshingly audacious female protagonist. (And we all know how rare that is in India.)
Just about a year before this, in May 2012, Mahesh Manjrekar — he of some rather mediocre Hindi films — was out with a Marathi film named Kaksparsh. A gut-wrenching period tragedy about forbidden love set in a conservative Brahmin household, the film was understatedly bold, crafted with surprising sensitivity and invariably managed to gain an emotional stranglehold over the engaged viewer. This was cinema doing what it must; it hurt, and it left a piece of itself behind. (Mahesh Manjrekar's Marathi filmography in general so effortlessly outshines his work in Hindi cinema, it's fascinating.)
Today, Nagraj Manjule's Sairat — that charming, hurtful, stellar commentary on class, caste and young love — may be the talk of the urban village; but go back down the years and you'll see that Marathi cinema has consistently produced such gems. This, despite it being the ignored step-brother in a state where the first language may be Marathi, but the first love is largely the high-stakes glamour of Hindi cinema.
Post-2004's Shwaas, which was India's official entry to the Academy Awards back then, Marathi cinema got a shot in the arm. Since then, budgets have increased, technical excellence has begun to set in, box office returns have gotten significantly better; and more importantly, the cinema of Maharashtra has found its place in the national spotlight. So much so that this current phase is even being called the "new wave" of Marathi cinema.
It isn't surprising, then, that the list of highest-grossing Marathi films of all time usually has a new name at the top every few months or so, the latest being Sairat. It happened to take the mantle over from Mahesh Manjrekar's Nana Patekar-starrer Natsamrat, which arrived in early 2016. Before that, the top spot was held by the musical Katyar Kaljat Ghusali, which had released just a few months before Natsamrat. The sustained quality of Marathi cinema is clearly driving audiences to the theatres in increasing numbers, building trust in every future film like never before.
It is easy to unravel just why Marathi cinema manages to have the impact it does. Marathi films that connect with audiences — and such films seem to appear with increasing regularity these days — work because they are unabashedly home-grown. They are usually rooted to a real time and a real place, are rich with quintessentially Marathi references in their dialogue and treatment, and are shorn of needless technical showboating and the commercial trappings we usually associate with Hindi cinema.
Read on Firstpost — 64th National Film Awards 2017: Neerja, Akshay Kumar, Surabhi Lakshmi win top honours
Indeed, the least impressive Marathi films are usually those that attempt to copy big brother Bollywood; watch Nishikant Kamat's Riteish Deshmukh-starrer Lai Bhaari, for instance, and you'll see Bollywood mediocrity dripping from every frame of this inflated commercial potboiler. The film made big bucks, true, but that was primarily because of intense marketing based on the draw of a 'son of the soil' who made his fame and fortune in Hindi cinema, finally coming back 'home' to star in a Marathi film. (It's all very 'filmy', yes. Incidentally, Lai Bhaari also happened to have a cameo appearance by everyone's Bhai, Salman Khan himself, spouting his fake-English-accented fake-Marathi.)
Marathi cinema does have frequent misses, but the hits (not in a commercial sense) are sometimes truly special. It helps that a bunch of intelligent and sensitive filmmakers are at the forefront of this revolutionary phase. Umesh Kulkarni (director of Valu, Deool and Vihir, among other films), Girish Kulkarni (maverick writer and actor, who incidentally wrote the aforementioned films) and Nagraj Manjule (who made the festival-favourite classic Fandry before he gained mainstream national fame with Sairat), make films that fall squarely into the category of 'world cinema'; for these are films and filmmakers that we can be proud of even on the global stage.
The other curious phenomenon is the soaring popularity of music composer-duo Ajay and Atul Gogavale. Such is their clout that even big ticket films scored by them now go with the prominent tagline 'an Ajay-Atul musical', choosing to ride on their name instead of that of the director or lead actor. Despite a significant body of work in Hindi cinema, their best work has consistently been for Marathi films.
Their original melodies span the range from soulful to chartbusting with apparent ease; even while their music has the rooted quality associated with the films themselves, they continue to push boundaries. The score for Sairat was the first Indian film score to be recorded at the Sony Scoring Stage in Hollywood, LA. The soundtrack for the film is rich in texture and melody, with the Hollywood orchestra enriching the sound to a new level of spectacular. (Watch a video of their experience of recording that soundtrack here. And fans of Marathi cinema, please don't take offence to the fact that the foreigners refer to Sairat as a 'Bollywood' film.)
What is most heartening about the box office success of so many Marathi films lately is the fact that it blows to smithereens that common excuse given for mediocrity in our cinema — "We give the audience what they want." No, not really; because we Indians are far more evolved consumers of content than we're given credit for. Slice-of-life stories that focus on strong characters and identifiable situations will always connect with viewers and will always be profitable if they are budgeted right.
Take the 2015 film Double Seat, directed by Sameer Vidwans, for instance. A charming little film that is driven purely by the hopes and ambitions of a lower-middle-class Maharashtrian couple in Mumbai, its beauty lies in its little moments that strike an emotional chord. Despite having big stars playing the lead pair, the film is grounded and uncomplicated. With strong word-of- mouth, it was no surprise that the film had a long and successful run at the box office. (On the other hand, if you want to sample a so-bad-it's-good Marathi film, ferret out a copy of Jackie Shroff-starrer Hridaynath. You can thank me later.)
There are lessons to be learnt from Marathi cinema; foremost among them being the fact that sensitive, insightful writing with a truly human perspective unfailingly appeals to audiences. Here's hoping, then, that Marathi cinema doesn't get an 'ollywood' suffix anytime soon, because heaven knows, no regional cinema bestowed with that sort of ridiculous sobriquet has sustained its quality for too long. And the next time someone strongly recommends a Marathi film, do yourself a favour and go watch it.
Entertainment
In an interview with Firstpost, Kamakhya Narayan Singh talks about the emotional journey while making Justice Delayed but Delivered, how cinema and documentary can be a great medium to give voice to the voiceless, and more.
Entertainment
Dada Kondke's constant heroine Usha Chavan was subjected to a torrent of lewd songs and dance movements in which 'lena' and 'dena' occurred prominently.
Entertainment
Anil Kapoor is all set to be the next guest on the show Case Toh Banta Hai. In the promo, the veteran reveals that not a single strand of his hair has gone grey yet.