On 5 June, India will be part of the 44th celebration of World Environment Day, which is designed to encourage awareness and action for the protection of the global environment. In the last four decades, environmental awareness has expanded to inform aspects of international education, policy, law, state relations, and corporate behavior. More recently, growing environmental concern has helped fuel the growth of Environmental, Social, and Governance (ESG) investing—called Sustainable Investing. In fact, assets invested with a sustainable mandate reached $21.4 trillion in 2014, up 61 percent since 2012. In Asia, the growth was an impressive 32 percent.
This growth reflects the convergence of several factors. The relative accessibility of information around the globe means that people have a better sense of how corporate choices shape the world. Additionally, there is a growing sense that corporate profits can't come at the expense of the environment, society, or workers. Finally, emerging investor groups, particularly working millennials and women, see ESG factors as important—and asset managers, banks, and brokerage houses are working hard to deliver investment products to meet growing demand.
On a global basis, India's performance is about average—and on par with that of the US, as per Morningstar Sustainability Ratings, an index launched by US-based investment advisory firm in early 2016. Both countries lag top performers in the Eurozone. In environmentally-conscious Europe, Iberian countries (Portugal and Spain) top the chart with fellow EU members France, Netherlands, and Germany landing in the top quintile. Korea is the highest-scoring Asian market, with Australia also exhibiting notable strength. Occupying the bottom quintile for Environmental Scores are all emerging markets across the Middle East, Southeast Asia, and Central and Eastern Europe.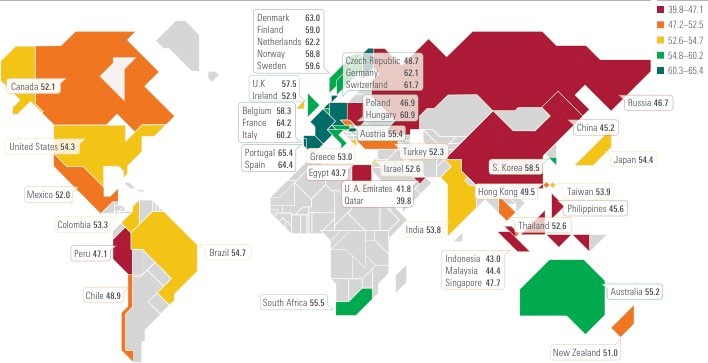 In India, information technology companies dominate the list of strong environmental players, contributing to the country's overall environmental score, which outranks many of its immediate neighbors.
Environmental leaders:
| | | | |
| --- | --- | --- | --- |
| Company name | Sector | Industry | Environment score |
| Wipro | Technology | IT Services | 100 |
| Tata Consultancy Services | Technology | IT Services | 93 |
| Tech Mahindra | Technology | IT Services | 90 |
| Larsen & Toubro | Industrials | Engineering & Construction | 87 |
| Infosys | Technology | IT Services | 87 |
| Hindustan Unilever | Consumer Defensive | Household & Personal Products | 82 |
| HCL Technologies | Technology | IT Services | 79 |
| Ambuja Cements | Basic Materials | Building Materials | 77 |
| JSW Steel | Basic Materials | Steel | 77 |
| ABB India | Industrials | Diversified Industrials | 76 |
Note that Wipro, the top ranked company based on environment scores, boasts strong environmental management systems and green procurement policy; it is similarly strong on environmental policy and greenhouse gases reduction programs. Wipro's code of business conduct and ethics requires suppliers to conduct safe and environmentally‐conscious operations. The company uses only Energy Star certified computers and its activities mostly take place in LEED certified buildings. This emphasis is part of the firm's revenue strategy, too. In fact, income from Sustainability related products and services, essentially solutions for enterprise‐wide energy operations and efficiency management to its clients via its Wipro EcoEnergy business unit, account for more than 5 percent of its total revenues.
Among other companies, Larsen and Toubro scores well despite operating in the construction industry which is usually considered energy- and carbon-intensive. The company's use of renewable energy through solar and wind powered turbines contributes to more than 11 percent of its indirect energy mix in its own operations. The company's green portfolio contributed 18 percent of its FY 2014-15 revenues, illustrating L&T's commitment towards product sustainability. The company's focus on green buildings is evidenced by its membership with the Indian Green Building Council, its 14 green certified buildings and one green certified factory as part of its operations. It also constructed a total of 43.7 million square feet of certified green building space for its customers.
Environmental laggards: The laggards in this list usually score poorly on preparedness (environmental policies), management and disclosure. For example, Power Finance Corporation is involved in financing the coal industry and receives poor scores on weak environmental policy, lack of disclosures on environmental management systems, and lack of disclosures on greenhouse gas reduction programs.
| | | | |
| --- | --- | --- | --- |
| Company name | Sector | Industry | Environment score |
| Power Finance Corporation | Financial Services | Credit Services | 30 |
| Adani Enterprises | Basic Materials | Coal | 30 |
| LIC Housing Finance | Financial Services | Specialty Finance | 32 |
| Shriram Transport Finance Company | Financial Services | Credit Services | 33 |
| ICICI Bank | Financial Services | Banks - Regional - Asia | 34 |
| Indiabulls Housing Finance | Financial Services | Specialty Finance | 35 |
| NTPC | Utilities | Utilities - Independent Power Producers | 39 |
| Sun TV Network | Consumer Cyclical | Broadcasting - TV | 40 |
| Eicher Motors | Consumer Cyclical | Auto Manufacturers | 40 |
| IDBI Bank | Financial Services | Banks - Regional - Asia | 40 |
As scrutiny of the environmental impact of corporate behavior grows, company performance on environmental standards will come under increased pressure. At both the portfolio level and the individual security level, the market needs transparency and clear standards. Investors are looking for a research-driven approach that is consistent and comprehensive when it comes to environmental-, social and governance-based investing.
(The writer is Manager, New Product Development – Indexes, Morningstar)
Updated Date: Dec 12, 2017 15:57 PM