Working couples contribute to GDP a lot; give them a hefty tax break
The omnibus tax impetus scheme for savings and investments section 80C has long remained a one-size-fits-all scheme. It is time it shed this approach
In the Unites States, a husband and wife can file a joint return and get a hefty close to 50 percent relief from tax liability vis-à-vis the tax that would have had to be paid had the couple filed separate returns.
In India, family as a unit of assessment is confined to Hindu Undivided Family (HUFs) and Goans, but both are limited in their reach. HUF only in respect of family property and Goans only if they have adopted the Portuguese family law.
In India, the tribe of working couples is growing by the day. They contribute to the national GDP tremendously often at the cost of family comfort especially with children inevitably getting a short shrift. Joint property and income pooling is in any case conducive to togetherness. The Finance Minister must encourage such couples by giving a hefty tax break. Any reasonable rider such as withdrawal of the concession in case of divorce cannot be resented.
The late Prime Minister Indira Gandhi said famously----those united in heavens should not be separated on earth. She was all set to usher in the system of assessing couples as one unit but inexplicably gave up without so much of an explanation. The Modi government has not fought shy of breaking new grounds. This could be yet another feather on its cap.
P. Chidambaram, the then Finance Minister, started mixing up personal and corporate taxation in 1996 in the name of convenience in tax mop-up. Jaitley should resolutely distance himself from this stance of Chidambaram and revert to the age-old dispensation of taxing dividend in the hands of shareholders. As a corollary dividend distribution tax (DDT) should go and section 80L, sparing a part of dividend from tax must stage a comeback.
Widows and retired persons, for example, having no taxable income end up paying a vicarious DDT and rich persons get away with a slap on their wrists under the extant DDT regime. Last year Jaitley slapped a 10 percent tax on dividend in excess of Rs 10 lakh received by them. But this is a half-hearted measure. DDT should go lock, stock and barrel.
The omnibus tax impetus scheme for savings and investments section 80C has long remained a one-size-fits-all scheme. It is time it shed this approach. As it is, everyone gets a deduction upto a maximum of Rs 1.50 lakh on an array of savings and investments avenues. There is no reason why savers shouldn't be incentivized by giving heightened deduction on a sliding scale. Second, Rs 1.5 lakh begetting 80 percent deduction, the next Rs 1.50 lakh begetting a 60 percent deduction and so on till the whole thing tapers off say when one reaches the Rs 10 lakh threshold.
There are many thrifty people who would benefit by this loosening of purse string and straightjacket.
Prime Minister Modi cleverly allowed senior citizens to earn 8 percent interest upto Rs 7.5 lakhc deposit provided they agreed to a lock in period of 10 years. The heightened benefits under section 80C too can come with the same price tag----10 year lock-in period.
The clamor for restoration of standard deduction for the salaried class is old hat but needs to be reiterated because successive finance ministers have cold shouldered it. Salaried persons pay tax through their nose. And professionals in contrast are cosseted so much so that while a salaried person with Rs 10 lakh of salary pays tax on the entire income, a professional reduces his professional receipts of the same amount i.e. Rs 10 lakh, reduces it to zilch by showing expenses.
A salaried person too spends money. It would be heartless to dismiss his claim as personal expenses. A standard deduction of Rs 5,000 per month from salary would meet the ends of justice.
Last year, Jaitley showed sympathy to very senior citizens by allowing a maximum of Rs 30,000 of their medical expenses as a deduction from income. There are many self-employed persons who incur medical expenses. And they are not very senior citizens yet. In all fairness at least hospital bills should be allowed as deduction for them.
For full coverage of Union Budget 2017 click here.
Business
The impact of demonetization on the economy will be long lasting if it's not now bolstered with an Indian equivalent of quantitative easing similar to what the US and western economies did after the 2008 banking collapse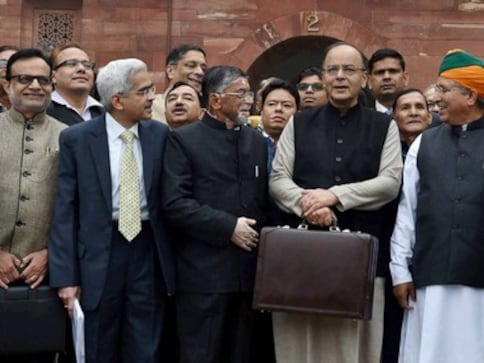 Business
As for the middle class, the bulwark of India's economic growth, there is little to cheer in the tax proposals which Jaitley outlined his Budget proposals for 2017-18
Business
The slaried is paying higher fees and cross-subsidising Right To Education; the government should allow full waiver of tuition fees without any cap