New Delhi: India is one of the fastest growing aviation markets in the world, clocking over 20 percent growth in domestic traffic month on month for many months now. One would assume that India's aviation infrastructure is keeping pace with this blistering pace of growth in traffic. No, it isn't. Majority of India's airports are managed by state-owned Airports Authority of India (AAI) and many of these remain un-served, a majority are loss making.
We have close to 400 airports across the country which are un-served - they do not handle even a single flight. But we also lack airport infrastructure at several places where demand actually exists. In the past, Civil Aviation Minister A Gajapathi Raju has laid the blame at airlines' door and compared them to horses who can be taken near the water but cannot be made to drink it.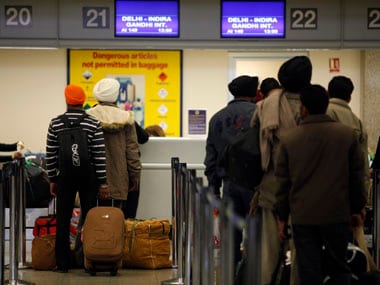 According to him, airlines not mounting flights to many existing airports are the biggest reason for patchy air connectivity in India. But look at this: there is a long list of airports run by AAI – 97 out of 122 - incurred losses in 2015-16.
Not all of these are un-served. In fact, the Raja Bhoj airport in Bhopal, Sri Guru Ram Dass ji airport in Amritsar and the one in Aurangabad together accounted for over Rs 150 crore in losses but both these airports service flights regularly. They are not ghost airports at all. So should airlines solely shoulder the blame for the unused airports and loss making ones?
Raju said in a written reply in Lok Sabha yesterday that airports incurred losses due to low revenue generation and that AAI has drawn up a master plan for development and increase in non-aeronautical revenues at airports across India.
There is a historical method to the airport madness in India. Under previous governments, airports which are turning in losses and those which remain un-served, were built partly to pander to local politics, partly because of inability of the AAI to judge where an airport should be in a state so that airlines find it viable to operate flights there and again, partly in the hope that airlines will get smaller aircraft to operate on these routes.
An AAI official had said earlier that most of the airports lying unused were built on the premise that India's airlines, including Air India, will operate smaller aircraft. This has clearly not happened. Now, we are once again banking on airlines leveraging their balance sheets and purchasing smaller aircraft to boost regional connectivity.
In fact, the regional connectivity scheme UDAN envisages a complicated formula through which the Centre, states and airlines will work out viability of connecting India's hinterland. The plan imposes fare caps while also offering viability gap funding to airlines willing to mount flights to these unviable routes and therefore infuse life into India's ghost airports.
Civil Aviation Secretary R N Choubey has said that several small aircraft manufacturers have shown interest in India's market after this policy was unveiled. The only question is: India's airlines are still ordering larger aircraft which cannot land at many of the smaller airports. Where are the orders for smaller aircraft? Also, earlier this week, airline lobby group FIA (Federation of Indian Airlines) has dragged the ministry to court over a levy imposed on airlines taking off from metro airports to fund regional connectivity. Will UDAN succeed now, when the matter is already under litigation, is anybody's guess.
In the written reply quoted earlier, Minister Raju has pointed out the change in approach to make airports under AAI viable – instead of the earlier system of individual contracts/licenses, recommendations of consultants now form the basis of revenue enhancing measures at select 14 airports. Redesigning the layout of existing General Retail and F&B outlets to maximize revenue, going in for revenue share mechanism instead of fixed license fee and simultaneous city side development of select airports are some measures the ministry had adopted in its quest for airport profitability.
According to an earlier Parliament reply by Minister Raju, the maximum number of ghost airports lie in Maharashtra - at Gondia (which was former Civil Aviation Minister Praful Patel's constituency), Juhu, Kolhapur and Sholapur, Akola and Jalgaon. Rajasthan and Punjab have three each in the list, at stations such as Jaisalmer, Bhatinda, Ludhiana and Pathankot.
Though these airports do not handle scheduled flights, staff has to be paid and depreciation accounted for. Delhi's Safdarjung airport, which is occasionally used for VVIP chopper flights, incurred losses of Rs 43 crore in FY16.
There is some good news too. According to Raju's reply in Lok Sabha, Chennai airport has turned in the maximum profit for AAI in FY16 at Rs 451.22 crore, followed by Kolkata at Rs 108.07 crore. Juhu and Goa airports are next at Rs 60.08 crore and Rs 47.39 crore.
In 2014-15, Hyderabad's Begumpet airport saw the highest government expenditure among all ghost airports at over Rs 67 crore, followed by Bengaluru's HAL airportat over Rs 58 crore and Delhi's Safdarjung Airport at almost Rs 47 crore.
What India needs is a complete overhaul of its airport infrastructure. Airlines need to be incentivised to fly to ghost airports instead of being penalized for the UDAN scheme. And for functional airports which are loss making, AAI needs to explore alternative management options such as giving out operation and management contracts to private parties. World class airports at Delhi and Mumbai, built with private sector participation, have been doing better than AAI managed airports.
Raju said in his reply that Delhi, Cochin, Hyderabad and Begaluru airports – all under the public private partnership mode – have turned in profits for FY16 as well as for two previous fiscal years. Mumbai airport is the only PPP airport reporting losses. Since AAI has a revenue sharing pact with these PPP airports, it has managed to strengthen its bottomline each year despite the long list of its own airports which turn in losses. For FY16, AAI reported a net profit of Rs 2537.36 crore, higher than the Rs 1959.22 in 2014-15.
Updated Date: Dec 02, 2016 12:35 PM