There is no major sign of relief for Indian banks yet when it comes to the bad loan pains. The December-quarter earnings of country's second largest private lender by assets, ICICI Bank, signal this. And more importantly, what is in store for state-run banks, which are yet to announce their quarterly numbers.
ICICI Bank registered a sharp increase in its gross non-performing assets (GNPAs) to 4.72 per cent of total loans in the quarter as compared with 3.77 per cent in the preceding quarter and the 3.40 per cent in the year-ago quarter. This was primarily due to the fact that the bank had to set aside higher chunk of money to cover provisions on the bad loans. Under RBI norms, banks are required to set aside money against possible losses in future.
ICICI Bank's total provisions, during the quarter, nearly tripled to Rs 2,844 crore as compared with Rs 942 crore in the preceding quarter, which weighed heavily on the bank's bottom line. This is the second consecutive quarter ICICI bank is registering an increase in bad loans. What minimised the hit on bank's bottomline is the fee-income, which grew by a robust 40 per cent quarter on quarter.
If one looks at the trend of 13 banks which announced their earnings so far, most banks have continued to report an increase in their overall bad loans. The resultant pressure on their profitability is evident. However, the pace of increase in bad assets has come down.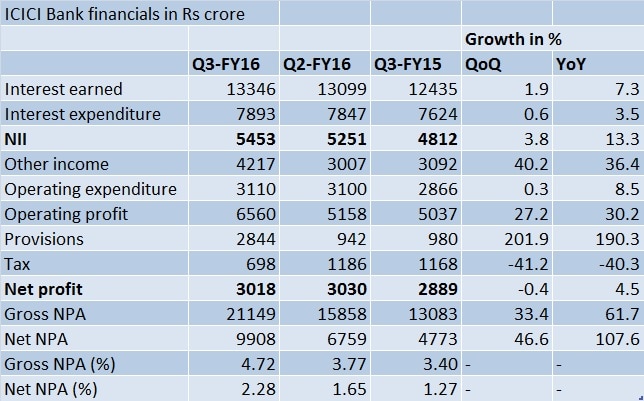 Why bad loan hurts
Indian banking sector has been facing severe stress on their portfolios in the last few years, as large corporate borrowers have stopped paying back money in the context of prolonged economic slowdown. Banks are also fighting with certain corporate promoters, who are unwilling to pay back funds evenif they have the capacity to do so. One example is Vijay Mallya owned, Kingfisher Airlines. The now-defunct airline owes over Rs 7,000 crore funds to a group of banks, including SBI.
The increasing chunk of bad loans has significantly pushed up the capital requirement of banks and the borrowing costs of borrowers. This is a major pain for the government as well since about 70 per cent of the banking system is owned by it. Hence, the onus to infuse capital in these banks rests with the government.
According to estimates, state-run banks need about Rs2.5 lakh crore funds in the next three years to meet their Basel-III requirements. But the actual fund requirement will be even higher since banks also need to set aside funds for bad loans and push credit to productive sectors.
For these reasons, one of the major challenges for finance minister Arun Jaitley has been handling the bank capitalization issue. The government, under a revival plan for state-run banks, have promised to infuse Rs 70,000 crore in PSU banks and has asked them to raise the remaining amount from market. But, this isn't an easy task for banks as markets are choppy and investor appetite is less.
Capital burden will be even higher for banks since the RBI, under Raghuram Rajan, wants them to clean up their balance sheets by March, 2017. This would mean that, by then, banks will have to make provisions for all stressed assets on their books, which will require significantly higher amount of capital. About 12 per cent of the total loans given by banks are estimated to be in the stressed category.
If one goes by the ICICI numbers, there is no sense of an improvement in the asset quality scenario yet. But, one needs to watch for the earnings of large state-run banks to get a clearer trend.
Data from Kishor Kadam
Firstpost is now on WhatsApp. For the latest analysis, commentary and news updates, sign up for our WhatsApp services. Just go to Firstpost.com/Whatsapp and hit the Subscribe button.
Updated Date: Jan 28, 2016 18:40 PM