Visa bans, investment woes: Why lack of fresh jobs may emerge as Modi's big nightmare in 2019
It is not just an economical challenge Modi will have to face, but political as well.
In the run-up to 2014 general elections, Prime Minister Narendra Modi, promised one crore jobs to Indians. With private investment cycle refusing to take off in a big way and global situation turning adverse, this promise has remained unfulfilled and has, instead, become a big burden for the BJP-led NDA-government.
This problem is not new. The previous UPA-government has faced flak for an era of 'jobless growth'. All through his first three years in office, employment generation has been a big challenge for Modi too. In the backdrop of countries like the USA and Australia turning increasingly local with regard to hiring and aggressive in firing foreigners, the challenge will be even bigger for this government to work on its promise in the remaining period of its five-year term.
The Donald Trump administration's order on local hiring and Australian visa restrictions throws a serious challenge for Modi, who is already battling a domestic economic slowdown. It shows while developed countries bat for free flow of capital, they do show a double standard when it comes to free flow of labour as pointed out by Sanjay Ghosh, Labour Lawyer and columnist in this article in DNA. This, Ghosh says, is also a foreign policy failure of Modi and the inability of this government to put pressure on foreign governments to calibrate their policies taking into account India's interest.
In the changed scenario, countries like India have no option but to generate more jobs locally. How have we done so far on this front? Take a look at these numbers. According to Minister of State for Planning, Rao Inderjit Singh in Parliament in February this year, the unemployment rate in the country is on the rise. The condition of people in the category of Other Backward Classes (OBC) is worse among the broader population. While the overall unemployment rate in the country is 5 percent, it is 5.2 percent for OBCs.
To get a perspective, one needs to look at the historic numbers as well. The unemployment rate in the country was 4.9 percent in 2013, 4.7 percent in 2012 and 3.8 percent in 2011. As for the scheduled castes, the unemployment rate was 3.1 percent in 2011, which has now risen to 5 percent. That means, while there has been a steady increase in the number of jobless people since 2011, there has been a worrying, almost double, jump in the figures pertaining to the unemployment figures among the scheduled castes. In fact, ever since Modi came to power, there have been several cases of job losses in the informal sectors, thanks to steps such as 8 November, 2016 demonetisation announcement that has hit cash-intense sectors.
Why is there no job growth domestically? The simple reason is that investments are not picking up at the desired pace. Unless new factories and projects come up, it is difficult to generate more jobs. If one looks at the factory output data, the 1.2 percent contraction in February IIP in comparison with a 3.3 percent spike in January is primarily contributed by a sharp decline in manufacturing (- 2 percent) and capital goods (-3.4 percent) components. No good news here. This even raises suspicion that the pick-up in the segment seen in January was misleading and any sustainable reversal trend is yet to happen. More worrying trend is the fall in capital goods, which is essentially an indicator of the investment activity on the ground. This segment has contracted 3.4 percent in February as against a growth of almost 11 percent in January.
Unemployment rate of persons aged 15 years and above according to Annual Employment and Unemployment Survey (in percent) 
| | | | | |
| --- | --- | --- | --- | --- |
| Social groups | 2nd  EUS (July,2011) | 3rd EUS (October. 2012) | 4th  EUS (December,2013) | 5th EUS (August, 2016) |
| SCs | 3.2 | 4.5 | 4.6 | 5.0 |
| STs | 2.6 | 3.6 | 4.5 | 4.4 |
| Total | 3.8 | 4.7 | 4.9 | 5.0 |
Source: Labour Bureau, M/o Labour and Employment (Usual Principal Status UPS approach)
A big concern is that companies, including MNCs, are now focusing more on improving efficiency of the existing workforce, rather than hiring new workers. With a dip in overall demand and capacity utilization, companies are looking to lay off people to cut costs. The tightening of H-1b visa regulations in the US and elsewhere adds to the worries. Industry body Assocham, has already warned that Indian IT firms may be forced to lay off staff due to the tightening of US H-1b visas. But, falling manufacturing sector has already resulted in a number of jobs being cut. In April-September period last year , engineering major Larsen & Toubro laid off 14,000 employees across businesses saying it was a 'strategic decision' necessary to stay 'agile and competitive', a PTI report said.
In July last year, reports came that India's largest e-commerce company, Flipkart was sacking at least 700 employees, or over three percent of its workforce, as it looks to cut costs, the PTI reported. There have been job cuts across other verticals too (read Firstpost story here) from companies such as Ola cabs, AskMe and others.
Looking at the broader picture, the challenges are many for the Modi-government. Logically, it needs to work on areas that create hurdles for new private investments, aggressively push public spending to create more demand and promote local entrepreneurship that can result in the creation of more jobs. The changes in the global employment market will push more professionals back to their home countries creating need for more local jobs, although it might help reducing the problem of country losing talent.
It is not just an economical challenge Modi will have to face, but political as well. The PM is facing criticism even from the labour arm of the Rashtriya Swayamsevak Sangh (RSS), which has blamed him for losing more jobs rather than creating new ones. "Under the new government, 1 lakh and 35 thousand job opportunities have been created so far but 20 lakh people have lost their jobs," Baij Nath Rai, president of the Bharatiya Mazdoor Sangh, told The Telegraph in December last year.
If the NDA-government fails to generate more private investments and create more jobs, unemployment could emerge as one of the biggest nightmares for the Modi-government in the run up to the 2019 general polls. Considering this was  a campaign promise, the PM will find there is no easy escape from the problem.
India
Modi has been deemed to be one of the biggest supporters and proponents of Yoga.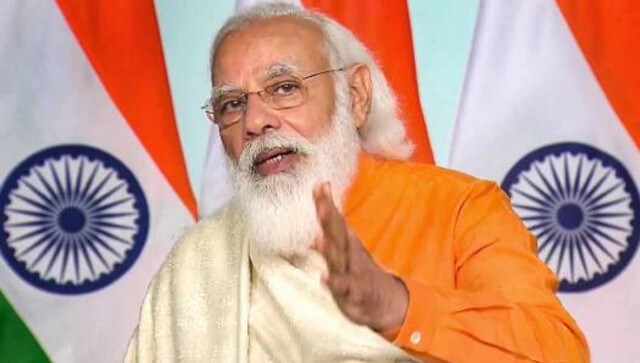 India
Huge celebrations have been planned for the occasion, with over 71,000 diyas to be lit at Varanasi's Bharat Mata temple
World
This comes a day after the US Special Presidential Envoy for Climate John Kerry launched the Climate Action and Finance Mobilization Dialogue in New Delhi