Vijay Mallya's loan: BoB mistook farmer, security guard for Kingfisher directors!
How could a marginal farmer in an unknown UP village, with a Rs 4 lakh loan to repay and Rs 5,200 in his accounts, stand guarantee for Vijay Mallya's loan?
At the annual review meeting of the finance minister with heads of public sector banks yesterday, Arun Jaitley said the government will protect from scrutiny of investigative agencies banks that enter into "commercially prudent" settlements to clean up bad loans. The fact that PSUs have run up more than Rs four lakh crore of non-performing assets (NPAs) is a crying indictment of the fact that banks have been anything but "commercially prudent" in lending to big corporates. The recent Snafu by Bank of Baroda in freezing the accounts of Manmohan Singh, a Uttar Pradesh farmer, for being a "guarantor" for Vijay Mallya's loan, goes to prove that the imprudence in lending is matched and compounded by the shoddy, casual approach in recovering the same bad loans. The Manmohan Singh case was dismissed as a technical error by BoB. 
Firstpost dug deep to understand how this 'technical error' might have occurred. This series of reports, which attempts to give you a peep into why and how these NPAs are created in the first place, will also demonstrate why the finance minister's offer of constitutional protection for banks from "commercially prudent" settlements should be extended extremely prudently. On to the first part.
***
Khajuria Naviram village in Uttar Pradesh—Bilsanda block, Pilibhit district–is a seven-hour drive from the national capital.
It's a long walk on a mud track to the house of Manmohan Singh, 52, a marginal farmer. Set on the edge of his eight-acre farm, it's a modest two-room tenement, flanked by a thatched-roof granary on the right.
Two jute-rope cots lie outside the house. On one rests Singh's ailing wife Narindar Kaur, 50, and on another, washed wheat is spread out to dry. A hand pump—painted green with moss—a bicycle, a clothesline tied to two pillars of a tin-shed at the entrance of the house, all speak of a quiet, unremarkable village life.
That's until December 2015. That month, the remarkable happened, though Manmohan had no hand in its occurrence.
Hundreds of miles away in Mumbai, Manmohan Singh's name cropped up in the books of India's second largest public sector bank. He was identified as the "guarantor" for a Rs 550 crore loan taken by none other than Vijay Mallya, corporate India's playboy.
The glitz and glamour of the (now) runaway business tycoon's life can hardly find any resonance in Manmohan's. The sheer size of Mallya's loan might be well beyond his comprehension, having himself taken a Rs 4 lakh crop loan, a big burden on his meager means.
Manmohan and Mallya are worlds apart. But for Bank of Baroda, India's international bank—its tagline says so—the world is indeed flat. So, that winter month when Manmohan visited the Bank of Baroda branch in Nand, to pay his monthly loan installment, he was told something he could hardly comprehend.
"I have two accounts with Bank of Baroda's Nand branch. I wanted to pay the monthly installment for the crop loan I had taken. But the bank officials told me I cannot operate my accounts because they had been frozen. They showed me a paper and said they had orders from their Mumbai head office because I was guarantor to Vijay Mallya's loan."
Then began the ordeal to rectify what then seemed like a comic oversight on the part of the bank, the ever useful 'technical error'.
"My wife has a brain tumour. She is undergoing treatment for that. And while we were struggling with all this, we were punished by the bank for no reason," says Manmohan.
The trauma was not just logistical and emotional. It was financial, too. Harvindar, 22, the younger son of Manmohan, says: "We had taken a crop loan of Rs four lakh. The interest rate is seven percent on which we get a concession of three percent, so we have to pay around four percent interest. But because of the delay caused by the freezing of our accounts, we had to pay around 12 percent interest and our credibility also suffered."
"We had never ever heard the name Vijay Mallya before that. After running around the bank branch for six months, we had to go to the media for help. Within a week of the news hitting national headlines, our accounts were re-activated."
It hit national headlines all right, but only as a sidelight to the Mallya plot, just a comic break from the political, legal and constitutional storm it had set off. No sooner than the bank admitted to the inadvertent mistake and reactivated Manmohan Singh's accounts, the media moved away.
The basic question lingered. Just how did this happen? How could a marginal farmer in an unknown Uttar Pradesh village, with a Rs four lakh loan on his head and all of Rs 5,200 in his accounts, stand guarantee for Vijay Mallya's loan?
The bank's explanation that Manmohan's name cropped up as "guarantor" inadvertently, did not quite add up. Why Manmohan Singh of Khajuria Naviram, Pilibhit district of Uttar Pradesh? Why not, for the sake of argument, Susan George Pulimoodu, from the Peroorkada Branch in Kottayam district of Kerala? Or any one of the six crore account holders of Bank of Baroda in India?
This boggled the mind. Un-boggling it required a visit to the Nand branch of Bank of Baroda.
The response was on expected lines. Mange Ram, the manager, was incommunicado. After dozens of calls, he spoke to Firstpost only to tell us that he was on fieldwork and that he could neither meet nor talk to us.
At the Nand branch office, there was a discreet silence. The staff there had been instructed not to speak to the media. All we get to know was what is already known: Manmohan's account was blocked on 15 December, 2015 and reactivated on 20 May 2016.
From outside the Nand branch, we called Ghanshyam Singh, the regional manager of Bank of Baroda stationed at Shahjahanpur. He responded but once again only to parrot the 'technical error' line. "Manmohan Singh has nothing to do with Vijay Mallya or his loan. We are investigating how this happened. At this juncture, I cannot disclose much," said Ghanshyam Singh.
We had hit a dead end. Bank-client privilege meant that there was no way of knowing what happened unless the bank came out and clarified fully. And it was clear as daylight that the Bank of Baroda central office had issued gag orders to its staff. It seemed like we would have to return with nothing more than the already well-publicised comedy-of-errors narrative.
Then a lucky break happened. By now, we had spent considerable time in and outside the Nand branch trying to convince the staff to show us the letter from the central office ordering the freezing of Manmohan's accounts. That's when we ran into a middle-aged person who tipped us that if we were looking for the letter, we were looking at the wrong place. "Try Manmohan," he said cryptically before walking away.
We had already met Manmohan. He, and son Harvindar had both told us the bank had only 'shown' them a letter. They did not mention being in possession of it. Excited, we rushed back to Manmohan's house and requested to see any letters/documents that the bank may have given them. It is then that Harvindar fetched this letter :
The letter, from the Bank of Baroda, Nariman Point Office (P.O. Box no 11745, Samata Bldg, Gen Bhosle Marg, Opp YB Chavan Centre, Mumbai-400021) to the concerned branch offices, began thus:
"We refer to the Adv A/C M/S Kingfisher Airlines Ltd and request that our regional office MMSR, Mumbai, has advised us to mark lien in the following accounts of the Directors / Guarantors of the said compnay as mentioned below.."
It then listed nine persons -- with their names, account numbers, location of accounts and balance therein -- as directors / guarantors of the loan. The first four were Vijay Mallya and three of his relatives. Manmohan figured fifth on the list. While all the Mallyas have their accounts in Mumbai, Bengaluru or Vadodara, Manmohan is the only one off the grid.
How was it possible, as the letter moved from desk to desk in the central office and then down the command chain to Nand branch, that nobody noticed the anomaly?
Importantly, there were four more persons on the list. All four of them had their accounts in Mumbai. Who were they? Were their accounts also frozen like Manmohan's? Were they really guarantors for Mallya's loan or were they a mere addition to the 'technical error' list of the bank? Was it possible that Bank of Baroda got five out of the nine names wrong on a freeze list involving a Rs 550 crore loan to Mallya?
We headed back to Delhi believing that we may have a small piece of the Mallya loan-guarantee puzzle.
Cut to Mumbai.
The Bank of Baroda central office's missive had listed four persons with accounts in Bandra and Khar branches of Mumbai. Firstpost made discreet enquiries at the Nariman Point office, Opera House office and the two branches (more about that in part II of this series) to identify these account holders.
Officers at all these places acknowledged, of course, unofficially, that the list was indeed genuine but stonewalled when contact details of the Mumabi guarantors were sought. It seemed like another futile fishing expedition when the second lucky break came along.
To our repeated questioning on how Manmohan, a small farmer from a Pilibhit village could've surfaced as guarantor for Mallya, one of the officers blurted out that action was taken against Manmohan not as a 'guarantor' but as a 'director'.
What! Manmohan Singh, a marginal farmer in an unknown Pilibhit village with combined savings of Rs 5200, is a 'director' on the board of Kingfisher Airlines?
All the national headlines had said Manmohan became 'guarantor' due to a technical glitch. Even Bank of Baroda had clarified that Manmohan was wrongly proceeded against, but was careful not to dispel the public perception that he was penalized for being a 'director' on Kingfisher board.
Curiosity suitably pricked, we looked up the Kingfisher board of directors list as filed with the Registrar of Companies (RoC).
Bull's eye! There, among the list of seven directors, including Vijay Mallya, was Manmohan Singh Kapur.
Manmohan Singh Kapur is a known name in banking circles, having served as the chairman of Vijaya Bank (from August 2002 to March 2006). He is on the board of a clutch of other companies and lives in Mumbai. The Hindustan Times had unearthed this fact, too, but did not push it hard to question just how this Manmohan Singh, the career banker became Manmohan Singh, the farmer.
To a detailed 10-point questionnaire from Firstpost, the Bank of Baroda corporate office responded with a one-paragraph answer, the highlight of which was to admit that the 'technical error' occurred because of the "similarity of names".
Manmohan's 'directorship' on Kingfisher board ended, thankfully for him, in just over five months. But it has left many questions hanging in the air. The chief among them are: How much does Bank of Baroda know or care to know about a company that it lends Rs 550 crore to? Who else was Manmohan Singh rubbing metaphorical shoulders with on the Kingfisher board? Vijay Mallya, Siddhartha Mallya, Utkarsha Mallya and Vijay Satish Mallya, is passe. How about a security guard from Mumbai?
That exposé is coming up in the next part of Firstpost's investigation into the Vijay Mallya loan guarantee puzzle. Watch this space.
Explainers
Rahul Gandhi has joined a small 'infamous' club of politicians who have been disqualified as MPs or MLAs after being convicted in a crime. Here's a look at the other prominent names
Opinion
India and the US need each other for their own interests, and also the sustenance of the liberal world order, currently under threat from the Chinese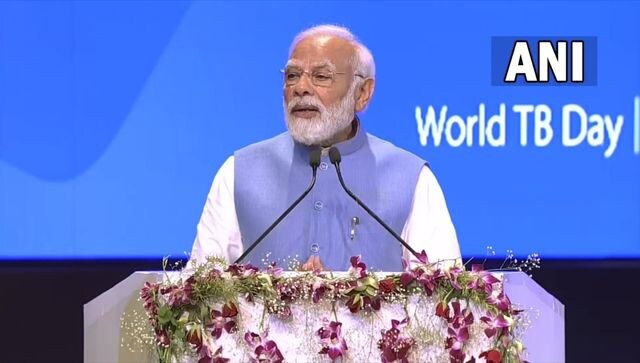 World
2030 is the global target to eradicate TB but India is now working on the target of ending TB by the year 2025: PM Narendra Modi at the 'One World TB Summit' in Varanasi, Uttar Pradesh.