Union Budget 2017 pulls out govt of demonetisation mire but disappoints in job creation
This solid, workmanlike Budget had few new promises and showed the determination to deliver old promises.
On 1 February, the government regained much-needed credibility after the bungle of the note ban. It presented a sensible, back-to-basics Union Budget for 2017-18 which has gone some distance to reassure the nation that aspirational Modi has not changed to populist Modi, despite the upcoming state elections. This is also what was needed in these uncertain times when the economy's fragile recovery is threatened by rising protectionism from America, climbing crude prices, and higher interest rates overseas. Fiscal prudence pays in these circumstances and it showed maturity to stick to the path of fiscal consolidation. For the sixth year in a row, the fiscal deficit has been reduced. As a result, there is a a profound sense of relief among investors, policy makers, and the stock market. The pay-off too will come eventually in the form of better credit ratings and easier access to capital on better terms.
This solid, workmanlike Budget had few new promises and showed the determination to deliver old promises. Prime Minister Narendra Modi was elected to control inflation, stop corruption, and bring back jobs. Inflation is largely under control; there has been no significant corruption scandal in Delhi during this administration; but the promise on jobs remains unfulfilled. Indeed, the failure to deliver jobs had been exacerbated in the past three months by a badly executed and avoidable demonetisation, which has added to job losses, especially in the informal economy.
The Budget tried to address the challenge of jobs, and it did a reasonable job of it, although it could have done more. The thrust of the Budget is, in fact, growth and jobs: 25 percent increase in capital spending that will raise infrastructure expenditure to almost Rs 4 lakh crores; continued push to housing (which is the most job creating activity in the economy) and giving it infrastructure status; abolition of the Foreign Investment Promotion, which is another signal about the ease of doing business to foreign investors at a time when India has become the highest recipient of foreign direct investment in the world, ahead of China and the United States; a reduction in the corporate tax rate from 30 percent to 25 percent for 95 percent of Indian enterprise; the generous funding increase to Mudra Bank, which funds job creating smaller enterprises and startups. All these steps will go some way to create jobs. The Budget should have tried to quantify roughly the number of jobs that this Budget aims to create. It's a difficult task as India's labour statistics are notoriously bad but the reform of labour statistics would underline the government commitment to creating jobs.
The singular failure of the Budget, however, is that it did not go far enough to address the weakness in private investment. Indian industry is still suffering from the slowdown which began in 2012, which began with a policy paralysis in UPA 2, and made worse by dreadful actions like retrospective taxation which undermined the state's credibility in the eyes of the private sector. Demonetisation has further reduced faith in the competence of the government. The investor no longer trusts India's tax administration. The first major healing step has been the passing of the Insolvency and Bankruptcy Bill. But the intractable problem of stressed assets and the NPAs of public sector banks continues. There is no easy answer to and eventually, the government will have to bite the bullet and reduce equity in public sector banks to below 50 percent. This is a continuing, painful legacy of the license raj which undermines economic efficiency. In no sensible free economy does the government own 70 percent of the country's banking assets.
Since it will take time to bring non-farm jobs, the Budget has done the next best thing, which is to push for improved productivity of farm jobs. An enhanced corpus of Rs 20,000 crore with NABARD for irrigation, on top of last year's Rs 20,000 crore, is welcome. As is, Rs 8,000 crore corpus allocated for promoting milk processing. The enhanced funding for crop insurance scheme is also a good idea, coming as it does on the empirical success of this program during kharif 2016. All these are sound actions only if they are transparently monitored and supervised. Indian agriculture's future lies in pushing states to implement reforms such as (1) E-NAMs (National Agriculture Market), thus ending the APMC (Agricultural Produce Marketing Committee) raj, (2) Having a predictable export-import regime for farm products rather than the present switch-on, switch-off policy and (3) Getting over the unscientific bias against genetically modified crops, which is holding back productivity. In the long run, it is important to abolish food and fertiliser subsidies, which total a staggering Rs 2 lakh crore, and which prevent the modernisation of Indian agriculture.
In its fight against black money and corruption, the Budget announced that the maximum cash donation that any party could receive from one source would be Rs 2,000. Other donations will only be by cheque or by digital means. To ensure privacy, the Reserve Bank of India will also be issuing electoral bonds that donors can buy for redeeming by a political party. These measures fall far short of full declaration of party funding, which Modi had said recently was necessary. While Rs 2,000 limit is better than Rs 20,000, it will be just as ineffective. Crooked politicians will get around it. If government is encouraging citizens to go digital, why shouldn't all party donations be by cheque or digital?
In the end, what makes this Budget credible is its inherent cautious approach in projecting revenues, taxes and expenditures. This is sensible because the Indian economy is likely to experience the most significant disruption in its fiscal history with the introduction of the Goods and Services Tax later this year. The Budget projects increase in gross tax revenue only at 12 percent despite the fact that it has grown by 17 percent per year over the last two years. In fact, it will do far better as gains come from demonetization with higher bank deposits and as black money converts to the formal, white economy. Equally commendable is the Budget's conservative approach in projecting expenditures at only 6.5 percent when revenue is projected to grow by 12 percent.
Indeed, it's a safe Budget for our unsafe times.
The author is a writer and commentator.
Find latest and upcoming tech gadgets online on Tech2 Gadgets. Get technology news, gadgets reviews & ratings. Popular gadgets including laptop, tablet and mobile specifications, features, prices, comparison.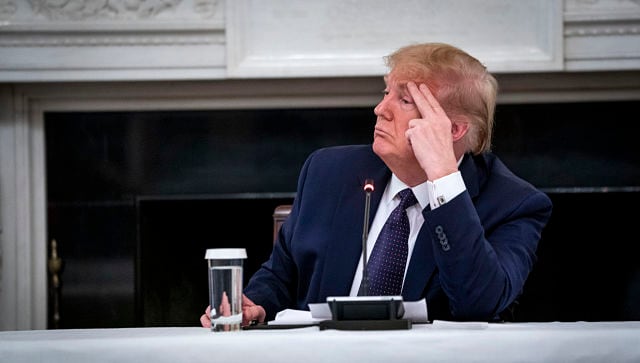 World
There is no strategy that Donald Trump could adopt, no policy choice that he could make, no tweet of himself in a mask that he could issue, that would fundamentally alter his political position
India
The Ram Temple, the National Education Policy and the CAA are all individual parts of a well-planned and visionary exercise to restore a wounded civilisation
India
Instead of constructive criticism of a responsible Opposition, the Congress party has sided with and fanned the most radical elements