Signs of GDP revival, Rs 9 lakh cr bailout apart, 2018 will likely be a tricky year for Narendra Modi govt
If the pick-up in core sector growth sustains, that'll augur well for the economy
Amid constant talks of economic slowdown, there are some positive signals seen on the ground, finally. Growth across eight core sectors hit a 13-month high in November—at 6.8 percent, faster than 4.7 percent in October and higher than the 3.2 percent recorded in November 2016. The eight core industries comprise nearly 38 percent of the weight of items included in the index of industrial production (IIP). Hence, the improved core sector numbers may reflect in the next IIP (index of industrial production) print.
Why are the numbers up this time? One of the main reasons is base effect. On a lower base last year, the numbers will show higher growth in the corresponding period this year. Similarly, manufacturing PMI also expanded at the fastest pace in five years in December, buoyed by a rise in output and new orders.
As rating agency Icra notes, since rise in core sector is a statistical effect, one has to wait and watch whether this trend sustains. "A favourable base effect led to the sharp spike in growth of cement and steel output in November 2017. Given the high growth in steel output in H2 FY2017, it is unclear if the double-digit expansion recorded in November 2017 will sustain going forward. However, cement output growth is expected to record a significant improvement in H2 FY2018 relative to the contraction in H1 FY2018,"Icra said.
Nevertheless, this also gives hopes of early signs of revival, also seen with improvement in vehicle sales.
Logically, if the pick-up in core sector growth sustains, that'll augur well for the economy. "The early indicators for industrial production in the organised sectors in November 2017 provide favourable signals, such as the uptick in growth of the core sector and sharp improvement in the expansion of automobile production and non-oil merchandise exports. We expect the growth of the IIP to rebound to a healthy 5-6 percent in November 2017," Icra said.
It added that the favourable base effect related to the temporary slowdown in activity after demonetisation, is likely to boost volume growth in a variety of sectors in the remainder of FY2018.
Modi's growth puzzle
Successive quarters of GDP growth slowdown before a 60bps pick up in the July-September quarter has made the growth scenario a challenge for the Narendra Modi government. Opposition parties have used this in big way to attack the government's 'economy mismanagement'. Growth recovery is a critical factor before the government faces more state elections and 2019 general elections.
After three and half years of Modi government, there aren't strong drivers of economic recovery yet. As mentioned in an earlier piece, various macro-economic data inputs (industrial production, vehicle sales, consumer confidence surveys) suggest that economic recovery is yet to happen in a significant way.
To be sure, contrary to what a section of critics believe, the slowdown wasn't necessarily triggered only by GST and demonetisation, but had begun many quarters before with both global and domestic factors hampering demand in the Indian economy. What happened was that the demand–slowdown was further worsened by the sudden onset of note ban that sucked out 86 percent of the currency in circulation in one go in late 2016.
The impact turned visible in the subsequent quarters particularly causing more damage to the informal economy, a big consumer and employer to the workforce. The segment constitutes about 40 percent of India's official GDP and employs more than 90 percent of India's workforce. This is also where cash plays a major role in keeping the chain alive. When post note ban, the remonetisation process got delayed for few months, the biggest victim of cash-scarcity was this segment.
Will Modi turn lucky this year on economy-front? Early this year, the government announced a massive economic bail out package of Rs 9 lakh crore,of which Rs 2.11 lakh crore is earmarked for the banking sector. There are aggressive disinvestment plans lined including that of Air India. Together, these measures can give a leg up to the economy going ahead. But, in the immediate term, there are challenges on the revenue-front. The GST collections have been falling steadily over the months ever since the new tax regime was introduced in July.
In November, the figure stood at Rs 80,808 crore, in October Rs 83,346 crore, in September at Rs 92,150 crore, in August Rs 90,669 crore and in July Rs 94,063 crore. The government is facing a difficult task in shaping the budget this year on account of less than expected revenue collections from GST, RBI dividend. With fall in revenue and expenditure pressure on the other hand (particularly due to absence of revival in private investments), the government is in a tight spot. The problem is worsened since this government has repeatedly promised not to breach the 3.2 percent fiscal deficit target this year.
To cut a long story short, there are some early encouraging signals on the ground, like what the November core sectors, manufacturing PMI numbers show. But, overall, the year 2018 is likely to be a tough year for the Narendra Modi government on the economic front.
For full coverage of Union Budget 2018, click  here.
Business
The manufacturing sector — which constitutes 77.63 percent of the IIP — declined by 3.7 percent in February 2021, as per NSO data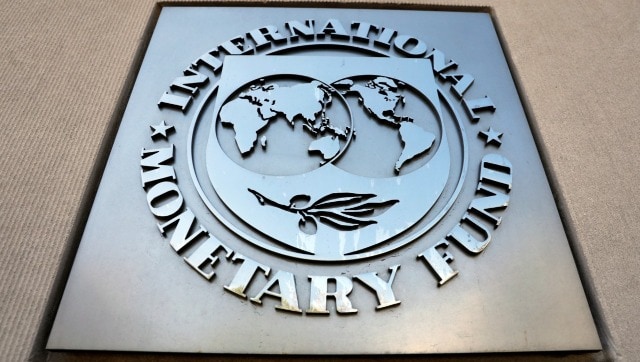 India
Vitor Gaspar, Director of IMF's Fiscal Affairs Department, said that widening deficits and contraction in economic activity, debt worldwide increased sharply to 97% of GDP in 2020
Business
While Nomura has downgraded projections of economic growth for the fiscal year ending March 2022 to 12.6 percent from 13.5 percent earlier, JP Morgan now projects GDP growth at 11 percent from 13 percent earlier