PF rate retained at 12%: Why don't employers contribute 14% and employees 10% to maintain status quo
Modi's promise of rewarding the salaried class with tax refund for their exemplary tax compliance from out of the proceeds of successive tax amnesty schemes has remained a mirage and a tall promise
The Employees' Provident Fund Organization (EPFO) under the Ministry of Labor had last week accepted with alacrity the demand for reducing the mandatory and matching provident fund contribution by employer and employee from 12 percent of salary to 10 percent. The rationale trotted out for the reduction were two-fold:
1) More money in the purse of employees by way of greater take home salary pro tanto; and
2) Ushering in parity with parallel and supplementary old-age protection or post retirement plans like National Pension Scheme (NPS)
Both the arguments were superficial and specious.  If the employers' hearts bleed so much for their employees, let them by all means increase their salary or share the organisation's prosperity equitably with them or through a combination of both.  Many company promoters doubling in as honchos or CEOs hog everything for themselves unabashedly through commission based salary or minimum salary whichever is greater in the manner of heads-I-win-tails-you-lose.  Honcho salary exceeding median salary by 1000 times is not a mythical story in India.  Even avowedly democratic companies like Infosys have been guilty of this.
Thank God, government has not gone along with the proposal. But it could have sent a better message by making it loud and clear both to the EPFO and corporate lobbyists that the more sensible way of putting more money into employees' pockets is to reduce taxes for the salaried class significantly going beyond tokenism as in successive budgets.  The salaried class has been the government's milch cow with a tight regime of tax deducted at source (TDS) making tax evasion impossible on salary.
The business and professional class have on the contrary gotten away all along lightly with a slap on their wrists if at all.  Modi's promise of rewarding the salaried class with tax refund for their exemplary tax compliance from out of the proceeds of successive tax amnesty schemes has remained a mirage and a tall promise.  A hefty standard deduction from their salary a la a hefty standard deduction from rental income would not only serve partially to correct the skew between the salaried and business class but also put more money into an employee's purse.
The reduction by a hefty 200 basis points of PF contribution would have left the employers happy all right with the reduction adding significantly to a company's bottom line especially if its bread and butter operations are labor-intensive but would have left the employees and their families with a considerably truncated retirement kitty.  In a country where post retirement financial security is woefully inadequate, the government would have committed an unpardonable sin had it chosen to support the most thinly disguised self-serving move of the corporates.  That NPS rate is 10 percent can be no logical reason for the more widely subscribed PF scheme to follow suit.
It is surprising that EPFO has been vested with the authority to take a decision on such a vital matter impinging on the fortunes of millions of employees and their families.  The government has done well to stop this retrograde move in its tracks.
It would be a fine gesture if the employers' organisations like FICCI, Assocham and CII voluntary came forward and agreed to contribute the 2 percent from their side.  In other words, let employers contribute 14 percent and employees 10 percent so that the status quo is maintained while putting employers on a higher plane.  Let this act of munificence make the grade as CSR spend.
I would not suggest a government fiat or law for this purpose because any suggestion of force is reprehensible but then equally reprehensible is shedding crocodile tears for employees while the real intent behind the jinxed reduction in contribution was sinister.  It is good that the Modi government has redeemed itself by jinxing the proposal with the swiftness and contempt it deserved.  Otherwise Rahul Gandhi would have gone to town with a fresh round of suit boot ki sarkar taunt.
Find latest and upcoming tech gadgets online on Tech2 Gadgets. Get technology news, gadgets reviews & ratings. Popular gadgets including laptop, tablet and mobile specifications, features, prices, comparison.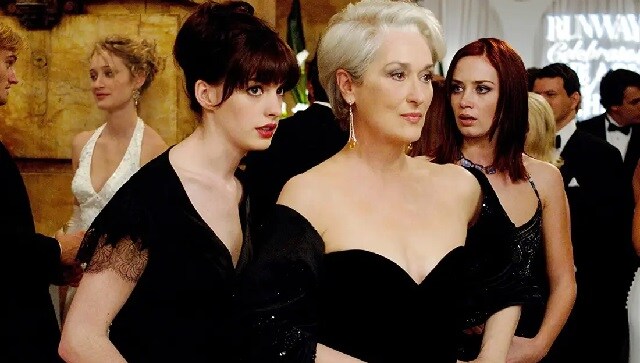 Entertainment
Despite having two women at its centre, The Devil Wears Prada ended up reaffirming and perpetuating harmful gender stereotypes for the most part.
World
When it came to Mother Nature, Trump was not humble, he did not seek national coordination in response to the virus and he did not ground what strategy he had in chemistry, biology and physics, but rather in ideology, politics, markets and an election calendar
World
The decomposing corpses of ideas feed and sustain the toxic cesspool our intellectual and social life has become