Patanjali eyes 100% growth in revenues to Rs 20,000 cr in FY18, plans 12,000 distribution network
The Haridwar-based FMCG firm had clocked a turnover of Rs 10,561 crore in the financial year ended March 31, 2017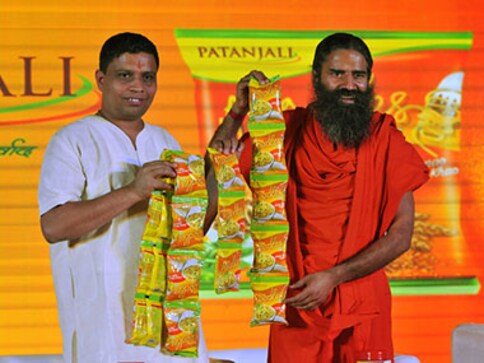 Yoga guru Baba Ramdev-led Patanjali is eyeing a two-fold jump in sales at over Rs 20,000 crore in the current financial year (2017-18) as it plans to double its distribution network to 12,000 across the country.
Besides, the company is aspiring to further strengthen its presence and lead in most of the product categories.
The Haridwar-based FMCG firm had clocked a turnover of Rs 10,561 crore in the financial year ended March 31, 2017.
"We would grow more than double this year... By next year, Patanjali would be in the leading position and in most of the product categories, it would be number one," yoga guru Ramdev said.
The yoga guru also asserted the company will not be spearheaded by any businessman in the future, and either a sanyasi or a monk like him will head it, NDTV report said.
He jokingly said that the company's target to double the turnover by next fiscal will certainly give sleepless nights to foreign MNCs operating here.
The company is in the process of setting up mega production units at several places, including Noida, Nagpur, and Indore, which would take its production capacity to Rs 60,000 crore from the existing Rs 35,000 crore.
"Our Noida facility would have a production capacity of Rs 20,000 crore, Nagpur 15,000 crore to Rs 20,000 crore and Indore Rs 5,000 crore," he added.
The company is also strengthening its distribution network to reach more consumers across the country.
"We would double our distributors' network to 12,000 from the present 6,000," Ramdev said.
This fiscal, the company is looking to enhance its focus on categories such as spices, pulses, vegetable oil, biscuits, confectionery and juices and add more products into these segments.
In FY 2016-17, Patanjali Ayurved contributed Rs 9,634 crore to its turnover, while Divya Pharmacy that manufactures ayurvedic medicine had clocked Rs 870 crore sales.
During the fiscal, Patanjali ghee had a business of Rs 1,467 crore and oral care brand Dant Kanti Rs 940 crore. Its personal care brand Keshkanti had sales of Rs 825 crore and herbal soap Rs 574 crore.
"Dankanti has now 14 percent market share in the segment. Honey is around Rs 350 crore and would grow to Rs 500-600 crore this year. Our kacchi ghani mustard oil is around Rs 522 crore and would grow up to Rs 1,000 crore," he added.
According to the company, it has now 15 percent market share in shampoo, 14 percent in face wash, 35 percent in dishwasher and 50 per cent in Honey.
Recently, the company said it is aiming to double its market share in the country's food processing market from 10 percent to 20 percent, and intends to spend Rs 5,000 crore for expansion across various segments.
With PTI inputs
Business
Pharma companies, for whom Maharashtra was earlier a preferred destination, shifted to Himachal Pradesh in recent years
India
A day after death toll due to swine flu crossed 700, Union Minister of State for Health Shripad Naik today said the Centre is sending special ayurvedic medicinal syrups to all states.
Life
India and Mauritius have signed an agreement for cooperation in the field of traditional medicine and homeopathy research