Nirmala Sitharaman to Network18: FM's take on capex, privatisation and message to global investors
Finance Minister Nirmala Sitharaman said India remains a well governed and a very well regulated financial market
New Delhi: Budget 2023 has been hailed as one that pushes for economic growth without compromising on fiscal prudence. Union Finance Minister Nirmala Sitharaman had a tough task of meeting expectations from a wide swathe of stakeholders who were keenly watching as she presented the last full Budget of Modi government's second term.
The FM ticked nearly all major boxes as she announced a mega capex programme of Rs 10 lakh crore and boosting consumption by offering relief on the income tax front under the new regime.
The Budget sent a signal that Modi government means business and is serious about improving the health of the economy. Cutting back on certain expenditure heads and utilising the space to increase allocation on capex shows intent of improving the quality of spending.
Key takeaways from FM Nirmala Sitharaman's exclusive interview with Network18:
The numbers for growth mentioned are realistic despite global uncertainties. "I don't think any one economy is so immune that the global volatilities don't affect them."
On Adani exposure of LIC, SBI
Exposure of big lenders such as LIC and State Bank of India (SBI) to the crisis-ridden Adani group is well within the permissible limits as stated by these lenders, said Union Finance Minister Nirmala Sitharaman in an interview with Network18 Group Editor Rahul Joshi on February 3.
Message to global investors
The finance minister said that India remains a well governed and a very well regulated financial market. She said that the investor confidence will continue and that one instance, however much talked about, is not going to be indicative of how well Indian financial markets are governed.
Process of privatisation of PSU banks is on. The amendments will have to be made.
The FM said that inflation has come down with the combined efforts of the RBI and the government. She said that the inflation moderation is expected to sustain and that there shouldn't be any pressure to keep raising rates. The twin deficits problem is also not as severe as before.
Talking about the changes to the new tax regime, she said that the purpose is to make it more attractive in terms of compliance and tax rates.
"I am more looking at it to make sure every Indian citizen makes his own choice, her choice. You are the best judge of what you want to do with your money," she said.
The FM said that the banking system is healthy as the bad debt situation has improved.
The FM said that higher focus on schemes like PM Awas Yojana and Jal Jeevan Mission will generate jobs in rural areas. MNREGA is a demand driven scheme and as and when more demand comes from states, we will go to the Parliament for supplementary demands.
The FM said that India Inc, both new and old, is looking forward to transitioning in energy-related matters and are now taking decisions to invest in new technologies that promote sustainability.
World
The unexpected jump in prices in the United Kingdom refocused attention on stubbornly high inflation that is pummeling consumers and slowing economic growth. Investors are now betting the central bank will raise its key rate by a quarter of a percentage point, to 4.25 per cent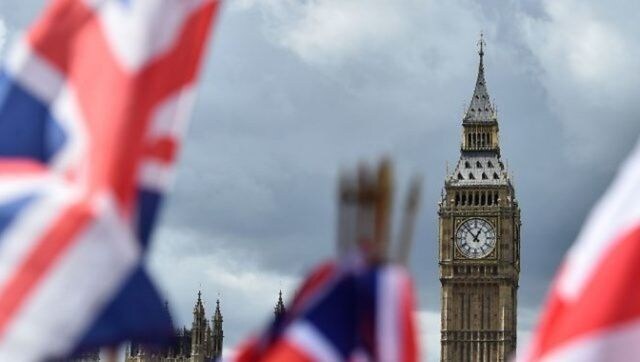 World
While economists expect prices to drop rapidly later this year, inflation is more than five times higher than the Bank of England's 2% target
World
The US Federal Reserve has raised rates 4.75 percentage points in a bid to tackle rising inflation, which reached its highest level in decades last year