Nirmala Sitharaman roots for 200 bps rate cut by RBI
RBI, which has maintained key interest rate at 6.5 percent since April this year citing inflationary concerns, is scheduled to hold its next policy review on 4 October
New Delhi: Commerce and Industry Minister Nirmala Sitharaman Wednesday pitched for as much as 200 basis points, that is 2 percent, interest rate cut by RBI to help the cash-starved MSME sector.
She did not specify if it would be at one go or over a period of time.
"I still hold that the cost of credit in India is high. Undoubtedly, particularly MSMEs which create a lot of jobs contribute to exports... are all hard pressed for money and for them, approaching a bank is no solution because of the prevailing rate of interest. I have no hesitation to say, yes 200 bps, I would strongly recommend," she told reporters here.
RBI, which has maintained key interest rate at 6.5 percent since April this year citing inflationary concerns, is scheduled to hold its next policy review on 4 October.
The next policy will be presented by Urjit Patel, who will take charge as Governor on 4 September.
Industry chambers like CII have been pressing for interest rate cut to boost manufacturing and economy as a whole.
The minister also said she will take up the matter with the Finance Minister about directing banks to pass on benefits of the rate cuts to the industry.
"I would want the entire banking system of this country to please be a bit more caring about the industry... it is time now for the Indian economy to have a breath of fresh air. The competitiveness of smaller companies is affected purely because of rate of credit," she said.
Every sector approaching the commerce ministry is all for "access to affordable credit". She said the interest subvention scheme announced for exporters has been helpful in dealing with the impact of global demand slowdown.
On exports, Sitharaman said: "I still hold on to the view that it is going to be tough climb, but I think it will be slow but steady."
"Before the actual arresting happens and before the actual rise happens, we will have to wait and watch. It would probably be very slow, but that drastic fall has definitely been arrested," she said.
After rising for the first time in 18 months in June, exports shrank again in July, contracting 6.84 percent, due to decline in shipments of engineering goods and petroleum products.
Business
In a letter written to all ministries, the Department of Economic Affairs, under the Ministry of Finance, said that while Budget announcements should be implemented within the same financial year, it has been observed that some of them take longer, requiring closer monitoring
Business
The price of the 19-kg commercial LPG cylinder has been reduced by Rs 198 in Delhi. The revised rate comes into effect from today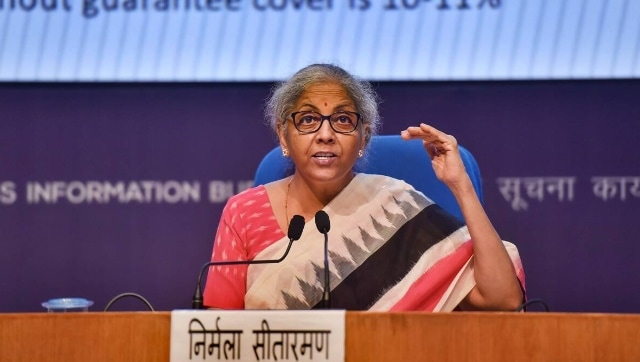 Business
Union Finance Minister Nirmala Sitharaman said that the government does not want to discourage export, but wants domestic availability to increase