New WPI, IIP series a much required move, but here are a few issues govt should take up
Any index is created based on a basket of goods which exists at a point of time, which is taken to be the base year, and then is tracked either in quantity terms (IIP) or prices (WPI) over a period of time.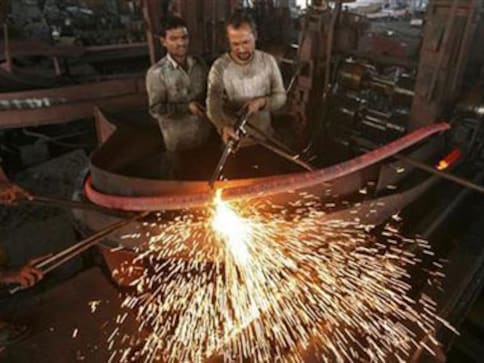 There were always going to be skepticism on the new series on Wholesale Price Index (WPI) and Index of Industrial Production (IIP) with political undertones being attributed to the same. The truth, however, is that this process has been on for a long time and is also necessary from the economic standpoint to reflect better what is happening at the ground level.
Any index is created based on a basket of goods which exists at a point of time, which is taken to be the base year, and then is tracked either in quantity terms (IIP) or prices (WPI) over a period of time. In a dynamic world, this basket keeps changing and hence becomes fairly irrelevant at some point of time. This is so because weights are attributed to these components based on relative importance at the time of selection of the base year. Evidently this has to change and hence moving away from 2004-05 to 2011-12 is absolutely necessary.
In fact it may be argued that this should have been done earlier as it is still too late because the GDP base was changed a few years back and by the time it is being done for the IIP and WPI, it is almost time to change the same for the GDP. Keeping this in mind, the Central Statistics Office (CSO) has rightly constituted a technical committee which will continue to monitor future changes which can be incorporated over time. An analogy can be drawn to say the Sensex, where it is essential to maintain the right basket of stocks for being representative of the stock market, which is done based on a predefined criterion.
How do the new numbers look? As expected, the WPI shows lower inflation and IIP higher growth. The former will bring cheer for the policy makers especially so as it has been high in the last few months. Coming now at 2 percent lower than the earlier base number, one can feel satisfied that wholesale prices are under control. It is important to note, however, that the new series of WPI excludes indirect taxes when picking up producer prices. The rationale given is that these are producer prices and should not take fiscal action into account. Besides this is also a global practice. This can be debated because taxes do distort prices in the country and by keeping them out would be misleading.
In fact, often in India when crude oil prices drop, the government tends to increase taxes to ensure that the revenue is not affected. Hence the wholesale price does not really change. In the new order, there would be a fall in the WPI. Ideally, a parallel series should be provided with the taxes included so that more meaningful relations can be drawn. Otherwise these WPI numbers would be statistically important though no one would be able to relate to them. Keeping taxes out of the definition runs the risk of the wholesale price not being identified by any constituent as the cost of a product. Also, with the GDP numbers now taking in the net indirect taxes concept in value addition, excluding them here could create an anomaly.
The IIP classification too has changed which is pragmatic as there are several goods like floppies or typewriters which have gone out of circulation and there is no production, thus giving growth numbers of zero. By replacing them with products that are being produced now and not earlier like iPads or mobile handsets, the IIP better reflects the true situation. The CSO has split the use-based series to include primary and infra goods, which essentially include a large part of the earlier concept of 'basic goods' which adds depth to interpretation of numbers.
There are some questions which, however, remain. The first is the flow of data. A problem with our data series is that they are procured from various agencies or associations based on returns filed by companies. However, it is not mandatory for a steel company to provide production data to the association and when they do it could be a provisional estimate. This number changes over time leading to large revisions. This is something that cannot be addressed easily and one needs to wait and see whether such revisions become less frequent.
Second, there is a large informal sector which has to be covered which does not keep formal data. This is pertinent from the point of view of industrial production in particular as there would be under-reporting. One may hope that once GST is implemented such data will be incorporated into the system as this new tax system ensures an audit trail for producers to claim tax benefits on raw materials.
Third, these numbers would still be different from those in the GDP data which has been admitted by the CSO. While one deals with production numbers in quantitative terms -- the latter with value addition, the important thing is that GDP numbers are based on income statements filed and hence would not match those who give production details. Hopefully, the anomalies would be lowered in this new approach to IIP calculation.
Fourth, the CSO should try and work in a manner in which all the four indices/indicators: GDP, CPI, WPI and IIP have new base years at the same point of time so that comparison becomes easier.
Cleaning up data systems and revising compositions to reflect reality is necessary when it comes to collecting data. Given that there is a large unorganized sector, challenges will always remain. The CSO has been doing a good job in bringing the systems and data bases up to date and should be complemented. Having a technical committee which monitors the same regularly adds more credibility to the methodology.
Business
The 30-share BSE Sensex gained 177.04 points or 0.28 per cent to settle at 62,681.84, its fresh record closing high. The broader NSE Nifty advanced 55.30 points or 0.30 per cent to end at 18,618.05
Business
Extending its rally to the third straight day, the 30-share BSE benchmark rallied 762.10 points or 1.24 per cent to settle at 62,272.68, its record closing peak. During the day, it jumped 901.75 points or 1.46 per cent to its lifetime high of 62,412.33
Politics
The editorial also said that the growth story in Gujarat has been distinctive for the emergence of the corporate-communal regime