New series of WPI, IIP: Don't listen to naysayers, it is better indicator of economic activity
The old IIP was including data from factories which had been closed down and therefore were not contributing to the index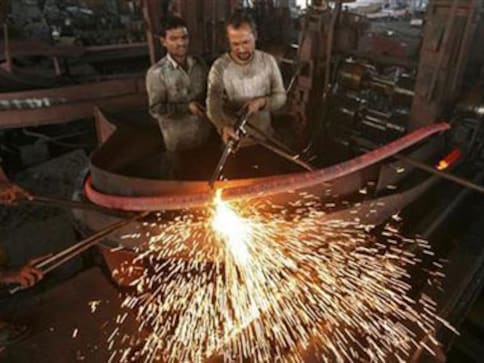 New Delhi: The government has revised the base year for two major indices which track economic growth, to better reflect the changing realities in factory output and inflation. The change, implemented in the case of IIP (Index of Industrial Production) and WPI (Wholesale Price Index) indices, seems to have generated doubts as some people have termed it as an artificially induced change which shows manufacturing data in better light and lower inflation compared to the old series. Basically, these charges pertain to the government dressing up growth numbers to show better overall economic growth under the new series through improved factory output and lower inflation.
India's Chief Statistician T C A Anant rubbished these doubts today, saying the two indices have been thoroughly revamped by throwing out data sources which were obsolete and including others which have begun to contribute to the economy but were not being used in the old series in either index. "We are neither trying to raise nor reduce anything.....the effort is that the production and price structure should reflect accurately".
He also said that both the indices will henceforth be frequently updated, as and when an item needs to be dropped or added, instead of the earlier practice of waiting till the base year is being revised - which could take up to a decade. This frequent updation will be done by a high powered committee.
Meanwhile, this piece in Business Standard noted that under the new series, industrial production was up in volume terms. While the index of industrial production (IIP) rose 2.7 percent in March as against 1.9 percent in February, WPI inflation declined to a four-month low of 3.85 percent in April as compared to 5.29 percent in the previous month. The new series of IIP showed higher growth rates in most months in the period April 2012 to March 2017, as compared to the existing series. This is attributable to shifting of base to a more recent period; increase in number of factories in panel for reporting data and exclusion of closed ones and inclusion of new items and exclusion of old ones.
Inflation on the consumer price index, which has already been revised to a new series, declined to 2.99 percent in April as against 3.89 percent in the previous month.
Anant also said that a new food index has been included in these data, work is going on to develop a separate services index and that there is also a move to steer away from WPI towards a Producer Price Index (PPI). He also explained that indirect tax has been excluded from the WPI index under the new series to insulate wholesale price capturing from policy changes.
The government has already changed the base year for calculating the GDP and gross value addition (GVA). And retail inflation based on the Consumer Price Index (CPI) is already calculated on the base year of 2011-12. The base year is revised periodically to capture the changes in the structure and composition of the industry over time due to technological changes, economic reforms and consumption pattern of the people.
The IIP gives a broad outlook on output of various types of goods like basic, consumer and capital ones, which helps in gauging the level of economic progress and investments in the economy. On WPI, the revision entails shifting the base year to 2011-12 from 2004-05, changing the basket of commodities and assigning new weights to these commodities.
So how has the new IIP series been revamped? The old IIP was including data from factories which had been closed down and therefore were not contributing to the index; similarly, wholesale prices of some commodities which have lost their weightage were being included in the old WPI series. These discrepancies have been ironed out in the new indices.
For example, under the 'Primary Articles' in the WPI, new vegetables and fruits such as radish, carrot, cucumber, bitter gourd, mosambi, pomegranate, jack fruit and pear have been added. Under the head 'Minerals' items like Copper Concentrate, Lead Concentrate and Garnet have been added whereas Copper Ore, Gypsum, Kaolin, Dolomite, Magnesite have been deleted. Natural Gas has been added as a new item.
Will these changes contain the volatility seen in IIP numbers month on month? Unlikely, though the volatility would be reduced somewhat as the index becomes more representative. Anant said today after announcing the new series that intrinsic volatility in output data will continue because output in factories continues to be volatile. "We should not read too much into month-on-month changes in IIP and this will continue to be true for the new series too. We should take a more long term view of the index".
Economy
India's annual consumer price inflation nudged up to 5.37 percent in February, rising for the third straight month, compared with 5.11 percent in January, government data showed on Thursday.
Business
If declining trend in CPI sustains, MPC will come under tremendous pressure from the Narendra Modi-government to offer a rate cut bonanza to support the growth
Business
The periodical reviews and revisions of the base year of the macroeconomic indicators is aimed at capturing the structural changes in the economy and improving the quality, coverage and representativeness of the indices