N Chandrasekaran to lead Tata Sons: Why a marathoner was chosen for the top job
The new Tata Sons' boss seems to embody the tagline of his former employer Tata Consultancy Services, which says 'Experience Certainty'.
N Chandrasekaran, the next executive chairman of Tata Sons, started the race for the top job with at least two advantages: First, he is a Tata 'Lifer', starting his career with the group and rising through the ranks. And second, he has been often described as one of the most successful professional CEOs in India, steering the Tata Group's crown jewel TCS to record profits and market leading performance.
With loyalty and capability already proved, is it any wonder that Chandrasekaran beat other Tata stalwarts like Ishaat Hussain, S Ramadorai and even Noel Tata to win this race? The marathoner and classical music aficionado, Chandrasekaran brings with him knowledge of global markets, is seen as a hands-on CEO and an able leader. It is another matter that his selection has surprised a few Tata group insiders, who had placed their bets on Noel Tata succeeding Cyrus Mistry as the new man at the helm of affairs.
On 24 October this year, the board of directors of Tata Sons sacked Mistry as chairman. This shock development was followed by a tumultuous two months where Mistry and the Tata Group have been engaged in a very public spat over his role as chairman for the four-year period from 2012 and several decisions taken during those years. The matter has now reached the courts. It is worthwhile to remember here that Mistry's selection, just like Chandrasekaran's now, was done by a selection committee, after due consideration and after having a choice of some other worthies, including Noel Tata.
Tata Group insiders pointed out that had Noel Tata been passed on the baton this time, it would have ended — once and for all — the tussle for power between the Tata Sons' chairman and the all powerful Tata Trusts, which own the single largest stake in Tata Sons. But these people also found enough merit in Chandrasekaran to be anointed a successor to Ratan Tata, saying Chandrasekaran would bring stability to the group. The new Tata Sons' boss seems to embody the tagline of his former employer Tata Consultancy Services, which says 'Experience Certainty'.
"Imagine the captain of a ship scanning the horizon. If he were to stand on the deck and look out, he would be able to see for some distance but he were to stand on the flagmast, the horizon would be bigger. It would be even larger if he were to stand on top of the flagmast. This analogy should show why Chandrasekaran was the best man for the job – he has steered information technology, he has the vision of the captain standing on top of the flagmast," said one group insider.
That Chandrasekaran is qualified for the top job is not in question. But what if a repeat of the Mistry sacking plays out again, sometime in the future if there were to again be a clash between what Tata Trusts want and what Chandrasekaran – fondly called Chandra by colleagues – decides? Well, a group insider said this possibility is virtually nill since Chandra doesn't have a family empire. Remember, Cyrus Mistry and his family, the powerful Shapoorji Pallonji Group, own 18 percent stake in Tata Sons. Of the many points of contention between Mistry and the Trusts, several pertained to perceived conflict of interest between the Tatas and the Mistrys.
Anyhow, with the appointment now done and dusted, Chandrasekaran will have to steer the minefield of Tata Sons and the scores of its group companies with composure.
This piece captures what Thursday has been like for Chandrasekaran, who was addressing the press on quarterly results as CEO and MD of TCS in the first half and became the toast of India Inc by evening as the news of his elevation spread. Tata Consultancy Services surpassed street estimates even in the face of a possible change in the policies of the US, what with Donald Trump's protectionist mission to "Make America Great Again". The company reported a 2.9 percent quarter-on-quarter rise and a 10.9 percent year-on-year gain in net profit at Rs 6,778 crore. Total income increased 10.1 percent on a year-on-year basis for the quarter ended December 30 to Rs 30,927 crore from Rs 28,071 crore for the corresponding quarter of the last financial year.
This profile of Chandrasekaran from a 2012 interview tells us he is one of six siblings, went to a Tamil-medium school till class 10th, excelled at mathematics and found stay in a hotel after he moved to another city for studies, a big change in his otherwise "protected" life. Well, the move now to the corner room at Tata Sons will undoubtedly be the biggest change for Chandra, even bigger than staying away from family after class 10th. He will not only have to manage the unclear relationship that continues between Tata Trusts and other shareholders of the group's flagship, Tata Sons, but also ensure that he turns around the several marquee loss making businesses.
An earlier statement by Tata Sons revealed the precarious state some companies are in: the group's profit is
primarily accruing from just two entities – TCS and Jaguar Land Rover. These two companies "probably" account for around 50 percent of the total turnover and probably over 90 percent of the total profits of the whole group. The group's dividend declined by a fifth during Mistry's tenure. Tata Sons earned just over Rs 2 crore in dividend from group companies a day in 2015-16. Impairment provisions last fiscal were a whopping Rs 2,400 crore, or Rs 200 crore a month. The statement said this figure was just Rs 200 crore in entire 2012-13. If we were to exclude dividend from TCS, even before impairment provisions, Tata Sons was making operating losses over the last three years (with a small surplus in between). This means if something happened to alter/worsen TCS performance over the coming years, the group's precarious profitability would become, well, even more precarious.
Also, the hugely tangled issues at Tata Steel and Tata DoCoMo are awaiting the acumen and problem-solving ability of the new executive chairman at Tata Sons. It won't be an exaggeration to say that Chandrasekaran has a lot on his plate in the new role.
Find latest and upcoming tech gadgets online on Tech2 Gadgets. Get technology news, gadgets reviews & ratings. Popular gadgets including laptop, tablet and mobile specifications, features, prices, comparison.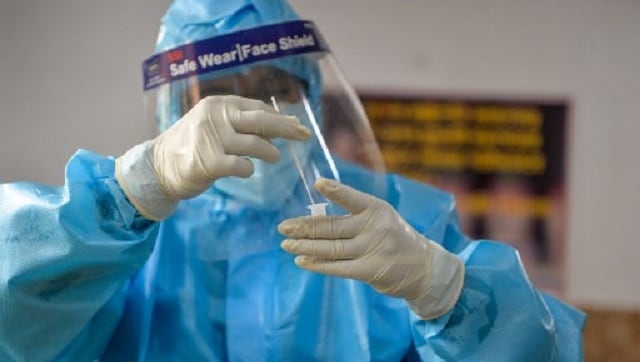 India
This test uses an indigenously-developed, cutting-edge CRISPR technology for detecting the virus' genome sequence
Business
This development comes just hours after the Supreme Court restrained till 28 October the SP group and Cyrus Mistry from pledging or transferring their shares in Tata Sons Pvt Ltd