New Delhi: The general budget will be presented by the Finance Minister Arun Jaitley on 1 February, 2017. LocalCircles, India's leading citizen engagement platform, has been working with its more than 1.2 million citizens, including over 30,000 entrepreneurs and startups to prepare a list of important things that they want to see in the budget.
LocalCircles also hosts India's #1 online community titled Startup India to enable startups and SMEs in various ways. Over 30,000 startups and SMEs are connected via these communities and share knowledge, references as well as provide policy inputs to the government.
In the last one year, significant announcements have been made by the government on making it easier to start up in India. These include tax exemptions, relief from inspections, IPR benefits, faster company registration, new fund for Startups and opening government business opportunities for Startups.
However, most Startups are unable to realise these benefits as they currently apply only to Startups incorporated after 1 April, 2016. In a LocalCircles Budget poll conducted on Startups, one of the key demand put forth by Startups/SMEs/Citizens is to extend these Startup India benefits to all Startups incorporated in the last 5 years. 64 percent of the over 9,000 respondents voted in favor of this. Startups also want the government to make qualification of Startup less restrictive and reduce the involvement of incubators and inter-ministerial board as much as possible.
In addition to the above, Startups and SMEs feel that they are still commonly subject to tax notices and scrutiny exercises even if they don't have any income or revenues. Startup valuation is a subject that is not well understood by tax inspectors and leads to unnecessary questioning and harassment. This is something that all startups incorporated in the last 5 years must get automatic exemption from, suggest respondents.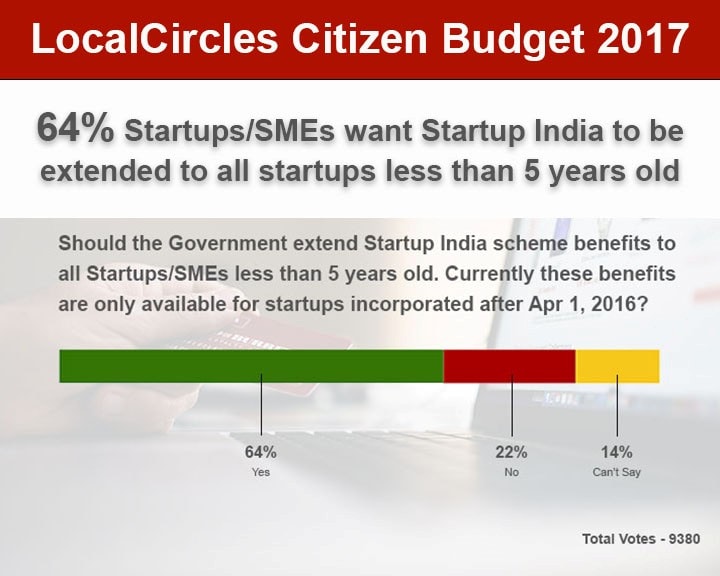 Given the recent crunch in startup funding, many startups are faced with lower valuations, triggering tax notices by the income tax department for many. Some startups have seen tax demands for the assessment years 2013-14 and 2014-15 under Section 56(2)(vii)(b) of the Income-Tax Act, 1961. While the section was actually introduced to curb money laundering, but it is getting wrongly aimed at genuine investment in startups.
Another issue raised by many startup entrepreneurs in the last two weeks is that of the newly introduced service tax notification by Ministry of Finance effective 1 December, 2016 requiring payment of service tax on services procured from overseas. As per the notification, Indian companies procuring services from overseas are now required to pay service tax on foreign vendor invoices in India, register themselves for service tax and deposit it on behalf of their foreign vendors.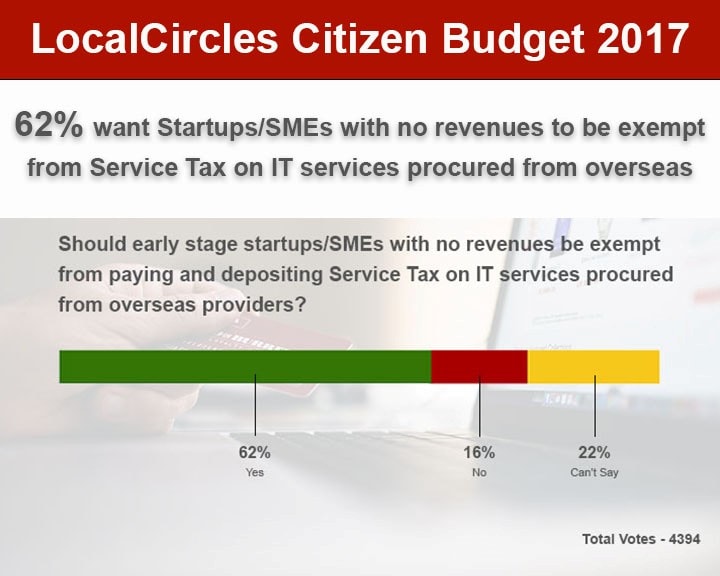 For technology startups, most of the services procured are from foreign vendors, and as they are not available in India it not only increases the cost of doing business for Indian startups, but also result in increased regulatory compliances. It also will make India based startups less competitive in a global marketplace as many global technology startups that are headquartered and registered overseas do not have to face this tax liability. This move alone is an incentive for India-based technology startups to consider shifting outside India.
In a poll conducted in the Startup/SME online community, 63 percent startups, SMEs and citizens suggested that Startups with no revenues must be fully exempt from the service tax, as the tax may further burden them in their seed stage where most startups operate on nil or limited funding.
Other issues highlighted by Startups/SMEs include government support on the ground at state and local levels which is largely non-existent today.
For full coverage of Union Budget 2017, click here
Your guide to the latest cricket World Cup stories, analysis, reports, opinions, live updates and scores on https://www.firstpost.com/firstcricket/series/icc-cricket-world-cup-2019.html. Follow us on Twitter and Instagram or like our Facebook page for updates throughout the ongoing event in England and Wales.
Updated Date: Jan 19, 2017 11:16:55 IST