Moody's downgrades China: How Narendra Modi can grab this opportunity for India's benefit
Slowing China is an opportunity for India. But only if exports, private investments, employment generation and a healthy banking system live up to the challenge
What will a slowing China do to India—a country with which we have trade deficit of over $53 billion? For the Modi government and its well-wishers, Moody's rating downgrade of China should give both good news and bad news.
The bad news is that a potential economic crisis in China will have its ripple impacts in the region, particularly India, which is inseparably integrated to the neighboring country through trade. The good news is a weak China offers room for India to emerge as an economic powerhouse and a hub for region's manufacturing activities — a favourable factor to give a leg up for Modi's 'Make in India' plan. But, all depends on how smartly India prepares itself to ride the new wave.
Moody's rating action gives out some certain warning signals for China. The downgrade in the country's long-term local and foreign currency issuer ratings on Wednesday, is based on the agency's expectations that the financial strength of the world's second-biggest economy would erode in the coming years. The downgrade by one notch to an A1 rating from Aa3 comes as the Chinese government grapples with the challenges of slowing economic growth and rising financial risks stemming from soaring debt.
"The downgrade reflects Moody's expectation that China's financial strength will erode somewhat over the coming years, with economy-wide debt continuing to rise as potential growth slows," the agency said. The rating agency also changed its outlook for China to stable from negative.
There is a possibility that things can worsen as more skeletons tumble out. Economists are largely clueless about the extent of the problem in China. Can Modi's India grab this opportunity or will it see this as a threat to its future prospects? After 3 years of rule, the reform momentum is back in the country and there have been efforts to address some grey areas in economy such as banking sector problems and subsidy burden. The Goods and Services Tax is almost a done deal.
But, is that enough to emerge as the next superpower beating China?  Let's look at four key areas of importance to see how has the Modi government  done so far to use the economic potential?
How did the country fare on trade-front so far? For sure, Modi wants to change India, and rightly so, as the world's export hub primarily pinning hopes on the country's manufacturing sector and his 'Make in India' drive. The country has set an ambitious $900 billion export target by 2020. But, the reality on the ground may be as pleasing as one would want to believe. India's performance on the export front hasn't been very promising in Modi's three years. The graph shows a steep decline from Dec 2014 to May 2016 before showing a pick-up in early months of 2017. But, what negates the positivity of this trend is a simultaneous rise in imports. In fact, trade deficit is on a 29-month high of $13.2 billion till now.
What about employment generation? With initiatives such as 'Make in India', has India emerged as the generator of employment? An analysis of the Labour Bureau data shows unemployment has only increased since Modi government came to power, albeit, marginally, from 4.9 percent in 2013-14 to 5 percent in 2015-16, assuming the government data reflects a picture closer to reality.
The unemployment rate in the country was 4.9 percent in 2013, 4.7 percent in 2012 and 3.8 percent in 2011. Remember, in the run-up to 2014 general elections, Modi, promised one crore jobs to Indians. But, it is not hard to find why this promise wasn't fulfilled. With private investment cycle refusing to take off in a big way and global situation turning adverse, this promise has remained unfulfilled and has, instead, become a big burden for the BJP-led NDA government.
That takes us to the third question. How did we do on attracting private investments?
When it comes to FDIs India has done well. In Modi's first three years, the country saw nearly $149 billion (until December 2016) worth of investment from overseas companies. As a point of comparison, under the erstwhile UPA, three years starting 2011-12 witnessed an aggregate flow of $117 billion.
But, capital formation on the ground has been poor. Gross fixed capital formation (GFCF) indicates investment in the economy. As seen from the figures, it has been tepid under the Modi regime. The government has not been able to revive private investment. As a percent of GDP, The GFCF has seen a decline from a high of 31.4 percent of GDP recorded in the first quarter of 2015-16 to 26.7 percent of GDP in the third quarter of 2016-17. Contribution of private sector to real GDP growth has fallen between fiscal year 2015 to fiscal year 2017.
When investments do not happen in desired pace and economic activity remains subdued, it is only logical that stress in the banking sector will rise. Precisely, that has happened here too. From just Rs 2.34 lakh crore in June 2014, the bad loans of 26 public sector banks has ballooned to Rs 6.46 lakh crore as of December 2016. But, the actual figure will be much more if one factors in the chunk of restructured loans and hidden bad loans that are technically good on the books of banks.
The government has time and again reiterated its commitment to rein in the bad loan situation, including the recent ordinance that puts more power in the hands of RBI to wind up defaulters, but has had no major luck so far. A crisis in Indian banking system, 70 percent of which is dominated by government-owned banks, will hit India's prospects badly and cause much bigger capital burden to the government— the majority owner. Raters have time and again cautioned this. It is now even more important that government to privatise state-run banks to enhance efficiency and bring in private capital.
Ask the question again, is India prepared to grab the place China has occupying for long? The short answer could be this. It surely can, a slowing China is an opportunity for India. But only if the four growth drivers — export growth, private investments, employment generation and a healthy banking system — work well. So far, the signs haven't been very encouraging. It will require lot more political will and hard work to beat the dragon.
Find latest and upcoming tech gadgets online on Tech2 Gadgets. Get technology news, gadgets reviews & ratings. Popular gadgets including laptop, tablet and mobile specifications, features, prices, comparison.
Politics
The BJP has roped in top leaders including party national president JP Nadda and Uttar Pradesh chief minister Yogi Adityanath, to campaign for the Greater Hyderabad Municipal Corporation election scheduled for 1 December
India
If Johnson accepts the invite, he would become the first British prime minister to grace the parade at Rajpath in nearly three decades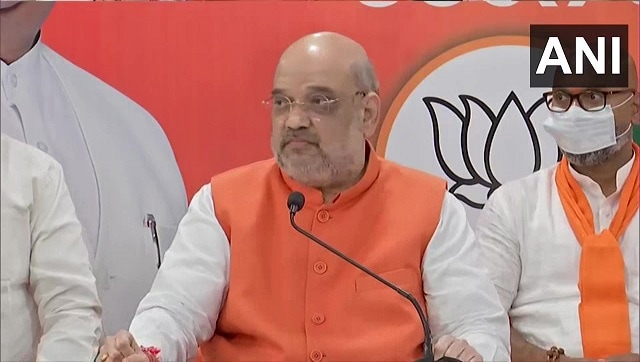 India
India's gross domestic product (GDP) had contracted by a record 23.9 percent in the first quarter (April-June) of the 2020-21 fiscal as the coronavirus lockdown pummelled economic activity