If you are a stock market investor, the year gone by (2015) was rather a disappointing one as both the key benchmark indices, Sensex & Nifty, fared poorly on the bourses, eking out negative returns of 5 percent each given the challenging domestic and external environment.
So how was the year for the stock market savvy mutual fund managers. Were they really smart enough to beat the retreating trend? That we will try and find it out later in the story.
Against the belligerence of our stock market savy equity fund managers, we pitted our Bindaas Monkeys for the challenge. In 2014, one of them beat both the BSE Sensex and the NSE Nifty. Last year, too, our three Monkeys' portfolios persisted with same set of shares from three different indices. So, each one was once again given Rs 10 lakh to invest equally in 10 shares chosen randomly from various indices. We also created two additional portfolios – one comprising the top stocks held by mutual funds, and another portfolio with just the biggest shares in each of the BSE's major sectoral indices.
Our first monkey, also known as Big Dada, initially showed its preference for non-stock market related items. But when we insisted, it randomly picked up 10 stocks from the BSE 100 index space. We must say, the monkey was almost spot on. Average return from the 10 stocks picked from the index stood at a marginal degrowth of 0.2 percent. Who were the under-performers?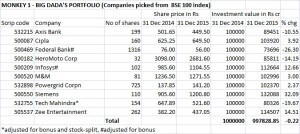 The Big Dada's stock picks comprising of Axis Bank, Federal Bank, Hero Moto Corp faltered badly with losses of around 11-26 percent. However, stocks such as Infosys, Siemens posted strong returns, helping the portfolio end with a marginal loss.
Our Monkey 2 called Satta Bhai's portfolio, comprising of 10 mid-cap stocks, failed to beat the BSE Mid-cap index. Even as the BSE Mid-cap index clocked 7 percent returns during the year, our Monkey 2's portfolio of 10 stocks ended with average negative return of 2.4 percent. Biggest laggards like Risa International plummeted 99 percent and Coromandel International (down 38 percent) contributed to the fall.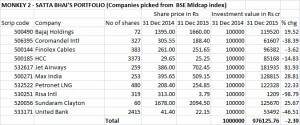 "Our sense is that with global markets under pressure and commodity items under pressure, investors will continue to flock to mid and small-cap stocks, at least, in the first half of 2016. Although valuations of several mid-cap stocks are inching towards unattractive levels, the continued underperformance of large-cap stocks will continue to benefit the second-rung scrips for some more time," said G Chokkalingam, founder & managing director, with Equinomics Research & Advisory.
However, Monkey 3, which clung on to the same set of stocks in the BSE Small-cap space for the fourth year in a row, came out with a positive surprise. Even as the broader BSE Small-cap index ended the year with gains of 6.8 percent, the Comrade Long-shot's portfolio of 10 small-cap stocks generated average positive returns of 7.2 percent. Among the star performers, Granules India vaulted 80 percent, while LA Opala Glass spurted 41 percent and Inox Leisure scaled up 32 percent.
Our expert pick portfolio, representing 10 stocks owned by mutual funds, ensured they beat the sluggish benchmark indices. They posted positive returns of 3.2 percent. Some of their best-performing stocks such as BPCL rose 38 percent, HDFC Bank jumped 14 percent, Maruti Suzuki vaulted 38 percent and Reliance Industries rose 13 percent.
"We have seen mutual funds investing a record over Rs 70,000 crore in domestic equities last year. Most of their investments were in second rung stocks and select large-cap stocks. Some of their bets paid off as fundamentals of some of these companies continue to remain upbeat despite challenging domestic and external situation," said an analyst with a local brokerage, who wished not be quoted.

And our last performer, the sector champ's portfolio, comprising of top sectoral scrips based on market cap, failed miserably in 2015. Impacted by global slowdown, slackening demand and deficient monsoon for the second straight year, composite indices' returns fell by nearly 15 percent during the year. Some of the worst performers such as BSE Bankex tumbled 28 percent amid worsening NPA levels of several PSU banking stocks, while Auto index dropped 21 percent and oil & gas index crumbled 29 percent amid sliding crude oil prices and weak demand scenario.
Updated Date: Jan 02, 2016 12:09 PM