In a throwback to the two Snapdeal episodes, online tour operator MakeMyTrip was trolled on Twitter purportedly by the Hindutva brigade after one of the company's co-founders made some hard hitting comments on the Central government's new rules on cattle sale.
Keyur Joshi, who is one of the co-founders of MakeMyTrip, had expressed his displeasure on Twitter over the government's new cattle sale rules that have effectively made beef sale and consumption impossible in India.
In the tweets — now deleted — Joshi said
m takes away right to choice of food, I rather not be a Hindu. @narendramodi @BJP4India can't decide what people eat.
Soon after, all hell broke lose with online trolling army attacking him and even MakeMyTrip, threatening a down-rating of the app and also uninstalling it. The company, however, issued to a statement clarifying that Joshi was not a current employee and that the comments were Joshi's personal views. #BoycotMakeMyTrip started trending on Twitter.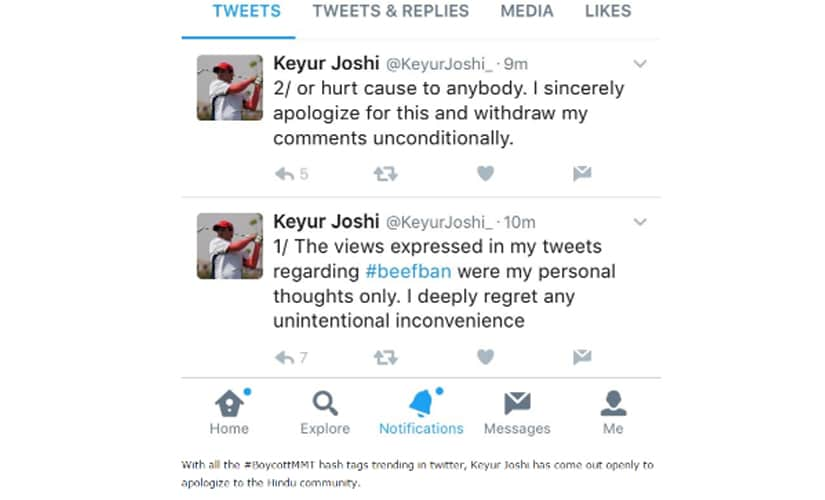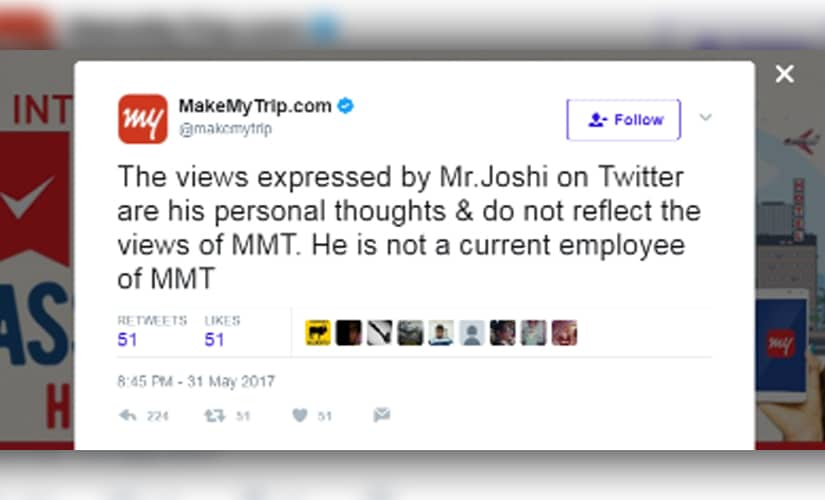 Here are some samples of the hate tweets against Joshi:
If he has so hatred about divine Hinduism, we hate @makemytrip of which he is a part of.! We #BoycottMakeMyTrip bcz of him@makemytripcare pic.twitter.com/UStUkKrjMN — #GiveUpAMeal Shishir (@shishir_heg) May 31, 2017
I m using Make My Trip for long time. I m proud Hindu and following Hinduism ideology. I #BoycottMakeMyTrip and never use it in future. pic.twitter.com/GgvytHIOo4

— Intellectual (@ProudlySayGujju) May 31, 2017
And the hate continues, even after Joshi apologised and deleted his account:
Srry bt I hve 2 ask u Will u allow me 2 eat ur mother by chopping her in pieces 2 save my right 2 eat? @makemytrip #BoycottMakeMyTrip — SirKhujliwal (@SirKhujliwal) June 1, 2017
Despite all the hate mongering on the Twitter, MakeMyTrip app on Google Store has got a 4.2 star rating as of now.
The whole episode, however, is a throw back to two episodes connected to e-commerce company Snapdeal. One when Snapdeal was at receiving end of hate after Snapchat CEO Evan Spiegel's reported statement that his company's "app is only for rich people" and that he (CEO) was not interested in expanding the business to "poor countries" like India and Spain.
Previously, in a classic case of mistaken identity and blind trolling, a section of online army started uninstalling Snapdeal app, instead of Snapchat.
In the latest incident, though Joshi is not a present employee of MakeMyTrip, the trolls attacked the company presumably thinking he is still with the company.
However, the mistaken identity is a minor issue when considering the larger issue of hate vitiating even the business environment in India. Interestingly, this too has a direct connection with Snapdeal.
That happened after Aamir Khan made a comment on the rising intolerence in India at an Indian Express event in November 2015.
"(Wife) Kiran and I have lived all our lives in India. For the first time, she said, should we move out of India? That's a disastrous and big statement for Kiran to make to me. She fears for her child. She fears about what the atmosphere around us will be. She feels scared to open the newspapers everyday. That does indicate that there is a sense of growing disquiet," he said, expressing "alarm" over the rise in violence "in the last six to eight months".
Soon after he said this, not only did he face backlash on social media, even Snapdeal, for which he was an ambassador then, also came under attack. The Snapdeal app was down-rated and uninstalled by the trolls. The company even decided against renewing the actor's contract later.
Though it was clear then that there was a concerted effort to attack the company and its business for taking the actor's service, there was no concrete proof for this until Manohar Parrikar, a senior BJP leader and former defence minister, admitted to the media that there was an online army engaged in teaching people like Khan a lesson.
"When the actor did this... then the company which he was endorsing was... an online trading company. Some of our people are very smart, I know. There was a team which was working on this," he said. He also said this army's strategy was to order from Snapdeal and return the product, thus hitting the company where it hurts the most.
"...They had to pull his advertisement," Parrikar was quoted as saying.
Though he did not name the company or the actor, it was clear that it was Khan and Snapdeal he was referring to.
The MakeMyTrip incident proves that the troll army has only gained in strength and free speech continues to be in danger in India. The BJP government has done nothing to rein them in.
Updated Date: Jun 01, 2017 13:55 PM