Jet is on its way to financial disaster - as before
The airline business is a no-hoper, as the Jet Airways results for the first quarter of 2011-12 show. Barring Spice-Jet, no one is making money. Why should any investor buy an airline share?
Would you pay Rs 500 for an airline company which hasn't seen a profit since 2007? And whose losses have completely eroded net worth?
Well, we aren't talking about Air India, which is a basket case. We are talking about the airline industry's market leader Jet Airways.
Jet Airways announced one more round of losses in its first quarter results for the current fiscal year last week. The company posted a loss of Rs 123.16 crore for the quarter ending June, which would have been much higher had it not been for an exceptional income of Rs 118.66 crore.
Jet Airways announced one more round of losses in its first quarter results for the current fiscal year last week. Reuters
This loss has come even after Jet Airways benefited from the leasing of aircraft which provided Rs 136.68 crore under the head 'Other Operating Income'. As leasing does not entail expenses for running the aircraft, the entire revenue percolates down to operating profit levels.
As has been the trend with all airline companies, Jet Airways has just about managed to post an operating profit (Rs 123.38 crore, which includes the lease income of Rs 136.68 crore), but this money was simply not enough to pay its interest outgo of Rs 214.23 crore for the quarter.
Jet Airways has, on a consolidated basis, not been able to post a profit since 2007-08. Its acquisition of Sahara Airlines (renamed as Jet Lite) has only added to its woes. The company has been entangled in a legal battle with Sahara, which is preventing the sale of its property in Mumbai's Bandra-Kurla Complex which can help bring down the company's debt.
If the judgment goes in favour of Sahara, Jet will have to shell out an incremental Rs 478 crore, which will negate the benefit of its sale of property from which it plans to raise Rs 500 crore. Two months ago a single bench judge had asked Jet to pay Sahara Rs 478 crore, which the later has challenged in the high court. On 19 July 2011 the high court adjourned the case for further hearing on 3 August 2011.
Jet Airways' numbers are expected to be affected further as domestic airlines are gearing up to take the battle to the international market, a region which has helped bring some respectability to the company's numbers. Indigo is all set to begin international flights from 1 September 2011, targeting high density international routes like Dubai, Singapore and Bangkok.
With such strong headwinds, the turnaround which a number of analysts have been building into their projections looks unlikely. Jet Airways also has limited options to raise funds. Its debt-equity ratio is too skewed in favour of debt, which will prevent any further raising of funds. Jet Airways has recently restructured its debt and has converted around 75 percent of it into US denominated debt.
Apart from this a huge portion of its expenses like fuel, lease rentals and aircraft maintenance are also in US currency. This exposes the company to currency fluctuations, adding one more risk element to the business model.
There is little risk appetite for equity in airline stocks in international market, which limits the company's options of raising foreign equity.A domestic rights issue at the current price of Rs 500 which is less than half the IPO price of Rs 1,100 (in 2005) is also unlikely to meet with robust subscriptions. Apart from the year in which it got listed, Jet Airways has never been able to cross its IPO price of Rs 1,100. With a series of losses on a consolidated basis in its balance-sheet, Jet Airways has little justification for a premium.
Analysts have used various ratios like EV/EBIDTA (Enterprise Value as a multiple of earnings before interest depreciation tax and amortisation) to justify the current price of Rs 500, however this ratio does not capture the impact of interest outgo, which is the main issue in this company.
Some analysts have justified the price of Rs 500 as it trades at 22 times its financial year 2013's projected profits. Assumptions for arriving at this profitability number are low crude oil and thus low ATF (aviation turbine fuel) prices. This is the same language that was used by analysts to justify dotcom stocks on unseen future profitability.
Given the uncertainties the company faces and its exposure to multiple and unseen risk factors, there is little reason to justify the current stock price of Jet Airways.
Fwire
The ATC asked the Jet pilot to abort the takeoff as an IndiGo flight was about to land, airport sources said.
Business
Since the start of this year, the shares of Jet Airways have tumbled a whopping 69 percent.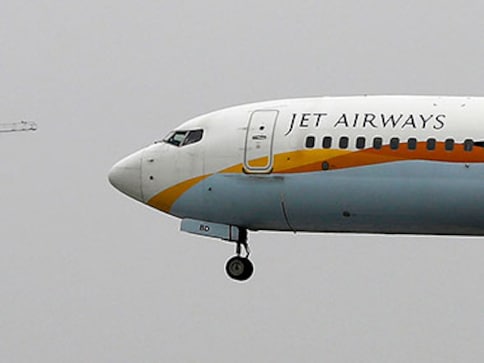 Business
Amid rising concerns over Jet Airways' financial health and proposed salary cuts, chairman Naresh Goyal said a new committee will be set up to improve public perception and negative publicity about it.