India's largest and second largest information technology services companies have come out with their earnings in the backdrop of significant global and domestic uncertainty.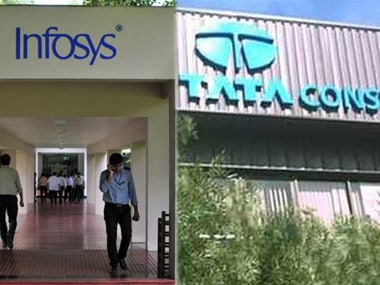 Infosys, one-time IT bellwether, has cut its dollar revenue guidance for the full year third time though the company reported a better-than-expected net profit for the quarter. Tata Consultancy Services, which saw a management change on Thursday, also beat the analysts estimates due to expansion in its digital business, giving rise to expectations of a demand revival.
However, Infosys' revenue guidance cut put a drag on the IT sector stocks on the BSE. At 1:26 pm, Infosys shares were down 2.2 percent, those of TCS were down 3.34 percent. IT index was down 1.6 percent while the Sensex was marginally down.
Here's a comparison of both the companies in 7 charts:
Revenue: Infosys saw a marginal 0.2 percent on quarter decline in revenue, while TCS saw a 1.5 percent rise. "Infosys's Dec '16 quarter revenue performance falls short of expectations with a 1.4% QoQ US$ revenue decline (-0.3% QoQ in constant terms) on account of drag at top clients," said brokerage firm Emkay in a post earnings note. According to the brokerage, the company witnessed a 13 percent fall in revenue from its top client. The decline from its top 5 and 10 clients were 7.4 percent and 9.1 percent respectively.
Meanwhile, Religare notes that TCS' revenue from traditional service lines like application delivery management, which saw a meagre 1.6 percent on year growth, continued to languish. The brokerage also notes that in terms of geographies for TCS, revenue from North America grew 2.2 percent, UK 1.7 percent and India 10.3 percent on quarter.
However, revenue from Europe declined 1.1 percent on quarter led by the communication and media segment. "Vertical wise constant currency (CC) growth in BFSI/manufacturing verticals was satisfactory at 2.1%/2.1% QoQ, while retail grew at 1.9% CC QoQ; communications & media declined 4.9% CC QoQ. TCS's digital revenues (16.8% of Q3 revenue) grew 6.6% QoQ," the brokerage said.
Net profit: Both Infosys and TCS have witnessed nearly 3 percent quarter on quarter net profit growth. However, it has to be remembered that the TCS growth is on a higher base than Infosys'. Emkay notes that Infosys' net profit beat, despite revenue miss, is a function of better margins and higher other income.
TCS' net profit has also been boosted by other income. Its "net profit at Rs 6778 crore (up 2.9 percent QoQ and 11 percent on year) was ahead of our expectation despite an unexceptional but in-line operating performance, supported by forex gains of Rs 370 crore", the brokerage said.
Margins: While Infosys witnessed a marginal improvement in operating margins to 25.1 percent from 24.9 percent in the previous quarter, TCS saw its margins remaining flat at 26 percent. However, Emkay credits the Tata group company for managing the margin in recent quarters. "We note that TCS has done a good job at protecting margins in recent quarters despite moderation in revenue growth and industry wide pressures on pricing and mix," the brokerage said in its post-earnings note.
The brokerage has also noted that it is the tight cost optimisation that enabled the company to partially offset the impact the rupee's appreciation against the pound sterling and euro.
Attrition: On this parameter, both the companies have witnessed an improvement. However, it has to be noted that 18.4 percent attrition rate for Infosys is still higher and scary. As far as TCS is concerned Emkay notes: "LTM Attrition has continued to moderate for four quarters in a row and is now the lowest since the quarter ended June 2014." This should come as a major relief for the Tata group company.
On the whole, however, analysts are confident about TCS. "TCS' commentary provides confidence on our thesis of 'normalization' in client spending going ahead as cyclical headwinds abate," Emkay has said in the note.
Religare, meanwhile, said, "We will be watchful of the management change and believe the new team will have to consistently deliver to maintain the sector premium."
The company on Thursday appointed Rajesh Gopinathan as CEO and N Ganapathy Subramaniam as COO after N Chandrasekaran was elevated to the post of Tata Sons chairman.
Your guide to the latest cricket World Cup stories, analysis, reports, opinions, live updates and scores on https://www.firstpost.com/firstcricket/series/icc-cricket-world-cup-2019.html. Follow us on Twitter and Instagram or like our Facebook page for updates throughout the ongoing event in England and Wales.
Updated Date: Jan 13, 2017 13:39:15 IST