Infosys shouldn't follow TCS and buy back shares but spend on futuristic restructuring
It makes more sense for Infosys to make a strategic choice towards innovation-led growth in an emerging future than save some pennies to boost the short-term earning per share.
Two seemingly unconnected events on Monday, presented a moment of truth -- or choice -- for Infosys, the darling of India's software revolution. One was the announcement in Mumbai that industry leader Tata Consultancy Services (TCS),  following the footsteps of another industry giant Cognizant had set a Rs 16,000-crore ($2.4 billion) buy back of shares to improve shareholder value. The other was a news conference in Bangalore, where Infosys's co-founder and former CEO Nandan Nilekani shared the stage with Microsoft's Indian-born CEO Satya Nadella to discuss future possibilities in software.
Should Infosys spend a good slice of its $5.25 billion (Rs 35,000 crore) cash reserves to buy back its shares, imitating TCS and Cognizant? I should think not because there is a vast vista opening up for Infosys CEO Vishal Sikka, even as he faces pain linked to the company's legacy.
Sikka is a beleagured man, with his creative brilliance somewhat challenged by a strange confrontation involving the company's co-founders and former executives. He spent Monday writing an email to employees  to counter an anonymous whistleblower questioning the value of Sikka's $200 million buyout of Israel-based Panaya in 2015, days after founder CEO N R Narayana Murthy raised questions on the direction Infosys was taking.
Sikka, who had a rockstar reputation as a product builder at global software giant SAP before taking charge of services major Infosys, is just the right man to bring in more innovation into the company, but from all indications, he is being tied down by questions typical of accountants.
There have been insinuations of how Sikka paid too much for Panaya and how he was questioned by the now-departed Chief Financial Officer Rajiv Bansal, and then again on how he paid too much to see the severance of the very same CFO. In both instances, Bansal seems to be a hard bargainer, and in both instances, Sikka emerges as a man who can be generous in making strategic long-term choices.
Speaking on the TCS buyback, former Infosys CFO V  Balakrishnan said on Monday that it makes sense for Infosys to go for a share buyback as IT services stocks were turning from growth stocks to value stocks.
I don't think so. At all.
The rise of US protectionism under President Donald Trump and his crackdown on IT-service firendly H-1B visas and the rise of cloud computing, software automation and artificial intelligence (AI) no doubt threaten conventional software coding, but there is more to the game than meets an accountant's eye.
Here is the real deal: It makes more sense for Infosys to make a strategic choice towards innovation-led growth in an emerging future than save some pennies to boost the short-term earning per share. Because long-term opportunities beckon Infosys.
Here is what Nilekani said in the presence of Nadella: "The only way to square the circle is by using AI and cloud to deliver personalised health, education and financial services to a billion people."
Now, consider that Reliance group chairman Mukesh Ambani, weighing in as the creator of high-bandwidth Jio services, told industry association Nasscom's annual conference last week that Trump was a blessing in disguise for Indian IT because that would help turn the attention towards the domestic market.
Connect the dots between Nilekani and Ambani, and you realise that Infosys may be sitting on a future goldmine. Sikka acquired Panaya to make Infosys a cutting-edge cloud-era player. With his own expertise in product development, Infosys can develop cloud-era products that can serve a billion Indians and people elsewhere as well. In fact, cloud-based products, unlike piecemeal IT projects, ensure recurring subscription and transaction revenues.
What Infosys needs then is not an accountant's idea of penny-pinching but a strategist's idea of restructuring for the future. Emerging areas such as AI, cloud computing, Internet of Things, genomics and data science require computing and software skills of a more advanced kind. Infosys needs to de-focus on old areas and embrace new ones in a calibrated manner and use its cash reserves for a roadmap-based transition in which innovation will be key. It cannot simply fade out as a remnant of a bygone world of cheap code offered in dollars per hour.
Infosys has a cash chest that is just 15 percent of its market capitalisation of $33.5 billion. But viewed in terms of venture capital, that is equivalent to 10 decent-sized venture funds. Infosys already has an active innovation fund worth $500 million, and bets such as these make more sense than short-term penny pinching.
Part of the cash chest can be used to downsize old-world code segments and a restructuring undertaken to create value from emerging technologies. Infosys has domain experts in an array of industries and they can be used in the development of cloud-based products. Separate investments in in-house research and developmen can can generate patent and licence-based revenues. Fortunes should be sought in futurisic areas. A buyback of shares, in comparison, looks like a tame affair.
It is best for Infosys, as a pioneer in India's technology-based business growth, to go for Dame Luck innovation than a lame duck buyback of shares.
(The writer is a senior journalist. He tweets as @madversity)
World
The State Department has published the data for the first time since President Donald Trump's blackout
World
It is unclear if the Saudi royal family was aware of the fake furs or was deceived by a supplier. The Saudi Embassy in Washington declined to respond to the matter, as did a spokesperson for Trump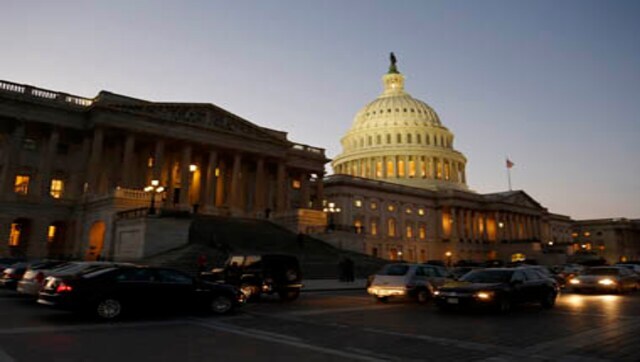 World
The breakthrough — which temporarily defers the crisis by adding another $480 billion to the allowable debt total — came with an estimated 11 days to go until the country would no longer have been able to borrow money or pay off loans for the first time in its history