Infosys no longer bellwether of corporate governance: Why founders must share the blame
The recent war of words between its promoters and the management is sullying a reputation hard earned, never mind the actual missteps which may have occurred.
New Delhi: In this age of post truth and perceptions overriding facts most times, Infosys would do well to correct the perception that it is no longer the bellwether of corporate governance in India. The company has always been known to lead the charge against governance malpractices and appeared to favour shareholder interests – far more than most of the other prominent India Inc members. So the recent war of words between its promoters and the management is sullying a reputation hard earned, never mind the actual missteps which may have occurred.
Before correcting anomalies in the decisions which are under the microscope, Infosys would do well to assure investors that it has not violated any governance norms. And then also establish a robust and open communication channel with promoters, who collectively hold about 13 percent stake in the company, and appear more miffed with the way their queries were handled than with the issues raised.
In fact, perhaps some of the onus of slipping standards of governance at Infosys should be borne by its most stellar founder - N R Narayana Murthy – himself, who has been leading the charge against the company since last week, seeking explanations on CEO salary and the severance pay of an ex-CFO. Murthy had even lashed out at the board led by R Seshasayee over the almost 2000-times salary difference between CEO Vishal Sikka and the entry-level software engineer. Besides, he also questioned the "high" severance package paid to the ex-CFO Rajiv Bansal.
So when this morning, news started flashing on TV screens about Murthy having retreated – the source was an interview he supposedly gave to agencies – there seemed to be palpable relief among investors. But within the hour, Murthy was back to his belligerent self, saying his concerns remained and should be addressed "properly" by the board of directors of Infosys.
As the war of words continues, perhaps it is pertinent to see how Murthy and his co-promoters have also erred in the past on corporate governance. Hetal Dalal, COO of proxy advisory firm Institutional Investor Advisory Services (IiAS) has raised questions in this piece today about the manner in which Murthy's reappointment to the board of Infosys was handled in 2013.
"The sequence of events and press releases from Infosys seem to suggest that Murthy's appointment was shoehorned into the AGMs, with the required paper work conveniently falling in place". She goes on to say that even before this appointment, the decision to let each of the founders have a go at the CEO role was an "anti thesis of the meritocracy that Infosys had established as its corporate culture".  Then came the co-terminus appointment of Murthy's son Rohan, though at a nominal salary, when the avowed policy was not to involve family members of promoters in Infosys. Some other issues Dalal has flagged include continuation of auditors for over 15 years instead of a usual rotation after 10 years.
Even T V Mohandas Pai, a former CFO who was passed over for the CEO's position and is now an investor, blamed founders for failing to groom leaders to succeed them. Of the three reasons Pai cited for the current crisis, one he said was "lack of adequate leadership as many people left because of Murthy's focus on only founders becoming leaders and that was a mistake". Though Pai has been behind the founders seeking answers to compensation questions, he has also additionally been pushing investors to seek a share buyback, saying that Infosys has been sitting on a cash pile. It must be recalled here that Pai had made a similar demand just before CEO Vishal Sikka's arrival in 2014.
J N Gupta of proxy advisory firm SES pointed out that every leader's management style was different and if the promoters were questioning lack of a buyback etc now, perhaps they should have announced one when they were at the helm. He said there were no serious corporate governance issues at Infosys which investors need to worry about at present.
Having said that though, the board of directors of Infosys lead by R Seshasayee – an India Inc veteran – certainly needs to explain some of its past decisions. Though CEO salary should not be a matter of such concern since it is documented and performance linked, the severance package of the ex-CFO does need some explanation. It should also have found a mention in the last annual report of the company.
As this piece shows, CEO Sikka rightly has bigger worries than skirmishes with the founders on his mind. At an investor conference today, Sikka quoted a research report to say India would be the worst impacted on jobs due to automation.
"Instead of 10 people, what if we have three people to work on it. If we don't have the software, then some others will take the advantage...Having software together with education is something that is critical for our business. This, in essence, is the nature of our journey...If you look at the 3.5 million people in our industry the only thing that I see in the future is automation."
Automation and not founder worries should be engaging the minds of all board members of the IT bellweather Infosys.
Business
For now, at least, the Infosys board and CEO Vishal Sikka agree with the founder and have aligned completely with the sharply and deeply articulated values by Murthy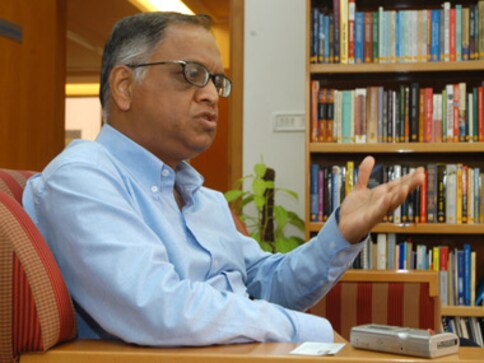 Business
Perhaps Narayana Murthy is benefiting India by setting new precedents in corporate governance. But Vishal Sikka is setting new precedents by introducing new standards in innovation and risk appetite
Business
Vishal Sikka had resigned following months of acrimony with Narayana Murthy, citing "malicious" and "personal attacks" on him, though he did not name Murthy for his exit.