Industry's verdict on Cyrus Mistry: Inexperienced but capable
While some may be surprised, most have received the announcement of Rata Tata's successor, Cyrus P Mistry (43), well and welcomed it.
While some may be surprised, most have received the announcement of Rata Tata's successor, Cyrus P Mistry (43), well and welcomed it.
Tata Sons, the holding company of the over $80 billion conglomerate the Tata Group, today announced that Cyrus P Mistry, the 43-year-old managing director of Shapoorji Pallonji Group, will succeed Ratan Tata when he retires in 2012.
While many wondered if his role as managing director with his family business Shapoorji Pallonji Group of Companies would be a conflict of interest, he dispelled any doubt by announcing that he was severing relations with it.
After the announcement, Mistry in a statement said, "I take this responsibility very seriously and in keeping with the values and ethics of the Tata group I will undertake to legally disassociate myself from the management of my family businesses to avoid any issue of conflict of interest."
Supreme court advocate, HP Ranina said that Mistry stepping down from his positions at his family business would allay any whispers of a conflict of interest and that he had made a good decision on the same.
"Cyrus would not have been able to spare enough time if he was going to manage his family business and get involved with such a large group like Tata Sons," Ranina told CNBC-TV18. And while he said Mistry's disadvantage was his inexperience with larger public companies, he was confident of him taking on the mantle well.
"Even when Cyrus Mistry's experience is very limited, Ratan Tata's 12 months grooming will help Mistry fit into Tata's shoes," Ranina said.
Market analyst, SP Tulsian, was surprised. "I am a bit surprised...it was speculated that probably an insider will come as a successor to Ratan tata - with the finger pointing more to Noel Tata," he said.
But, DN Mukherjea, Editor of Fortune India, said that Ratan Tata always wanted a young successor to take the company forward.
"He (Ratan Tata) has always kept on saying that he would love to have someone young to take over," Mukherjea said, adding, "I think its great news that they are betting on somebody so young to take the group over the next 30 years....it's great to have a young person with an open mind "
Indrajit Gupta, Editor of Forbes India couldn't agree more. "If you ask me, I think it's a great choice because he understands the work, he understands the group, he also represents the largest shareholder base and understands the value of the Tata Group," Gupta told CNBC-TV18. "All in all it's a good choice. For people who know Cyrus and the Pallonji Mistry Group, say he is very thoughtful and fairly pragmatic."
Even AM Naik, chairman and managing director of L&T, welcomed his appointment saying that Cyrus Mistry's appointment would bring in long-term stability for Tata Group.
"Having got 12 more months to be mentored by Ratan Tata, I'm sure he will come up to the point where not only the Tata growth momentum continues, but he will weather through all the difficulties of the present times and take the group to the next level," he told CNBC-TV18.
He said he had heard good things about Mistry's leadership and that people should not dismiss him as being inexperienced.
"I think one has to throw a person in the sea to swim. While I don't know him well enough, L&T has worked closely with Shapoorji Pallonji and all that I've heard is good about his leadership," Naik said. "He is young and I think the Tata Group will have a long term stability," he told CNBC-TV18.
The industry too was positive about Mistry's appointment as Ratan tata's successor. Chandrajit Banerjee, director general of the CII, in a statement sais, "CII commends the leadership in the Tata Group for setting standards which would be benchmark for large global corporations."
"In the choice of Mr Mistry, there is a clear message in the trust of the captains of Indian Industry in the capabilities of young leaders in the country. This is also in keeping with the emerging demographics in Indian Industry. CII looks forward to working closely with Mr Mistry and the Tata group in the future," the statement said.
The board of directors at Tata Sons, the apex holding company of the Tata group, met on Wednesday, November 22, and the choice of a successor to group chairman Ratan Tata was made last evening.
Mistry, one of the youngest directors of Tata Sons, joined the board at the age of 38.
A graduate in civil engineering from Imperial College, London, Mistry has been a director of Tata Sons since August 2006.
After the announcement, in a statement, Mistry said he was looking forward to being mentored by Ratan Tata.
"I feel deeply honoured by this appointment. I am aware that an enormous responsibility, with a great legacy, has been entrusted to me. I look forward to Mr Tata's guidance in the year ahead in meeting the expectations of the group," the release stated.
Watch CNN-IBN report on Cyrus Mistry's appointment:
Find latest and upcoming tech gadgets online on Tech2 Gadgets. Get technology news, gadgets reviews & ratings. Popular gadgets including laptop, tablet and mobile specifications, features, prices, comparison.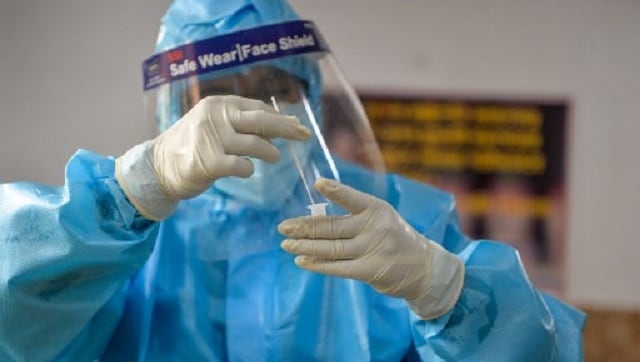 India
This test uses an indigenously-developed, cutting-edge CRISPR technology for detecting the virus' genome sequence
Business
This development comes just hours after the Supreme Court restrained till 28 October the SP group and Cyrus Mistry from pledging or transferring their shares in Tata Sons Pvt Ltd