Good news on Railways 2016-17 revenue: Why there is still a crying need to raise fares
Railways has failed to achieve even its revised passenger revenue target for the fiscal while freight revenue has declined significantly year on year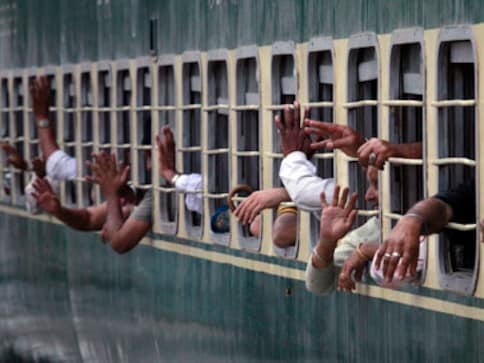 New Delhi: The Indian Railways has seen stupendous growth in non-fare revenues, which pushed up its total revenue earnings in 2016-17.
Total revenues rose to Rs 165,068 crore in 2016-17 from Rs 163,791crore in the previous fiscal. This increase was powered by a 72 percent increase in non-fare revenue from sources including right of way charges to Rs 10,181 crore from Rs 5,928 crore in 2015-16.
But non-fare revenues cannot obviously cure all the ills plaguing the Railways – the lion's share of its earnings comes through freight and passenger traffic. And it has again fallen woefully short on both these counts. So while news reports on the Railways' results for last fiscal show it has done a remarkable job in generating incremental earnings from sources like advertisements on trains, parking and catering etc, it has failed to achieve even its revised passenger revenue target for the fiscal while freight revenue has declined significantly year on year.
In fact, a Parliamentary Standing Committee on Railways which examined the ministry's demand for grants for the current fiscal made a scathing observation when it said last month that in 2016-17, the Railways was expected to see a decline of over 50 percent in net revenues (total earnings minus total expenditure) over budget estimates for the first time ever. In other words, while getting incremental non-fare revenues is a good development, the carrier needs to focus on vastly improving its core functions of carrying passengers and freight. Now, more than ever, as the Railway Budget has been merged with the Union Budget and the Railways needs to chart out its own course.
This Parliamentary Standing Committee had said that the Railways had first projected revenue earnings from passengers at Rs 51,012 crore in its Budget estimates for 2016-17. This figure was later revised to Rs 48,000 crore and what has actually been earned is Rs 46,279 crore. The same committee report said the budget estimate for freight earnings for 2016-17 was Rs 117,932.75 crore , which was revised down to Rs 108,900 crore. The actual earning has been even lower at Rs 104,310 crore. In other words, the Railways has earned Rs 150,589 crore from passenger and freight segments against its revised target of Rs 156,900 crore, a decline of over 4 percent. In 2016-17, non-fare earnings jumped to Rs 10,181 crore from Rs 5,928 crore in the previous fiscal.
Freight accounts for 65 paise of every rupee earned by the Railways and freight earnings have been declining as the Railways' freight rates remain unattractive compared to other modes of transport like roadways. Besides, bulk of the freight traffic has been restricted to 10 commodities and the basket is only now being expanded to almost 40.
The standing committee report quotes a Railway official as saying "Our freight rates are very high rates and that is how freight is moving to road. Our average cost of service is Rs 0.99 per ten kilometers whereas I am charging from my users around Rs 1.60 which I use for cross-subsidising my passenger traffic where I am charging around 50 percent of cost of our service. This trend is not good for the economy in the sense that goods are used for production, consumption and if the cost of transportation of goods which ultimately is the logistic cost, which is perhaps highest in India at around 13 percent of the cost of the goods as against developed countries is only around 4 to 5 percent. There is enough justification for reducing the freight charges. Today I am not able to do it because I have to match the budget and cross-subsidise the passenger traffic which are at substantially lower rate".
This essentially means that the Railways has been charging an over 60 percent premium on transporting freight across its network whereas passengers are subsidized as they are merely charged half of the cost of transporting them across the Railway network.
And this cross-subsidisation is the nub of the Railways' earning woes. As has been said countless times earlier, not only does the Railways need to bump up total passenger and freight earnings, it also quickly needs to reduce the subsidization of passenger fares through freight earnings. A Railway ministry official had anyway explained away lower freight earnings in 2016-17 thus: total loading of freight was down last fiscal as coal loading was less. About 50 percent of loading comes for Railways from coal and a change in thermal power generation policy of the government meant less coal was transported. Then, food grain loading has been affected largely on account of decentralised procurement of the Government. Cement loading was down because of the lull in infrastructure sectors.
Coming back to lower passenger fares, this piece in Business Standard quotes a senior Railway Board official to say that one of the major reasons for the increase in passenger revenues in 2016-17 over the previous fiscal was the launch of flexi-fare system across select trains which generated Rs 260.31 crore in revenue. While implementing flexi fares and other smart ticket pricing ideas, the Railways needs to rapidly also increase passenger fares to remain in business. Else dwindling passenger revenues, rapidly falling freight revenues will not be matched by even an exponential increase in non-fare earning streams.