Genetically modified mustard no solution for India's Rs 64,000 crore edible oil import bill, low farm income
Pushing farmers to grow oilseeds again will mean making the crop as attractive as cotton, one of its main competitors for requiring similar agro-climatic conditions.
On 11 May, the Genetic Engineering Appraisal Committee - India's biotech regulator, approved the commercial cultivation of genetically modified (GM) mustard, Dhara Mustard Hybrid (DMH)-11. DMH-11 and GM cotton, India's only transgenic crop so far, have something in common—-a gene conferring resistance to the herbicide glufosinate.
Six days later, European parliamentarians voted against allowing the import of products made from GM cotton because that could encourage the use of glufosinate on the continent. Glufosinate is classified as toxic for reproduction in Europe.
Why is India embracing the more widespread use of glufosinate—and that too, for a food crop—when Europe is shunning the product?
Dr Deepak Pental of the Centre for Genetic Manipulation of Crop Plants, University of Delhi South Campus, where DMH-11 was developed, said: "Glufosinate will only be used in seed production, not in farmer's fields because mustard has no serious weed issue needing the herbicide."
When asked if an alternative herbicide to glufosinate for seed production exists, he replied "No."
Indian farmers aren't buying that argument having burnt their fingers with Bt cotton, GM cotton named for the soil bacterium Bacillus thuringiensis, the source of another gene transferred to the seed for its insecticidal action against the larvae of the bollworm, a crop-destroying moth that especially targets cotton.
"When Bt cotton was first introduced in 2002, we believed it would control the bollworm," Badrinarayan Chaudhary, general secretary of the Bharatiya Kisan Sangh told FirstPost.
Instead, Bt cotton has taken farmers further from low-input, high-output agriculture.
"Fifteen years later, we are still facing the bollworm," said Chaudhary. "Now farmers growing Bt cotton use eight chemical sprays on their crop, and with the improvement in yield having tapered off, they are saving less."
Asked why farmers do not revert to the old seed, Chaudhary said: "Cheap desi seeds are no longer freely available compelling farmers to buy expensive Bt cotton seeds."
Scientist and biosafety expert Dr Vandana Shiva affirmed that cotton seed prices have increased 71,000 percent since Bt cotton was introduced.
Monsanto, the agro giant behind Bt cotton, earns royalty from Bt cotton seed sales.
Proponents for DMH-11 say it has been indigenously developed so pricing should not be an issue. But that still doesn't justify a switch. "Officials say that GM mustard will increase the yield, but where are the results of the field trials proving this," questioned Chaudhary.
DMH-11 is not a higher yielding hybrid than existing non GM mustard hybrids. "DMH-11's yield is comparable with DMH-1's (a non GM hybrid), which has similar parents; both are 20-30 percent more productive than pure lines," admitted Dr Pental.
Then why did Dr Pental and his team develop DMH-11? "If we want major increase in yield in mustard, we need a robust system of hybrid seed production," Pental explained. "Barnase/barstar, the system we have used, is the most robust system available for large scale hybrid seed production. Whereas, the system used for DMH-1 is unstable, and therefore has a limited future and limits the scope for developing higher yielding, disease resistant, quality hybrids." According to Dr Pental, genetic engineering-based pollination control will enable the production of hybrid mustard seeds using any set of parents, which makes for a robust seed production system.
"Now that we have a system to continuously improvise on the seed by systematically improving the parents, we could create a seed that is more productive by 50-60 percent," Pental said. "This [gradual process of improvement] is common to all crops. First generation hybrids were only 5-10 percent more productive than varieties; successive hybrids are phenomenally more productive."
Chaudhary has grown skeptical about achieving increasing yields with GM crops based on the experience with Bt cotton. He feels Indian farmers should be left to do what they do best—work the land using hardy desi seeds.
Mustard farming in India is typically dry land, a kind of farming applied in semi-arid areas devoid of irrigation facilities, using drought-resistant crops. Dry land farming is also why India's oilseed yield is roughly 50 percent of the global average, as per Problems and Prospects of Oilseeds Production in India, an Indian Institute of Management (IIM), Ahmedabad report.
If the government's objective is increasing the mustard yield to cut India's Rs 64,000 crore vegetable oil import bill, history may provide a few pointers. In the mid-eighties, edible oil was India's largest import despite the country being the world's second largest oilseeds cultivator. An initiative to increase the total area under oilseeds and the area under irrigation took the country to 95-98 percent self-sufficiency by the early nineties.
Liberalising the edible oilseed sector starting in 1994 undid this achievement as cheaper imports flooded the country—of late these include GM canola oil from Canada.
Consider: India had 25.2 million hectares under oilseeds in 1993 and 25.7 million hectares in 2014. Whereas, cotton acreage increased more than 50 percent between 2005 and 2015, as a result of higher Minimum Support Prices for the crop, according to State of Agriculture 2015-16, a ministry report.
Pushing farmers to grow oilseeds again will mean making the crop as attractive as cotton, one of its main competitors for requiring similar agro-climatic conditions. Increasing the Minimum Support Price is said to be behind this years' 71.09 lakh tonnes record mustard crop.
Reinstituting high import duties on edible oil would also help revitalise domestic production, said Dr Shiva, a proponent of cold-pressed ghani oil for being healthier than solvent-extracted oils.
Would GM mustard's leaves be healthy and what of the oil?
Close to two decades of consumption has established the safety of Canadian GM canola oil, said Dr Pental.
But it is neither as safe nor as healthy as cold pressed oils, as per this analysis by Harvard University professor Guy Crosby. Europe grows and consumes only non GM canola oil.
"Indian cattle fed GM cottonseed meal are 30 percent less fertile," said Chaudhary. "When we did not allow GM brinjal, why are we allowing GM mustard?"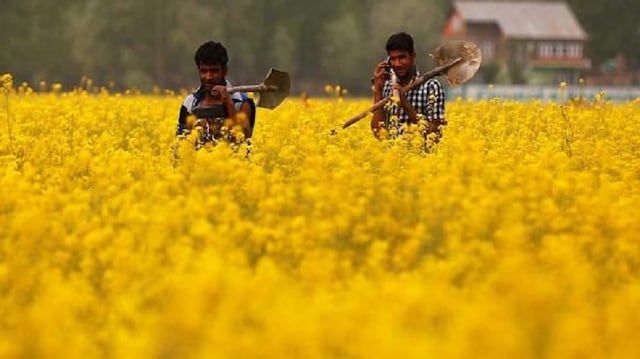 India
Centre told the Supreme Court on Friday that it has not granted any approval for commercial cultivation of Genetically Modified (GM) mustard crop
Opinion
"We don't need GM mustard to improve yields, we just have to rely on varieties that are already growing in India,' says Mahajan
Politics
Union minister Harsh Vardhan discussed the challenges India faces after taking charge as environment minister following the death of Anil Madhav Dave last week