Jobs, agriculture sector to get big push in Budget 2018, hints Economic Survey; pegs GDP at 6.75% this year: 10 points
Economic Survey says GDP growth has averaged 7.3 percent from 2014-15 to 2017-18, which is highest among major economies of the world
The thrust of Union Budget 2018 is likely to remain on creating more jobs in India and boosting farmer's income this fiscal year, findings of the Economic Survey India suggested. The survey found that climate change is likely to increase the burden on already stressed agro economy, as it urged the government to take "radical follow-up action" to achieve its goal of doubling farmers' income by 2022.
The survey found that the effects of climate change could adversely affect farmers income by as much as 20 to 25 percent in the medium term as Indian farm sector still majorly relies on monsoon.
"Minimising susceptibility to climate change requires drastically extending irrigation via efficient drip and sprinkler technologies, and replacing untargeted subsidies in power and fertiliser by direct income support," the survey said, while calling for review of cereal-centric farm policy. This suggested that there could be a big boost on improving agricultural infrastructure and on raising farm productivity.
Besides this, on a positive note, the survey also found that India is expected to regain the world's fastest growing major economy tag as it is likely to clock 7 to 7.5 percent growth rate in 2018-19, up from 6.75 percent in the current fiscal, the survey said.
The economy, said the survey for 2017-18, will grow on the back of major reforms which would be strengthened further in the next financial year. The survey was tabled in Parliament by Finance Minister Arun Jaitley.
"A series of major reforms undertaken over the past year will allow real GDP growth to reach 6.75 per cent this fiscal and will rise to 7 to 7.5 per cent in 2018-19, thereby re-instating India as the world's fastest growing major economy," it said.
The reform measures undertaken in 2017-18 can be strengthened further in 2018-19, it said. The survey, said that as per the quarterly estimates there was a reversal of the declining trend of GDP growth in the second quarter of 2017-18, led by the industry sector.
The survey points out that India can be rated as among the best performing economies in the world as the average growth during last three years is around 4 percentage points higher than global growth and nearly 3 percentage points higher than that of emerging market and developing economies.
It said that the GDP growth has averaged 7.3 per cent from 2014-15 to 2017-18, which is the highest among the major economies of the world.
"That this growth has been achieved in a milieu of lower inflation, improved current account balance and notable reduction in the fiscal deficit to GDP ratio makes it all the more creditable," it said.
The survey, however, cautioned that some of the factors could have dampening effect on GDP growth in the coming year are like the possibility of an increase in crude oil prices in the international market.
The survey underlined that the economy began to accelerate in the second half of the year and can clock 6.75 percent growth this fiscal due to the launch of transformational Goods and Services Tax reform on 1 July, 2017 and resolution of the long-festering Twin Balance Sheet problem by sending the major stressed companies for resolution under the new Indian Bankruptcy Code.
It also said implementing a major recapitalisation package to strengthen the public sector banks, further liberalisation of foreign direct investment and the export uplift from the global recovery had played a major role in boosting the growth.
(1) There has been a large increase in registered indirect and direct taxpayers: A 50 percent increase in unique indirect taxpayers under the GST compared with the pre-GST system. Similarly, there has been an addition (over and above trend growth) of about 1.8 million in individual income tax filers since November 2016.
(2) The formal non-agricultural payroll is much greater than believed: More than 30 per cent when formality is defined in terms of social security (EPFO/ESIC) provisions; more than 50 per cent when defined in terms of being in the GST net.
(3) The prosperity of the states is correlated with their international and inter-state trade: states that export more internationally, and trade more with other states, tend to be richer. But the correlation is stronger between prosperity and international trade.
(4) India's firm export structure is substantially more egalitarian than in other large countries: The top one per cent of Indian firms account for 38 per cent of exports; in all other countries, they account for a substantially greater share (72, 68, 67, and 55 per cent of exports in Brazil, Germany, Mexico, and US, respectively). And this is true for the top five per cent, 10 per cent, and so on.
(5) The clothing incentive package boosted exports of ready-made garments: The relief from embedded state taxes (ROSL) announced in 2016 boosted exports of ready-made garments (but not others) by about 16 per cent.
(6) Indian society exhibits strong son "Meta" preference: Parents continue to have children until they get the desired number of sons. This kind of fertility-stopping rule leads to skewed sex ratios but in different directions.
(7) There is substantial avoidable litigation in the tax arena which government action could reduce: The tax department's petition rate is high, even though its success rate in litigation is low and declining (well below 30 per cent). Only 0.2 per cent of cases accounted for 56 per cent of the value at stake; whereas about 66 per cent of pending cases (each less than Rs 10 lakh) accounted for only 1.8 per cent of the value at stake.
(8) To re-ignite growth, raising investment is more important than raising saving: cross-country experience shows that growth slowdowns are preceded by investment slowdowns but not necessarily by savings slowdowns.
(9) Own direct tax collections by Indian states and local governments are significantly lower than those of their counterparts in other federal countries: This share is low relative to the direct taxation powers they actually have.
(10) The footprint of climate change is evident and extreme weather adversely impacts agricultural yields: The impact of weather is felt only with extreme temperature increases and rainfall deficiencies. This impact is twice as large in unirrigated areas as in irrigated ones.
Click here for full coverage of Union Budget 2018
With inputs from agencies
Business
Crisil Research pegged the headline consumer price inflation to come at 6.8 per cent in FY23 - marginally higher than the Reserve Bank of India's 6.7 per cent estimate
India
The government with a view to protect interests of sugarcane farmers has decided that there shall not be any deduction in case of sugar mills where recovery is below 9.5 per cent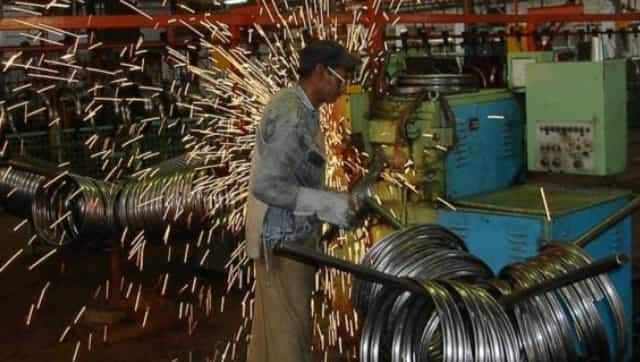 India
In 2021-22, the Indian economy grew at 8.7% up from 6.6% the year before and we are looking at upwards of 7% this year too. This is the highest in the world amongst major economies, with China coming in next at 5.5% growth