By Abhiskeh Waghmare
Dilapidated, dirty and depressed, a town that was once called the Manchester of Asia smells of textile starch, thinners, garbage and sewage.
Since the turn of the century, Bhiwandi, 30 km north of Mumbai, has wilted against competition from Bangladesh and Vietnam. Bhiwandi holds more than a sixth of India's 6.5 million power looms—machines that manufacture fabric from yarn—according to this April 2016 Economic & Political Weekly report. A congested city of about 1.5 million, it was once a key link in India's cotton economy, which employs 25 million workers alone, the second-largest employer after agriculture, according to this 2015 government report.
Bhiwandi has now been further crippled by the aftermath of the 8 November, 2016, scrapping of 86 percent of bank notes, by value. The Indian textile industry is already challenged by falling exports, low productivity and rising prices, IndiaSpend reported in July 2016.
Notebandi ne humko paanch saal peeche fek diya (demonetisation threw us five years behind)," said Asad Farooqi, 65, a labour contractor who has been running more than 100 power looms for about 30 years.
In this industry where son tends to follow father, Asad's son, Aftab, 34, remembered how they lived in prosperity in his childhood, and that earning Rs 20,000 for a consignment was very normal.
"Last month, we earned Rs 17,000 from all our looms business," Aftab said, with a wry smile. The Rs 20,000 of 1996-97 would translate to about Rs 70,000 today, after factoring in an average inflation of 6.5 percent.
The textile industry, of which decentralised power looms and knitting are the largest components, contributes to 2 percent of India's gross domestic product. Maharashtra, with more than 1.1 million power looms, is one of India's largest power loom hubs, providing direct employment to a million people in Bhiwandi, Malegaon, Dhule, Sangli and Sholapur.
"Only 20 percent of these (Bhiwandi's looms) are running today," said Mannan Siddiqui, president of Bhiwandi Textile Mills Association, who has spearheaded the attempt to revive Bhiwandi's looms over more than 20 years.
Malegaon, 270 km to Mumbai's northeast, is similarly struggling to keep looms running, IndiaSpend reported in December 2016.
Bhiwandi is one of the key links in India's textile supply chain–from farm to loom–that IndiaSpend visited to investigate the effects of notebandi. Although there are no consolidated data, we found production cuts, job losses and revenue declines in an already struggling sector.
Cash rules critical parts of this supply chain: from farmer to yarn factory to yarn trader to power loom cloth manufacturer to wholesaler to retailer to consumer. Dyers, zip-and-button fixers and daily workers who lift bales are some of the poorest in this chain and they appear to be the worst hit. We found some increased use of debit cards (among consumers) and export deals are largely made through bank transfers, but these were exceptions.
The textiles sector has been instrumental in creating mass employment, particularly for women, and has lifted millions out of poverty, as they moved out of farm jobs in many countries, including Bangladesh, Indonesia, Mauritius, Cambodia and Pakistan.
Textiles were the largest creator of Indian formal-sector jobs, with 499,000 added over the last three years, IndiaSpend reported in July 2016. There is strong international evidence that exports help create additional jobs and push up wage and income growth.
India's textile supply chain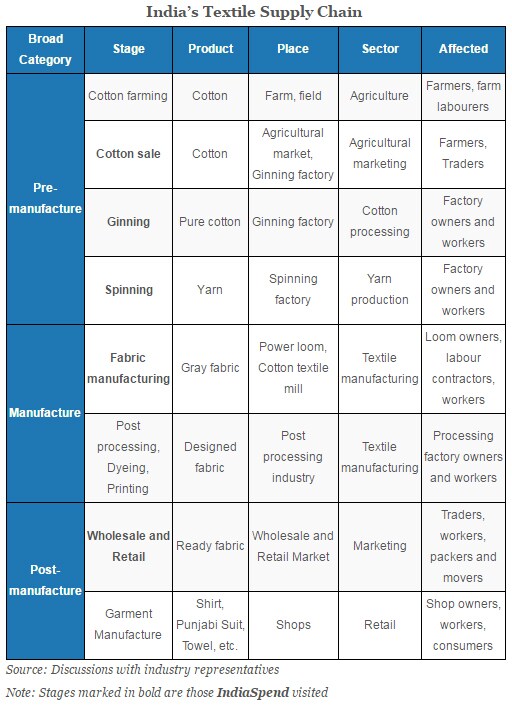 In the Mangaldas market, the biggest textile market in Mumbai—a city once known for its textile mills and labour unions, both now relics of history—N Chandrakant said business was 20 percent less than normal for the winter-and-wedding-shopping season, which runs from November to February. There was no business in the first week of notebandi.
"Customers are buying simple, plain shirt material, and demand for luxury items has reduced," said Chandrakant. "People are being economical."
Kripesh Bhayani, a cloth-and-apparel retailer in the same market, is also a garment maker who runs 17 imported fabric-weaving machines in a Mumbai suburb. He said manufacturing was unaffected, but finishing of garments–such as fixing buttons and zips–had suffered. Bhayani outsources these jobs to household industries, which work on cash.
While the demand for garments has dropped 30 percent, wholesale demand has dropped 50 percent, merchants told us.
Mukesh Panchamatiya, a premium cloth retailer, was one of the few without complaints. "Apart from the immediate contraction in demand, we are more or less on track now," he said. "Debit-card transactions now account for half of my sale." Others were not as sanguine.
"Our market remains crowded the entire day during the November-to-February season," said Bharat Thakkar, secretary of Mangaldas Market Cloth Merchants Association. "Sellers struggle to attend the flurry of customers. The relatively empty shops today tell you everything."
The lack of Rs 500 notes was also a big problem, said Thakkar.
At Ahmedabad's New Cloth Market, trade had fallen by 80 percent, according Rajesh Agarwal, secretary of the market association. He explained why 60 of his 80 embroidery workers had returned to their villages after notebandi: When sales dropped, his cash dried up–except exports, the revenues of which he received through a bank account–so he could not pay salaries. Workers, said Agarwal, preferred to go temporarily jobless than endure the hassle of opening accounts in already stressed banks.
"Slowing consumer spending has resulted in a slowdown in domestic demand for apparel and other end-products of textile industry in the immediate term as a fallout of demonetisation," The Financial Express reported on December 3, 2016.
As a result, retailers cancelled their cloth orders from wholesale traders.
Wholesaler Sudhir Parekh explained how a boom at the start of November–when Diwali shopping season gives way to the winter-and-wedding-shopping season–collapsed after 8 November.
A lot of inventory that would have been sold by now is stockpiled at my shop," said Parekh, who works from Mumbai's Mulji Jetha wholesale cloth market. "My working capital is blocked—no retailer or garment maker is buying from me. My cloth, which is my working capital, is lying here, and there is no way I can purchase more from the textile mills. I am stuck."
This part of the textile supply chain is all cash: Consumers pay cash to retailers, who pay cash to wholesalers because it is convenient. Wholesalers, who place large orders with textile mills and pay through cheques or bank transfers, are not presently doing that because of the shortage of cash, driven by the drying up of retail spending.
Further, using cash allows many retailers and wholesalers avoid a variety of taxes: With many transactions off the books, the volume of trade is hard to discern.
Parekh said he was ready to go cashless, but his ability to do so depended on retailers and customers to do so.
Cashless transactions, however, dominate the large-volume purchases of cloth that traders make from textile mills in Bhiwandi, Surat and Ahmedabad in Gujarat and Tirupur and Coimbatore in Tamil Nadu.
Difficult to find work
In Bhiwandi, Suleiman Rahil and Syed Nasar Ali, both in their 40s, were doing nothing when we met them.
Both are loom workers who run five to six power looms, in whichever factory needs them. Both are from Pratapgarh district in Uttar Pradesh, and have five children each.
Rahil and Ali each earned Rs 15,000 a month before notebandi, they said. Their incomes are down by a third to about Rs 5,000 each, there is no work most days, and they spend their day looking for odd jobs, including in farms and other markets.
"Pehle jeb mein 400-500 rupaye hote the. Aaj chai paani mushkil ho gaya hai (We used to have Rs 500 in our pockets, but today, we think twice before having tea)," said Ali.
"How can a family with six children sustain itself on Rs 5,000 a month?" he asked.
Bhiwandi labour contractor Ashok Ahuja–who also owns about 60 struggling power looms–explained how half his workers, from various rural districts of Uttar Pradesh, Bihar, Jharkhand and West Bengal, left for their villages when work dried up.
Some have started returning. Ahuja restarted his looms in Bhiwandi on January 2, 2017, two months after he shut them down, right after wholesalers cancelled orders after demonetisation.
Powerloom workers
In Bhiwandi, Siddiqui argued that China, Pakistan and Bangladesh's policies have benefited their textile industry, while India's have enfeebled power loom owners like him, who must deal with not just low demand but daily price variations of yarn–the chief raw material for power looms–over the last four years.
Updated Date: Jan 23, 2017 14:21:49 IST