D-Mart operator Avenue Supermarts zooms over 100% on listing: Key facts about sparkling debut
During the company's public issue between 8-10 March, Avenue supermarts saw robust investor demand and was oversubscribed 103.72 times
Avenue Supermarts, the operator of retail chain D-Mart, made a mind-boggling debut on the bourses on Monday, much on the lines of the phenomenal response the company's public issue received a week back from across the investor category.
Avenue Supermarts shares opened at Rs 604.40 a share, an overwhelming 102 percent surge over its issue price of Rs 299 a share.
Advancing further, Avenue shares zoomed further to touch a high of Rs 615, up nearly 106 percent.
At the day's low of Rs 558.75 touched a short while ago, the stock is still up 87 percent over its issue price.
At 10:25am, Avenue Supermarts shares were at Rs 596, up 97 percent, with over 3.26 crore shares changing hands on BSE so far.
During the company's public issue between 8-10 March, Avenue Supermarts saw robust investor demand and was oversubscribed 103.72 times.
The IPO, the biggest since PNB Housing Finance's Rs 3,000 crore offer in October last year, received bids for 460.22 crore shares against the total issue size of 4.43 crore shares.
The company successfully raised nearly Rs 561 crore by allotting shares to anchor investors.
The price band for the IPO was set at Rs 295-299, and the company intended to raise Rs 1,870 crore through the IPO. The company had said the proceeds would be utilised for various purposes, including loan repayment.
Nine merchant bankers -- Kotak Mahindra Capital, Axis Capital, Edelweiss Financial Services, HDFC Bank, ICICI Securities, JM Financial Institutional Securities, Inga Capital, SBI Capital Markets and Motilal Oswal Investment Advisors -- had managed the offer.
The supermarket operates 118 stores across 45 cities under the D-Mart brand.
"The level of initial demand seen was always humongous right from the road show stage," Reuters reported quoting Subhrajit Roy, head of equity capital market (ECM) origination at Kotak Investment Banking, during the public issue.
"This was a company with great financials, substantial scale, strong brand recall, good management credibility and it is way ahead of other companies in their entire peer group despite owning assets. So, it had a good appeal," said Roy.
Business
The market valuation of Avenue Supermarts, the operator of retail chain D-Mart, surged past the Rs 1 lakh crore-mark in intra-day trade on Monday
Business
Avenue Supermarts' market valuation rose by Rs 3,751.56 crore to surge past Rs 1,03,145.56 crore on the BSE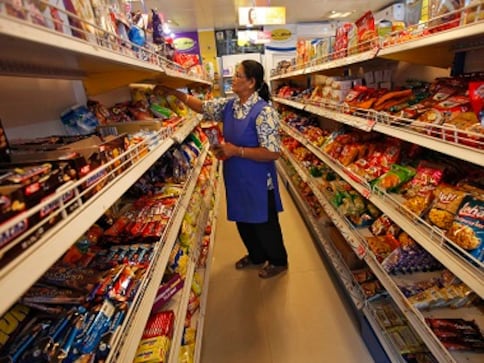 Business
Radhakishan Damani will sell shares to comply with minimum public shareholding requirements.