Cloud computing firm 8K Miles close to buying US healthcare firm; sees FY19 margin rising to 45%
8K Miles is likely to close the deal over the next few months, a top company official has said.
Mumbai: Cloud computing firm 8K Miles is planning to acquire a US-based healthcare player in the cloud space and is likely to close the deal over the next few months, a top company official has said.
The Silicon Valley-based company, which reported 64 percent jump in net income in fiscal 2018 on a revenue of Rs 858 crore, which logged in a growth of 62 percent, has also set a target of increasing its operating margin to 42-45 percent this year from 34 percent in FY18.
The Chennai-registered firm is yet to announce its June quarter earnings. It has also set a 30-35 percent topline growth target this fiscal year.
"We are very close to striking a deal with a US-based healthcare services provider in the cloud space. It will be closed in the second quarter. The deal is part of our strategy to grow inorganically," chairman and managing director Suresh Venkatachari told PTI over phone from Chennai today.
When completed, this will be the sixth acquisition for the company, which nets over $60 million or about 55 percent of its top line from healthcare business. Sounding bullish about overall growth, Venkatachari said he is confident of bettering the FY18 show in FY19 as he sees better chances of on-boarding more clients to its platform this year.
He said, while healthcare services will continue to be the growth driver, blockchain will be another key growth area for them going forward that will help it offer custom-made services to individual patients.
When asked about the recent massive fall in his 8K Miles stocks, which is trading at one-fourth of its 52-week's peak now, Venkatachari sounded worried and said he suspects "foul-play by vested interest parties punting his stock."
He also said they will be approaching the market regulator Sebi soon with a formal complaint. "While our profit rose 64 percent to Rs 172 crore, topline grew 62 percent in FY18 at Rs 858 crore, with a strong EPS of Rs 56. We continue to see strong growth in FY19 and FY 290 because there is nothing wrong with our business and revenue flows," he added.
He further said the company is "planning to take necessary action as there is nothing wrong with our performance or cash-flows."
The 8K Miles counter was trading at a 52-week low of Rs 237.50, down 5 percent on the BSE, against an index gain of 0.25 percent at 1450 hrs. This day last year the stock had closed at Rs 1,024.
Business
On the BSE, the shares are listed in the 'B' Group of Securities, while on the NSE they are trading in the Normal Market segment – Compulsory Demat (Rolling Settlement)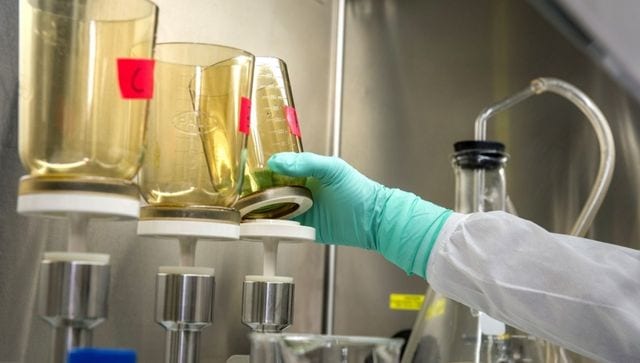 Business
The share price of Archean Chemical may increase to between Rs 550 and 570 in the near term, and it may rise to Rs 640 in the long run
Business
During the day, the 30-share BSE Sensex hit its 52-week high of 62,052.57, higher by 179.58 points