Charts: Vodafone, Idea Cellular to merge in all-share deal: Birth of a giant
With 204.68 million customers, Vodafone enjoys market share of 18.16 per cent. Idea has 16.9 per cent with 190.51 million customers as of December 2016, according to Trai data
Amidst a wave of consolidation taking place in the country's telecom industry in recent months, the impending merger of British telecom major Vodafone's Indian arm and Aditya Birla group-run Idea Cellular was conceived today, thus creating the country's largest mobile operator by customer and revenue market share.
The merger deal comes at a time when Mukesh Ambani's telecom venture Reliance Jio has been threatening to severely jolt the telecom incumbents' market share and profit through its fast-pace addition of subscribers since its commercial launch in September last year.
As per the initial contours of the deal, the merged entity will come into force over the next two years, and will be headed by Kumar Mangalam Birla as Chairman.
Vodafone will have its nominee as the chief financial officer, its CEO Vittorio Colao said here at a press meet, which was also attended by Birla.
The all-share merger for both partners excludes Vodafone's 42 percent stake in Indus Towers and will be effected through issuing new shares in Idea to Vodafone and result in Vodafone deconsolidating Vodafone India.
Vodafone will own 45.1 percent in the new company after transferring 4.9 percent to the Aditya Birla group for Rs 3,874 crore in cash concurrent with completion of the merger.
Idea will hold 26 percent of the combined entity while the rest will be owned by public shareholders.
Idea and Vodafone said the merged entity will be jointly controlled by Vodafone and the Aditya Birla group as per shareholders' agreement.
With 204.68 million customers, Vodafone enjoys market share of 18.16 percent. Idea has 16.9 percent with 190.51 million customers as of December 2016, according to Trai data.
Airtel, with a market share of 23.58 per cent and a customer base of 265.85 million, leads the market both in terms of revenue and customer base.
According to CLSA report in January, the merged entity will have revenue of over Rs 80,000 crore, translating into a 43 per cent share by revenue and 40 per cent by active subscriber base with around 400 million customers.
The combined venture will account for over 25 percent of the allocated spectrum and will have to sell about 1 per cent (worth Rs 5,400 crore) to comply with spectrum cap norms.
"The merger pegs implied enterprise valuation of Rs 82,800 crore ($12.4 billion) for Vodafone India and Rs 72,200 crore ($10.8 billion) for Idea," according to an
exchange filing by Idea.
The companies had a net debt of Rs 1.07 trillion as of December 2016. The Vodafone chief, who ruled out any chance of the lingering tax dispute with the government to affect the merger process, also said both the companies will have three representatives each on the board of the new company.
Colao also said the merger makes possible synergies of $10 billion. He also added that both the brands, considering their strengths, will continue to operate separately.
Indicating Vodafone's intention of gradually exiting the country, Colao and Birla said over a period, both companies will have equal stakes in the merged entity.
Birla said the fund for picking up 4.9 percent of Vodafone stake for Rs 3,874 crore will come from the promoters, and not from Idea.
He also ruled out any major downsizing at Idea post merger.
The scheme of amalgamation includes Vodafone India (VIL) and its wholly-owned subsidiary Vodafone Mobile Services (VMSL) merging with the new company.
Vodafone will keep its 42 percent consideration in Indus Towers out of the merger process.
The turnover of Vodafone India is Rs 5,025 crore and that of Vodafone Mobile Service is 40,378 crore. Idea's turnover is Rs 36,000 crore.
The net worth of VIL is 12,855 crore, VMSL's Rs 3,737 crore and Idea Rs 24,296 crore.
The Birlas will have the right to acquire more shares from Vodafone under an agreed mechanism with a view to equalising the shareholdings over time, said a joint statement by the two companies.
The merger will result in substantial cost and capex synergies with an estimated net present value of around $10 billion after integration costs and spectrum liberalisation
payments, with estimated savings of $2.1 billion annually from the fourth year of the merger.
Vodafone India will be deconsolidated by Vodafone and reported as a joint venture post-closing, reducing Vodafone Group's net debt by around $8.2 billion.
Colao said that to help the Birla group increase the shareholding in the combined company after four years, Vodafone will sell shares over the following five-year period.
Until equalisation is achieved, the voting rights of the additional shares held by Vodafone will be restricted and votes will be exercised jointly under the terms of the
shareholders' agreement.
The AB group will have the right to buy 9.5 percent in the entity at Rs 130 per share.
Given the present spectrum holding, revenue and subscriber base, both the companies need to work on synergy to comply with rules.
As per the merger and acquisition rules, an entity should not hold over 25 per cent spectrum allocated in a telecom circle and 50 per cent of spectrum allocated in a particular band in a service area.
The merged entity should also not have more than 50 percent revenue and subscriber market share.
European brokerage CLSA recently said the merged entity will breach revenue market share, subscriber and spectrum caps in five markets.
The combined entity is expected to cross the spectrum cap in 900 Mhz band in Maharashtra, Gujarat, Kerala, Haryana and UP West and in 2,500 Mhz band in Maharashtra and Gujarat.
(With data inputs from Kishor Kadam)
With PTI inputs
India
We were able to achieve this feat due to the unwavering support and encouragement of our readers and subscribers
India
In his annual interaction, the prime minister said the aim is to make India 'aatmanirbhar' in the oil and gas sector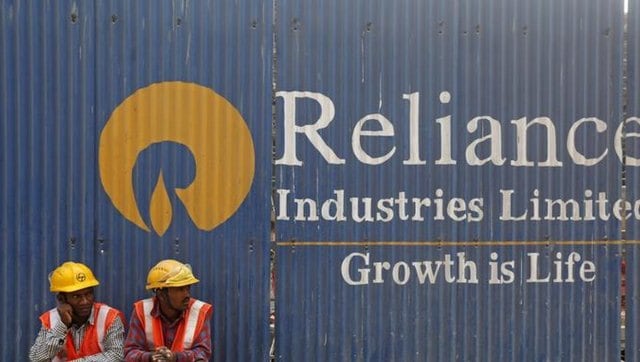 Business
Ambani said the acquisition is in line with Reliance's strategy of investing in new and advanced technologies and operating capabilities aimed at achieving the goal of enabling 100 GW clean and green energy before the end of this decade.