Budget for Bharat: Large investments but only a mild push to rural consumption
The real push needed is in rural spending through government investment. Has the Budget 2017-18 actually helped this cause?
New Delhi - Will the Budget proposals for 2017-18 boost India's private consumption? Private consumption is a measure of all the money spent by consumers in this country to buy goods and services.
This is a major part of the country's GDP and used as a tool to measure the robustness of the economy. Private consumption accounts for more than half of India's GDP – it is only natural then to use it as a measure for assessing the government's intent when it presents the Budget each year.
This year, as we have said earlier, the Budget focuses (or at least appears to focus on) Bharat, not India. Does this mean flagging rural consumption will definitely get a boost because Finance Minister Arun Jaitely ensured repeated use of words like farmers, rural and poor in his Budget speech in Lok Sabha on February 1?
The rural demand/consumption story has been a concern for much of this year – first it was the apprehension about another delayed monsoon and then the demonetization demon further dented rural consumption in particular.
So when analysts at brokerage Edelweiss said in a note to clients yesterday that government's proposed rural spending is actually down in 2017-18, it came as a bit of a surprise.
"In FY17, government utilized the additional revenues from tax revenues to boost rural spending. Total spending in rural areas has exceeded the budget estimate by 12% to register a robust 27% growth. However, in FY18 rural spending is likely to slow to 10% from 27% in FY17. Although within rural spending there are pockets such as rural housing where government push is likely to be strong," the note said.
What this means is total rural spending will rise by a fourth year-on-year this fiscal ending March 2017 but then, the growth in rural spending will slow to less than half at 10% in the next fiscal. About a third of the total household consumption demand in India comes from the hinterland, according to an analysis by ratings agency Crisil. Of this, about a fourth is towards 'discretionary' items.
And this article in the Hindu Businessline says that the growth in private consumption slowed from a healthy 7.6 percent in FY16, to a sluggish 6.5 percent in FY17 (it has not made a distinction between urban and rural spends). This is without accounting for the impact of the note ban.
The withdrawal of high-value currency notes and the cash crunch that has followed has taken a further toll on consumer confidence in the past quarter. It goes on to say that early-bird results from corporate India show demonetisation has delivered a sizeable hit to rural spending, even while urban consumers have weathered the shift well.
"In segments such as home appliances and low-ticket FMCGs, the note ban has also speeded up the shift from unorganised and unbranded players to the branded (and listed) players. GST will further speed up this shift." Put simply, this indicates that the real push needed is in rural spending through government investment, not as much in urban areas. Has the Budget 2017-18 actually helped this cause?
Analysts at Crisil echoed the views of Edelweiss when they said in a note to clients that "the expected push to consumption in fiscal 2018 from budgetary announcements will only be mild, and we expect GDP growth to rise marginally to 7.4%, up from 7% in fiscal 2017. Normal monsoons, softer interest rates and inflation and pent up demand (demand postponed due to the demonetisation) will support consumption growth next fiscal. Higher domestic demand will put to use spare capacity in sectors such as cement, steel and consumer durables, which will help regain appetite for industrial investment in the economy."
Make no mistake, the finance minister has raised allocations in several schemes which are meant to boost job creation and therefore fire private consumption, specifically in rural areas. So there is higher allocation for rural jobs guarantee scheme MNREGA as well as the Pradhan Mantri Gram Sadak Yojana, increased credit availability for farmers, focus on micro irrigation and dairy related activities – all these schemes will raise rural consumption by increasing purchasing power. The question is, will this booster be enough to counter the ill effects of demonetization on an already slowing consumption story?
Crisil analysts further observed that even though consumption received a jolt following demonetisation, the government has refrained from giving a cyclical push (in the Budget proposals for 2017-18) through higher subsidies. "Rather, it chose to lift consumption by increasing investment in activities generating employment. Allocation for employment-generating schemes is proposed to increase 2% in fiscal 2018. However, this is less than the 37.6% growth in fiscal 2017."
Among employment-generating schemes, the highest share of spending is proposed to go to MNREGA. In the current fiscal, the government spent nearly 23% more than budgeted under MNREGA, primarily to cushion the rural economy from the impact of demonetisation. But the Budget has proposed only about 1.1% more funds to the same scheme in FY18. In addition, the government has increased allocation for construction activities such as roads and affordable housing.
Both are highly labour-intensive and employ low-skill workers. Affordable housing under the Pradhan Mantri Awas Yojana (PMAY) has received special focus, for which the government has allocated Rs 29,000 crore, an increase of 38.7% over fiscal 2017. Allocation for road transport has increased 11% in fiscal 2018. The allocation for the Pradhan Mantri Gram Sadak Yojana has been kept at Rs 19000 crore, same as in FY17.
Find latest and upcoming tech gadgets online on Tech2 Gadgets. Get technology news, gadgets reviews & ratings. Popular gadgets including laptop, tablet and mobile specifications, features, prices, comparison.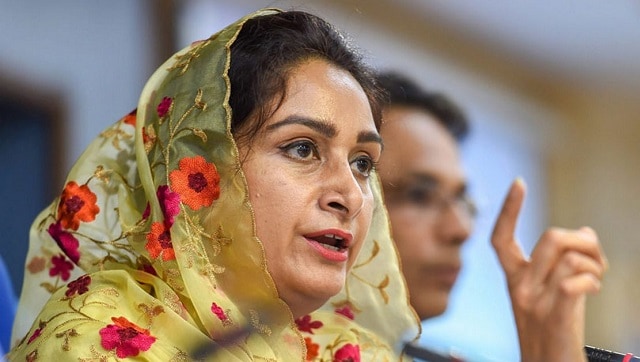 India
Ram Nath Kovind directed that Narendra Singh Tomar be assigned the charge of the Ministry of Food Processing Industries, in addition to his existing portfolios
Politics
Parliament LIVE Updates: Finance Minister Nirmala Sitharaman said that additional resources as part of the first demand for excess grants is being used for "people-centric activity and some of the most critical government schemes like the PM Gareeb Kalyan Yojana."
Politics
Several political parties, including NDA ally Shiromani Akali Dal, have dubbed the three farm sector bills as 'anti-farmers'. SAD has also quit the Union Cabinet protesting against the bills