Assembly election 2017: Uttar Pradesh win is a mandate for PM Modi to push ahead big reforms
The biggest arena of action will be Uttar Pradesh itself, a state which is lagging in almost all development parameters
Around 9.30 am, less than an hour after the first trends started trickling in, and it became clear that the BJP was headed for a big win in Uttar Pradesh, Congress leader Abhishek Manu Singhvi was holding forth on demonetisation. The BJP should not take the election result as a validation of demonetisation, he said, it is a bad policy regardless of the results.
Sure, an election result cannot determine the soundness or not of any economic policy. Bank nationalisation was not a good policy just because Indira Gandhi sold it as a pro-poor measure and won elections. Similarly, the jury on demonetisation will be out some years down the line. It may turn out to be a master-stroke or may turn out to be a disaster.
But who kept warning that BJP has invited electoral disaster upon itself with demonetisation? It was the entire political opposition and the allergic-to-Modi crowd. Even when the BJP put up a good show in the local body elections in Maharashtra and Odisha, the chorus that came from the anti-Modi side was that demonetisation was not a big factor here, but it will be in the Uttar Pradesh elections. They have been proved wrong again and a senior journalist was gracious enough to admit this during a television panel discussion. But Indian politicians are not known for their graciousness – hence the latest spin about how this election was not a referendum on demonetisation.
Let us, for argument's sake, agree that demonetisation was a disastrous move. It is clear now that even if a bad policy is packaged and marketed well, it will sell. As Akhilesh Yadav so churlishly said – voter samajhte nahin hain, behkaave mein aa jaate hain (voters refuse to understand; they get swayed by spin).
So, will Narendra Modi now move ahead on reforms agenda that his critics will almost certainly dub as disastrous (never mind that they may have championed them before May 2014), marketing them well to offset any electoral reverses? There is simply no debate on this – he should. He must use the mandate he has got to push ahead on the development front.
There is no point in boasting about growth figures. Figures don't matter when people do not have jobs. There is a serious problem on the employment front and the government needs to recognise this. The Jat agitation, Patidar agitation, the short fuse the youth seem to be on, all stem from this. The young are firmly behind Modi, but only because they think he will bring them employment – if not regular jobs, avenues for earning money. This requires serious action on several fronts.
The biggest arena of action will be Uttar Pradesh itself. As BJP president Amit Shah said at his press conference on Saturday, India cannot grow in double digits when Uttar Pradesh is growing in single digits. The state is lagging on almost all development parameters. Given the overwhelming majority the part has got, there should now be focussed attention on infrastructure, especially power and roads.
Uttar Pradesh is on board power minister Piyush Goyal's UDAY express, but there's little progress on improving the efficiency of the state electricity board. That can now change and the Centre must prevail on the state government to eschew populism, which is the bane of state electricity boards across the country. If the infrastructure (power and roads) and law and order deficits are fixed, then economic activity in Uttar Pradesh will get a much-needed revival and should bring jobs in its wake.
But what about other economic initiatives? Will the stupendous Uttar Pradesh win change equations in the Rajya Sabha, where the Congress has managed to play spoiler on many occasions? Will it change equations in the GST Council which still has to green flag the bills related to compensation to states and the draft integrated GST law?
GST may be a shoo-in now; after the drubbing the Congress got in Uttar Pradesh and the BJP's surprising show in Manipur, the former cannot continue to play the spoiler on this. The laws have to clear Parliament, but will probably be brought in as money bills, which means there is precious little the Congress can do to block them.
Fortunately, some big bang reforms that require legislative approval are in place, like the Bankruptcy and Insolvency Code, for example. Labour law reform is a pending reform, but the legislative route can be bypassed by encouraging states to amend their laws and then facilitating Presidential assent for them. The changed equation in the Rajya Sabha will help in the election of the next President. Then there are a lot of not very glamorous bills which can give a fillip to manufacturing that are pending – an amendment to the Factories Act is one - and can't be brought as money bills. The government will need to strategise on these.
Will Modi make a big move on privatisation? Unlikely. What is keeping Modi from this much-needed move is not fear of political backlash; he genuinely believes in the public sector. Only the really hopeless cases will be given up. No, that may not mean Air India.
But Modi's economic agenda will surely need watching from now on.
India
He said under the BJP-led NDA rule, India gives a befitting reply to terrorist attacks which was not the case when the Congress-headed UPA was in power
Politics
For all her 'connect with the people', Priyanka Gandhi Vadra's 'Hinduism' is even more farcical than Rahul Gandhi's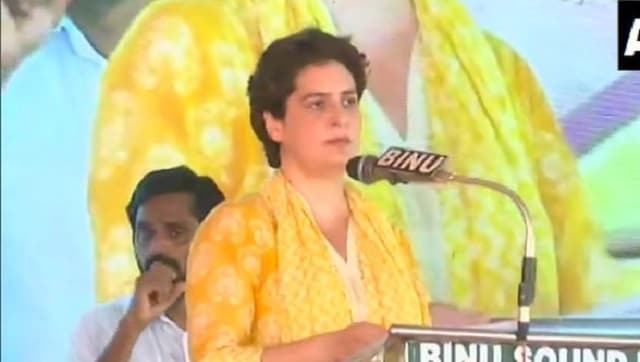 Politics
Had the Congress been serious about women empowerment, it would have made such statements in Punjab, Uttarakhand, Manipur and Goa where it is in serious contest for power in the 2022 elections