Amazon founder Jeff Bezos becomes world's richest person with net worth of $90.5 billion
Amazon founder Jeff Bezos became the world's richest person, as a jump in the share price of the US tech giant enabled him to overtake Microsoft founder Bill Gates, Forbes magazine estimated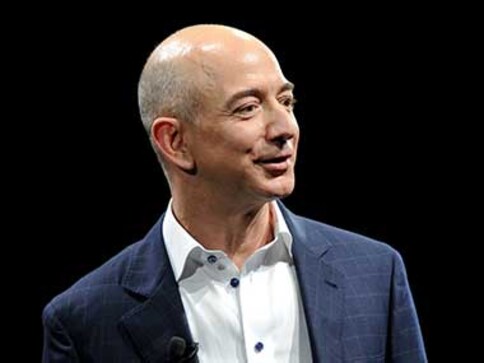 New York: Amazon founder Jeff Bezos on Thursday became the world's richest person, as a jump in the share price of the US tech giant enabled him to overtake Microsoft founder Bill Gates, Forbes magazine estimated.
The magazine said its real-time tracking of personal fortunes showed Bezos with a net worth of $90.5 billion, ahead of the $90 billion for Gates.
Bezos owns around 17 percent of the equity of Amazon, which has been expanding from its original mission as an online retailer to a diversified tech firm in cloud computing, online video, computing hardware and artificial intelligence.
The company also recently announced plans to acquire US grocer Whole Foods, which could help Amazon expand in that sector.
Amazon shares were up 1.7 percent at $1,070.72 and have risen some 24 percent over the past four months, adding some $17 billion to the net worth of the 53-year-old Bezos.
According to Forbes, Gates has been the richest person in the magazine's annual rankings in March for the past four years and 18 of the past 22 years. Mexican telecom magnate Carlos Slim overtook Gates from 2010 to 2013.
Among the billionaires gaining ground is Facebook founder Mark Zuckerberg, who has an estimated worth of some $72.9 billion.
While most of Bezos's wealth is in Amazon, he also owns the private space firm Blue Origin and the Washington Post newspaper.
Entertainment
Indians may not use the thing you offer them for free but it is in our nature to prize that which feels abundant rather than that which feels appealing. Netflix India needs to cater to those needs, like other streaming platforms do with sports and other add-ons.
Entertainment
For the millions who did not see Shane Warne perform live, tuning in to this documentary will be the best 90-minutes they are likely to spend in front of their streaming medium.
Entertainment
A Hero lacks the verve of A Separation and the emotional gravitas of The Salesman but as a generic social drama, it has its heart in the right place.