Mary Kom review: This Priyanka Chopra film is a disservice to the boxer
Ignore reality, turn a blind eye to the messages that the film unwittingly conveys and Mary Kom is not a terrible waste of money.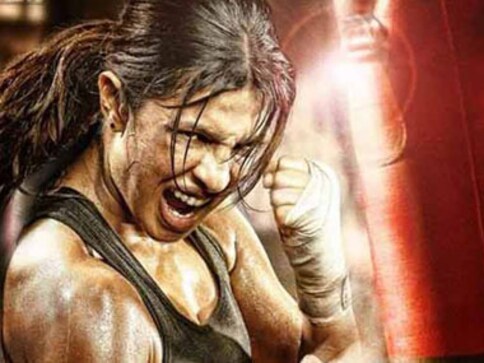 There's a tip that we're frequently given before going to watch a Bollywood movie: "leave your brain at home" to enjoy the experience. Omung Kumar's Mary Kom is one of those titles. Ignore reality, turn a blind eye to the messages that the film unwittingly conveys and dismiss details like how painted-on Priyanka Chopra's freckles look, and Mary Kom is not a terrible waste of money.
Chopra plays Mary Kom, the daughter of a poor farmer who loves boxing. She lives in a remote village in Manipur and spends a lot of her time picking fights with boys. Her fondness for fisticuffs isn't because she needs anger management classes — though there's a very good case made for that in Saiwyn Qadras's story and screenplay — but because she loves boxing.
Fortunately for her, the nearby town has Coach Narjit Singh (Sunil Thapa) who is, judging from the one expression he has throughout the film, the love child of a human and an Angry Bird. Or maybe the Nepali actor is just upset that as far as Bollywood is concerned, everyone east of Bengal looks the same. Whatever the reason, Coach Singh is not a cheerful man, but he does have a boxing academy and he takes Mary on as a student.
Of course, Mary is a natural boxer. Why else was she fighting people on the streets, after all? So within a few minutes, she's made it into the state team and is winning medals all over the country. Being keenly aware of the need to maintain a work-life balance, she finds the time to eat gol gappa and ride a bike with a gent named Onler (Darshan Kumaar). Ignoring the fact that the chemistry between Onler and her is as crackling as a potato chip that's been left out in the rain, Mary and Onler get married. Coach Singh gets even angrier because he thinks she's giving up on a promising career for domesticity.
Which is precisely what she does, but only temporarily. In a twist not seen in 2014 years, Mary, who is about as cordial and close to her husband as a socialite with the waiter at a party, becomes pregnant (thus living up to her namesake who was the first recorded case of immaculate conception). However, unlike Jesus's mother, Mary is not going to be part of the supporting cast. Also, she gives birth to twins (who remain infants for what seems like an inordinately long time).
Mary now starts training again and returns to professional boxing. She's not quite in top form in her comeback match, which is a tie. The judges decide her opponent played better, so Mary reacts by throwing a chair at the judges' podium and earns herself a ban. Mary's convinced that her loss was the Sports Federation victimising her for being Manipuri. Leaving aside the detail that Mary looks as North Indian as the Haryanvi boxer she was up against, this anxiety about ethnic bias pops up out of nowhere because we haven't seen her or any other North Eastern athlete encountering partisan behaviour. So now, in addition to going 'Hulk! Smash!' in street fights, Mary is also paranoid, apparently.
Fortunately Onler calms her down and makes her apologise to the Federation, which is of course run by lecherous and slimy bureaucrats. However, Mary is there to maaro some dialogues that will cut said bureaucrat down to size. With the bureaucrat out of the way, it's on to greater glory and a recital of the Indian national anthem, which is basically a signal to the audience to get up and leave (once the anthem is done, naturally).
If you do in fact leave at the end of the anthem, you'll miss photos of the real boxer and Olympic medal-winner, Mary Kom. The captions under the photos don't tell you anything the average newspaper reader doesn't know, but these images are among the few real parts of Mary Kom. The remaining 122-odd minutes are the director and screenwriter trying to find ways to place Tata Salt, Iodex and other products in their film while simultaneously pulling the audience's heartstrings.
If there hadn't been a real-life inspiration to Mary Kom, there would be little reason to complain about Omung Kumar's film. Sure, the screenplay jumps awkwardly, the editing is sloppy and the acting ranges from bland to ghastly, but there are moments in Mary Kom that bring tears to your eyes and it's no hardship to root for this woman.
However, Mary Kom is not just another generic underdog story. It's supposed to be Mangte Chungneijang Mary Kom's biopic. Considering how dramatic Kom's real life has been, with everything from struggle to success and a truly heartwarming love story packed in it, it's perfect movie material. Unfortunately, Qadras, Kumar and producer Sanjay Leela Bhansali team up to strip Kom's story of its distinctive qualities and add stupid, unnecessary fiction that adds little to the movie-watching experience.
To really tell Kom's story, we're going to need a braver and more talented film industry. We'll need writers who do more than string together episodes and who are loyal to their subjects rather than paymasters. We'll need directors who don't flounder nervously with the reality that ours is a country riddled with biases, scarred with violence and yet able to inspire patriotic pride in the very people who are often victimised. We'll have to wait for actors who choose films because they're excited by the role and the script, and not because it will be a star vehicle for their singular selves.
Whether it's a lack of talent or inclination, the film Mary Kom shows Bollywood is not yet mature enough to tell India's stories. Its capacity is limited to nuance-less tearjerkers that just earn money for all concerned. Kumar and Qadras can't tell you why sports is such an integral part of life and culture in so many parts of the North East, where insurgency lives shoulder to shoulder with the concrete patriotism of athletes (and soldiers) who fight for the nation in different arena. Forget the larger context, Mary Kom fails to even capture its hero properly. After two hours of a movie ostensibly about Kom's boxing, you'll be hard pressed to tell what characterises her style.
Omung Kumar's Mary Kom is a bland film that quickly becomes boring because there's no tension in the story. But it has Priyanka Chopra. That was enough for those who financed the film because they believe that's all you, the audience, want. Perhaps it will be enough for you too, but if you're interested in Kom's real story, read Unbreakable. The autobiography Kom wrote may not be comprehensive or literary, but it is more honest, brave and fun than the film made in her name.
Entertainment
The actress who's an inspiration to millions across all age groups & gender also made headlines for kickstarting her 2023 by meeting her fans, clicking lots of selfies & even having quick candid conversations at a recent beauty collaboration.
Entertainment
While calling her husband a 'thoughtful' person, Priyanka also went on to say that her daughter makes her feel special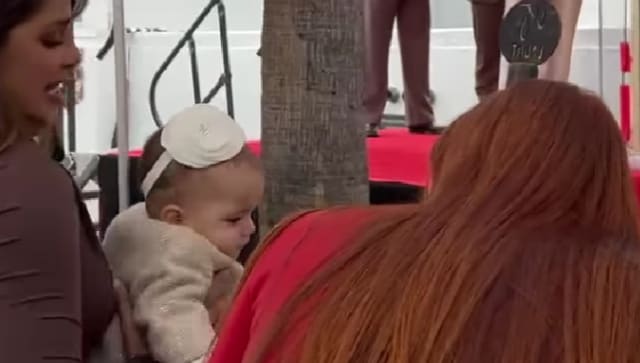 Entertainment
Priyanka Chopra and Nick Jonas welcomed their daughter last year via surrogacy and had kept the baby face's hidden since then.