Tom kaun? Junior artists paid Rs 150 to play screaming fans of Tom Cruise at airport!
For someone like Tom Cruise who is chased down by paparazzi all over the world,this must have come as as a shock.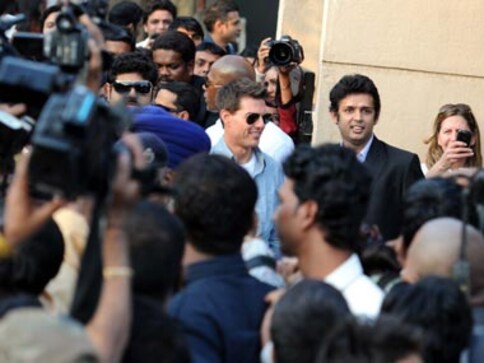 When the world's biggest star and possibly the most famous Scientologist on earth, Tom Cruise, stepped out of the Mumbai domestic airport on Saturday with his entourage, little did he know that the screaming crowds he was waving out to were not his Indian fans at all!
In fact, the 200-and-odd people gathered there didn't even know who he was and they couldn't care less. They had been hired at the rate of Rs 150, or $3 per person approximately, by a model coordinator to do the same!
"Tom kaun? I don't know who he is or what he does. We were told to come here by 1pm today and wait for a foreign VIP to come out of the airport gate and scream and shout when he came. None of us know who Tom is. There was a buffet lunch also for us and we were paid Rs 150 for this job today. We do this for television shows and other such events where crowds are required," said one of the junior artistes at the airport, who was hired as an excited Tom fan.
Given that the absolutely handsome Cruise of the disarming smile has a huge fan base in the country, thanks to some really great and popular cinema (Jerry Maguire, Top Gun, Cocktail, Risky Business, The Last Samurai, Rain Man, A Few Good Men and the Mission Impossible series) it would not have taken much to get more than half of the city's population to converge at the airport or any venue to catch a glimpse of the star they love and adore.
Cruise is in the city to promote the fourth installment of the Mission Impossible franchise, Mission Impossible: Ghost Protocol, which also sees Anil Kapoor playing an Indian character, Brij Nath, in the film.
For someone who is chased down by the paparazzi all over the world in fast cars and helicopters and whose every movement is tracked down by tabloids and magazines, including his wife Katie Holmes', and daughter Suri's too, it's going to come as a shock to him that he was greeted by a motley group of paid people posing to be his fans in Mumbai. Of course he doesn't know it yet, but when he does, it is not something Cruise is likely to forget in a very long time!
Moving on to the swanky party that was held at the Taj Mahal Palace and Tower in Colaba in his honour, it was attended by Mukesh Ambani who came sans wife Nita, Union minister Praful Patel and his daughter Poorna, Yash Chopra, Adi and Parmeshwar Godrej, Preity Zinta, Farhan Akhtar, Vandana Malik and daughter Avantika Malik-Khan, Aamir Khan and Anil and Sunita Kapoor with their daughter Sonam. Whilst the rest of the guests left about 1.30am, Anil stayed back at the hotel.
Watch Slideshow:
Entertainment
Tom Cruise made a whirlwind appearance at the Cannes film festival, walking the red carpet, receiving a surprise Palme d'Or and watching a squadron of French fighter jets fly over the European premiere of Top Gun: Maverick
Entertainment
Neetu Kapoor, star of the 1960s and 1970s, last appeared on the big screen in the 2013 action comedy "Besharam". The film featured her son Ranbir Kapoor and Rishi Kapoor
Entertainment
Netflix's Thar brings back Anil Kapoor back to relevance, a man who has mastered re-invention in the fluid world of acting.