Zelenskyy to visit UK for first time since Russia's invasion
The visit comes as Sunak announced that Britain will train Ukrainian pilots on 'NATO-standard fighter jets.' Ukraine has urged its allies to send jets, though the UK says it's not practical to provide the Ukrainian military with British warplanes
London: Ukrainian President Volodymyr Zelenskyy will visit Britain on Wednesday, his first trip to the UK since Russia's invasion began nearly a year ago and only his second confirmed journey outside Ukraine during the war.
The British government says Zelenskyy will hold talks with Prime Minister Rishi Sunak, address Parliament and meet with UK military chiefs.
The UK is one of the biggest military backers of Ukraine and has sent the country more than 2 billion pounds ($2.5 billion) in weapons and equipment.
The visit comes as Sunak announced that Britain will train Ukrainian pilots on "NATO-standard fighter jets." Ukraine has urged its allies to send jets, though the UK says it's not practical to provide the Ukrainian military with British warplanes.
More than 10,000 Ukrainian troops have also been trained at bases in the UK, some on the Challenger 2 tanks that Britain is sending.
"I am proud that today we will expand that training from soldiers to marines and fighter jet pilots, ensuring Ukraine has a military able to defend its interests well into the future," Sunak said. "It also underlines our commitment to not just provide military equipment for the short term, but a long-term pledge to stand shoulder-to-shoulder with Ukraine for years to come."
It will be Zelenskyy's second known trip visit abroad since Russia launched its full-scale invasion of Ukraine on 24 February. He visited the US in December.
Zelenskyy formed a bond with former Prime Minister Boris Johnson, who was one of Ukraine's most vocal backers. Sunak took office in October and has pledged to maintain the UK's support.
Read all the Latest News, Trending News, Cricket News, Bollywood News,
India News and Entertainment News here. Follow us on Facebook, Twitter and Instagram.
World
In an interview, Bear Grylls, 48, revealed that Zelenskyy's security team was not happy when he offered a chocolate bar the president. The adventurist travelled to Ukraine to document the war-hit country and held an interview with Zelenskyy on the streets of Kyiv
World
Ukraine needs 20 Patriot batteries to protect against Russian missiles, and even that may not be enough "as no country in the world was attacked with so many ballistic rockets," Zelenskyy said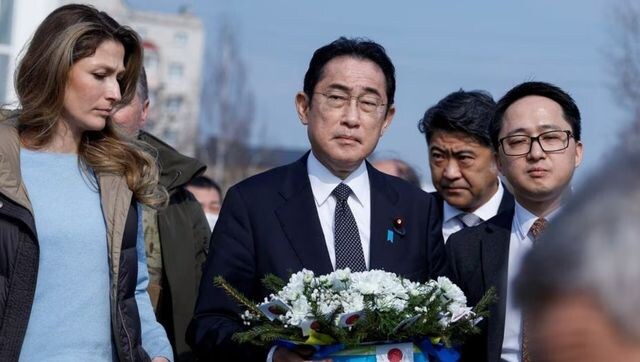 World
Russian troops were accused of massacring civilians in the capital region suburb of Bucha, which they occupied for several weeks in early 2022