World's oldest-known burial site found in South Africa
The burial site was found approximately 30 meters underground in a cave system within the Cradle of Humankind, a UNESCO world heritage site near Johannesburg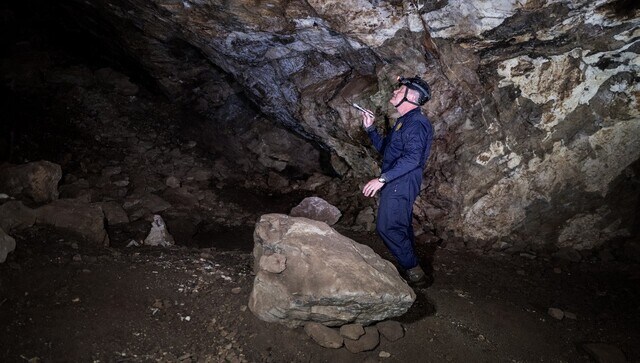 Palaeontologists in South Africa announced that they have discovered the oldest known burial site in the world. The site contains remains of a small-brained distant relative of humans, previously believed to lack complex behaviour.
The research team unearthed multiple specimens of Homo naledi, a Stone Age hominid known for tree-climbing.
The burial site was found approximately 30 metres underground in a cave system within the Cradle of Humankind, a UNESCO world heritage site near Johannesburg.
According to the scientists, these interments are the oldest ever recorded in the hominin record, predating evidence of Homo sapiens burials by at least 100,000 years. The findings challenge the current understanding of human evolution, as it has been commonly thought that the development of larger brains enabled complex activities like burial rituals, reported AFP.
Previous burials discovered in the Middle East and Africa dated back around 100,000 years and belonged to Homo sapiens. However, the recently found burials date back to at least 200,000 BC and pertain to the primitive species Homo naledi.
Homo naledi, named after the "Rising Star" cave system where the initial bones were discovered in 2013, represents a transitional species between apes and modern humans.
The researchers argue that burial practices, meaning-making, and even artistic expression may have a more intricate and non-human history than previously believed. Scientists outside the research team have shown interest in the findings and are awaiting peer review to assess their validity.
Nonetheless, it is acknowledged that later hominins could have made some of the markings on the cave walls, a possibility that the paper does not rule out.
With inputs from agencies
Read all the Latest News, Trending News, Cricket News, Bollywood News,
India News and Entertainment News here. Follow us on Facebook, Twitter and Instagram.
also read
First Cricket News
South Africa, on the other hand, have played a number of warm-up games to get acclimatised to the conditions. Janneman Malan, David Miller and Heinrich Klaasen shone with the bat in the first warm up match, Rassie van der Dussen, Heinrich Klaasen and Andile Phehlukwayo impressed in the second game.
First Cricket News
For South Africa, regular captain Temba Bavuma will miss the entire England tour owing to a hand injury. He will be replaced by Janneman Malan and the right-hander struck form with a century in the first warm up match.
First Cricket News
As England get ready to take on South Africa in the 2nd Test at Old Trafford, here's a look at what the weather conditions will be like during the match.