Where is Kim Jong-un? South Korea says he is sick, North claims hail and hearty
This is not the first time Kim has gone missing for a prolonged period. His earlier disappearances have raised speculations about his health and questions about his possible successor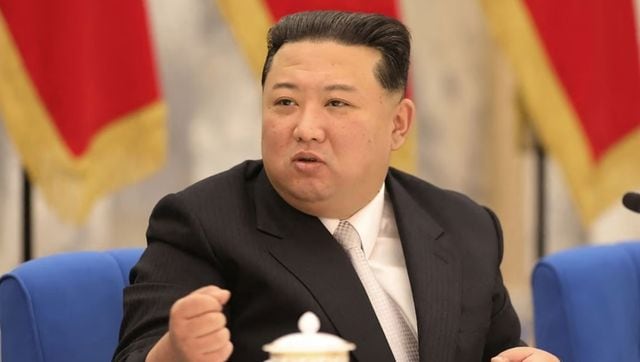 Pyongyang: North Korean leader Kim Jong-un is reportedly missing at a time when the country is expected to celebrate its military's 75th anniversary, according to NK News, a South Korean-based news outlet.
Also, the leader skipped a Politburo meeting on North Korea's acute agricultural crisis on Sunday – making it his third instance of doing so.
However, this is not the first time Kim has gone missing for a prolonged period. His earlier disappearances have raised speculations about his health and questions about his possible successor.
His longest-ever break from public appearance was however in 2014, when he went AWOL for 40 days.
NK News also mentioned that the current 35-day break from the public eye is similar to another prolonged absence at the end of 2021.
On the other hand, a Tuesday (7 February) report by Korean Central News Agency (KCNA) claims, Kim Jong-un has ordered his military to expand its combat exercises at a meeting of the ruling Workers' Party's Central Military Commission on Monday.
Kim is, however, still expected to attend this week's military parade which is scheduled to be held on Tuesday night.
What are Kim's succession plans?
The North Korean leader has made sudden disappearances in the past few years which has raised questions about his succession plans.
According to a report by Reuters, Pyongyang has not officially announced Kim's successor yet, analysts say that her sister, Kim Yo Jong along with his loyalists are ready to form a regency until a successor is ready to take over.
These speculations gained ground when in 2020, Kim missed a key state anniversary event on 15 April and rumours of him being seriously ill or possibly dead spread like wildfire.
Last year, the North Korean leader oversaw the launch of an intercontinental ballistic missile (ICBM) with his daughter. Analysts saw that Kim's daughter tagging along with her father might be an important development in North Korea's political future.
Soo Kim, a former Central Intelligence Agency (CIA) told AFP, "To introduce his daughter to the world at this juncture could be designed to send an international message that the North Korean regime is here to stay."
Read all the Latest News, Trending News, Cricket News, Bollywood News,
India News and Entertainment News here. Follow us on Facebook, Twitter and Instagram.
World
Kim Jong Un's remarks came as the isolated country conducted what KCNA called exercises aimed at improving its tactical nuclear attack capabilities and war deterrence on Saturday and Sunday to send strong warnings against the allies
World
200 prisons and detention centres are used to "re-educate prisoners through forced labor, ideological instruction, and punitive brutality with the purpose of compelling unquestioning obedience and loyalty" to Kim Jong Un
World
The launch on Thursday - Pyongyang's second ICBM test this year - involved a Hwasong-17 missile, the official Korean Central News Agency reported, adding that it was fired in response to "frantic" US-South Korea joint military drills