Watch: Sculptures of gorillas and bears depicting endangered animals exhibited in Paris
The Comite Haussmann association and Galeries Bartoux, in a joint venture, organized the exhibition to draw attention to the existential environmental challenges that animals face
The Boulevard Haussmann in Paris inaugurated an open-air exhibition of some massive statues of gorillas and bears, representing endangered and vulnerable animals such as mountain gorillas and polar bears on 1 February. The artworks are created by renowned animal sculptor Michel Bassompierre. He used bronze and marble as the materials to build these enormous figures. Among those 11 statues which were unveiled in the exhibition, the largest one stands above 13 feet and towers over one of the most popular shopping streets in France. The sculptures will remain on display till 31 March. Some glimpses of the exhibition have been shared by Reuters Asia on its Twitter handle.
WATCH: Massive statues of gorillas and bears appeared along Paris' iconic Boulevard Haussmann, depicting endangered and vulnerable animals in a reminder of the fragility of the natural world pic.twitter.com/loHAG3HjRu

— Reuters Asia (@ReutersAsia) February 2, 2023
The Comite Haussmann association and Galeries Bartoux, in a joint venture, organised the exhibition to draw attention to the existential environmental challenges that animals usually face as a result of climate change, human encroachment on their habitats, and ecological destruction. Bassompierre is famed for transforming animals into rounded, soft forms for the purpose of portraying a more peaceful nature. The sculptures act as ambassadors, presenting a fresh viewpoint on creatures that are frequently viewed as terrifying by humans.
The clip opens at the exhibition zone where passersby can be seen halting near the artworks and taking time to watch them properly. Some kids and teenagers were also spotted capturing photographs of the gorillas and beers. A teacher named Amina Chatti who was overwhelmed by the subject of the creation said, "We did not really know that these animals were chosen because they are endangered. But, it is an invitation to think about it, to reconsider our way of life, to consume and to participate in the protection of nature."
Bassompierre – the man behind the creations – was also featured in a brief interview and spoke about his thoughts on building such sculptures. He stated, "We keep animals from reproducing. We disturb them. We take up all the space. We act like egotistic young children who don't realise that they have to share. Earth is not only ours. It belongs to every living being."
Read all the Latest News, Trending News, Cricket News, Bollywood News,
India News and Entertainment News here. Follow us on Facebook, Twitter and Instagram.
World
Elon Musk-led Twitter has announced that starting April 1, the platform will start removing legacy blue ticks from originally verified accounts. Musk plans to amp up Twitter Blue and paid verification programmes, and may increase the price in the future.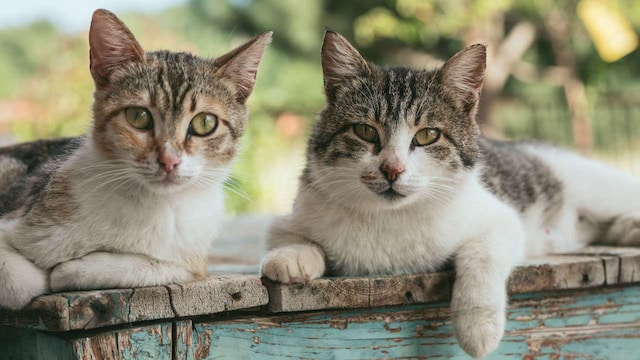 World
The clip got a variety of reactions, with one viewer joking that the owl would win the staring competition.
Explainers
Researchers have found hundreds of different species of birds, reptiles, and mammals at 142 animal cafes in Japan, including some that are critically endangered and those that are prohibited from international trade