Watch: Scary encounter between diver and shark under seawater terrifies internet
The new-viral video was originally shared by an Australian ocean adventure group- SA Spearfishing and Young Bloods Inc- on their social media handles back in December 2017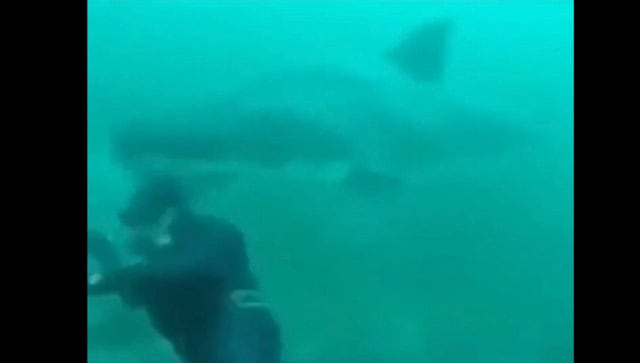 The life of a marine diver is quite unpredictable and risky given the fact that the majority of the underwater world is still undiscovered. There are a number of occasions when divers encounter dangerous species while wandering under seawater. A lot of dangers are there but among them, one animal tends to pose the maximum threat and that is the shark community. Recently, a video showing a sudden encounter between a man and a shark underwater surfaced on the internet and left viewers stunned for some right reasons. The clip was dropped on Twitter by a page named Oddly Terrifying.
https://twitter.com/OTerrifying/status/1618467169830064129
The video opens supposedly under an ocean where a diver can be seen swimming independently. After a while, he turned his head around in order to have a look at his wristwatch. At that exact moment, a massive white shark was crossing the area. The visibility was so poor that the diver had no clue about the unexpected guest.
However, the shark silently passed the passage causing no harm to the diver. But, the lower portion of the shark had a brief collision with his head only to make him aware of its presence. The incident was seemingly captured in the headcam of another fellow diver who was also accompanying the victim in the underwater expedition.
The new-viral video was originally shared by an Australian ocean adventure group – SA Spearfishing and Young Bloods Inc – on their social media handles back in December 2017. The group claimed that the footage was revealed by the diver's son, as reported by WA Today.
The comment section saw mixed reactions coming from internet users. While some found the encounter hilarious, some referred to the risks of underwater life. A person sarcastically said, "This is exactly what I think will happen when I turn around in a regular pool."
https://twitter.com/iambdsami/status/1618794365601853440
Another diver shared his experience saying, "Every shark I've encountered has never cared in the slightest that I was there. From 5-foot reef sharks all the way to 11-foot hammerheads. Never a great white though."
https://twitter.com/WillM39557849/status/1618613807135477761
According to an individual, "It's time to stop being overly curious about the great depths of the sea."
https://twitter.com/ChantalGaultie0/status/1618804862933942272
Here are some other reactions:
https://twitter.com/TheStevenSunn/status/1618648864298536962
https://twitter.com/Jehsee182/status/1618673694792110080
https://twitter.com/SamInSurbiton/status/1618540746923212806
The six-second footage has earned more than 7 million views so far since being shared on Twitter. Additionally, it has accumulated over 46,000 likes and hundreds of retweets on the microblogging site.
Read all the Latest News, Trending News, Cricket News, Bollywood News,
India News and Entertainment News here. Follow us on Facebook, Twitter and Instagram.
World
The man who went with just a metal detector to find gold came home with a mega lottery.
World
As the video plays, it shows the snow leopard stalking its prey carefully and then pouncing with the use of its lightning-fast reflexes to finally take down the Urial at the end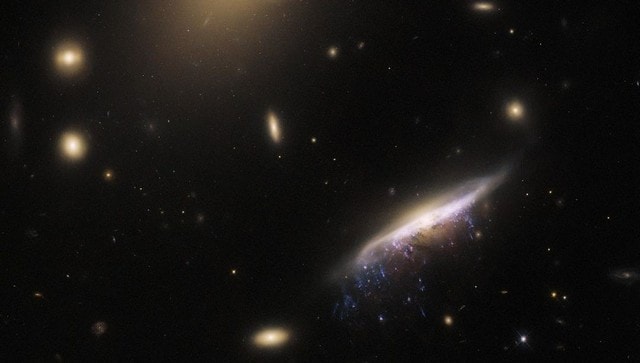 World
As per NASA, these images could aid astronomers in getting a better understanding of the star formation elsewhere in the universe