WATCH: Pfizer working on new Covid strain to sell vaccines, official tells his date
During the conversation, a high-level officer made shocking claim that in all probability top employees at Pfizer knew Covid-19 did not originate organically
Manhattan: Pfizer which was slammed recently for its plan to increase price of its mRNA-based Covid-19 vaccines, appears to have gotten itself into a new trouble. A top employee of this US-based multinational pharmaceutical company has now revealed that the pharma giant is working on "mutating" the Covid-19 virus strains for the development of new vaccines.
Spilling company's secrets, Jordon Trishton Walker, Pfizer Director of Research and Development, Strategic Operations spoke about what seems to be the controversial practice called 'gain of function', which actually is an act of modifying viruses to imbue them with new qualities and capabilities.
"Why don't we just mutate it [COVID] ourselves so we could create — preemptively develop new vaccines, right? So, we have to do that. If we're gonna do that though, there's a risk of like, as you could imagine — no one wants to be having a pharma company mutating f**king viruses," Walker can be heard saying in an undercover video recorded by Project Veritas.
Project Veritas is an American far-right group founded in 2010 by James O'Keefe that conducts undercover journalism.
How is Pfizer mutating Covid strains?
Walker appeared to believe he was on a date, but the man he's talking to was one of Project Veritas's undercover journalists.
Giving out more details, Walker told his "date" not to tell anyone, before adding, "The way it [the experiment] would work is that we put the virus in monkeys, and we successively cause them to keep infecting each other, and we collect serial samples from them."
Pfizer knew Covid did not originate organically
During the conversation, Walker also makes shocking claim that in all probability top employees at Pfizer knew Covid-19 did not originate organically.
"You have to be very controlled to make sure that this virus [Covid] that you mutate doesn't create something that just goes everywhere. Which, I suspect, is the way that the virus started in Wuhan, to be honest. It makes no sense that this virus popped out of nowhere," he said. "It's bullsh*t".
BREAKING: @Pfizer Exploring "Mutating" COVID-19 Virus For New Vaccines

"Don't tell anyone this…There is a risk…have to be very controlled to make sure this virus you mutate doesn't create something…the way that the virus started in Wuhan, to be honest."#DirectedEvolution pic.twitter.com/xaRvlD5qTo

— Project Veritas (@Project_Veritas) January 26, 2023
He added that Pfizer scientists are optimising the Covid mutation process but are going slow as a cautious step.
The sting operation was released by Project Veritas on January 26.
In this video:
-I was locked in a restaurant (possible Unlawful imprisonment)
-I was Assaulted
-Had our IPad destroyed
-Pfizer director said "I'm literally a liar"
-He confirmed hes Boston Consulting and Pfizer
-He said he's trying to "help the public"
- pic.twitter.com/kIMCREEyyN

— James O'Keefe (@JamesOKeefeIII) January 27, 2023
After realising about being caught on camera, Walker assaulted the person who carried out the sting operation on him.
Read all the Latest News, Trending News, Cricket News, Bollywood News,
India News and Entertainment News here. Follow us on Facebook, Twitter and Instagram.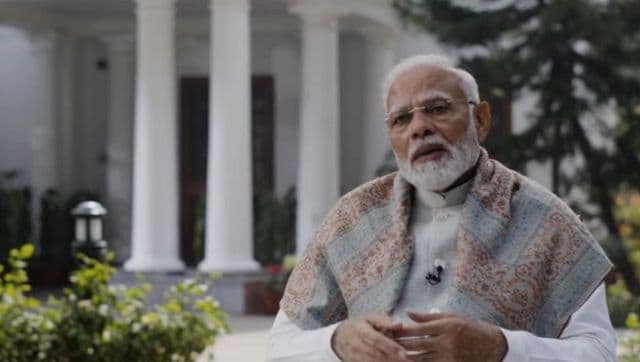 India
PM Modi admitted that even though the country knew that economic woes would follow and supply chains would be affected, people followed the Janta curfew
India
'When the pages of history are turned and situations are analysed, India's fight against coronavirus during this duration will be known as the time period of the highest service to mankind,' said PM Modi
India
Narrated by actor Manoj Bajpayee, the 60-minute documentary traces India's journey from deciding to develop a vaccine on its own to becoming the world's saviour by providing the jabs to several countries