WATCH: Jihadis bring down hammer and tongs on Ahmadi mosque in Pakistan's Karachi; 2nd in a month
Viral videos of the discretion show four men, covering their face and wearing helmets, climbing on the mosque and escaping thereafter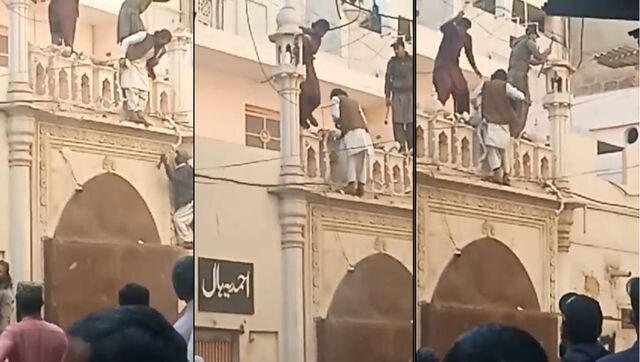 Karachi: Ahmadi Mosque in Pakistan's Karachi was allegedly vandalised by a group of miscreants allegedly from the extremist group Tehreek-i-Labbaik Pakistan (TLP) on Friday in presence of police.
This is the second incident in a month. Earlier, the minarets of Ahmadi Jamaat Khata on Jamshed Road in Karachi were demolished.
Also, five Ahmadi mosques have been attacked in Pakistan in the last three months.
The latest Ahmadi Mosque attack took place near mobile market in Saddar, Karachi. Viral videos of the discretion show four men, covering their face and wearing helmets, climbing on the mosque and escaping thereafter.
Reports said that the miscreants came with a ladder to climb on the mosque.
According to locals present at the spot, the attackers were from Pakistan's Islamic political party Tehreek-i-Labbaik Pakistan (TLP).
TLP workers attack Ahmadi Mosque in Karachi. This is the 5th Ahmadi Mosque attacked in the last 3 months. Where is the outrage? Is any Pakistani even bothered? Where is our collective conscience? Shame on everyone who remains silent at this persecution. pic.twitter.com/8iA9uqiXJs

— Kashif N Chaudhry (@KashifMD) February 2, 2023
Ahmadis aren't Muslims
Pakistan Untold, a Twitter page by Pakistan Hindu refugees, said that the ruling Islamist believe that Ahmadis are not Muslims.
Mob attacks and killings have become a regular affair against the Ahmadiyya community.
According to a report by news agency ANI, Pakistan has become a nation where the people of this community are subjected to extensive persecution including hate speech and violence.
The Ahmadi Mosque vandalism comes mere days after a suicide bombing attack took place on a mosque in Peshawar in which more than 100 people died.
Discrimination against Ahmadi Muslim community in Pakistan
Since 1947, Pakistan's Ahmadi Muslim community had faced persistent systematic discrimination, harassment and attacks after the then-Prime Minister Zulfikar Ali Bhutto introduced a Constitutional Amendment which specifically targeted the community by declaring them non-Muslims.
An ordinance was introduced in 1984 by General Zia-ul-Haq further stripped the community of the right to identify themselves as Muslims and the freedom to practice their religion freely.
Who are Tehrik-e-Labaik?
As per a Reuters report, Tehrik-e-Labbik (movement of the Prophet's followers) is an extremist Sunni group whose aim is to protect Pakistan's draconian blasphemy laws and punish blasphemers.
Evolved in 2015 out of a protest campaign, the movement sought release of Mumtaz Qadri, a police guard who assassinated Pakistan's Punjab governor Salman Taseer in 2011 over his calls to reform blasphemy legislation.
Qadri was later executed.
Read all the Latest News, Trending News, Cricket News, Bollywood News,
India News and Entertainment News here. Follow us on Facebook, Twitter and Instagram.
World
The issue was highlighted during a briefing given to Divisional Commissioner Liaquat Ali Chatha during his visit to Adiala Jail on Friday morning. The divisional commissioner visited the jail to inspect the condition of the prison and its inmates.
World
Imran Khan said that the rule of law is the fundamental right of the nation. He urged judges to take notice of the government's moves. He said that Pakistan is going through a decisive phase. He also asked the legal fraternity to protect the Constitution
World
Pakistan is currently grappling with one of the country's worst economic crisis amid dwindling foreign exchange reserves.