WATCH: Israeli forces forcibly remove Palestinians from al-Aqsa mosque during Ramzan
Police entered the mosque after receiving information that some of the Muslim men and women who had barricaded themselves inside were planning to conduct riots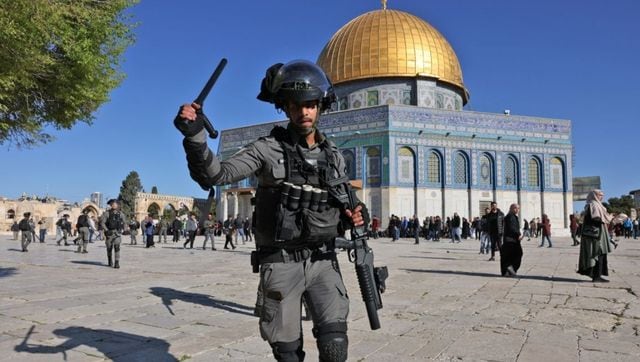 Jerusalem: Israeli Police forces stormed into the sacred al-Aqsa mosque and forced Palestinians out. The incident was reported on the fourth day of the Holy month of Ramzan.
According to a report by The Jerusalem Post, Palestinians had barricaded themselves inside the al-Aqsa mosque on Saturday night. Police entered the mosque after receiving information that some of the Muslim men and women who had barricaded themselves inside were planning to conduct riots during the dawn (Fajr) prayers and while Jewish visitors were schedule to tour the mosque.
Video of the incident that has now gone viral on social media shows Israeli soldiers and extremist illegal settlers barged into the mosque and forcing Muslim men and women out of the mosque.
Those inside the mosque were seen paying and chanting "Allahu Akbar" and screaming at cops as they removed them from the building as well as the complex.
As per reports, at least two Palestinians were arrested from the spot on Sunday morning.
The latest violence was reported after the Israeli police approved the storming of al-Aqsa at the instruction of far-right Israeli minister Itamar Ben-Gvir.
On the first day of Ramzan on Thursday, almost 300 extremists raided the compound.
On Monday, Israel announced a host of restrictions on Palestinians during the holy month of Ramadan with regard to entering al-Aqsa Mosque.
Israel has imposed a "limited quota" for women aged 50 and over, and men aged 55 or above, from Sunday to Thursday, to enter the mosque.
Over the past few months, tension has escalated across the occupied West Bank amid repeated Israeli military raids into Palestinian towns.
According to Palestinian figures, around 90 Palestinians have been killed by Israeli fire since the beginning of this year. Fourteen Israelis have also been killed in separate attacks during the same period.
Read all the Latest News, Trending News, Cricket News, Bollywood News,
India News and Entertainment News here. Follow us on Facebook, Twitter and Instagram.
also read
World
Israel frequently cites the lack of construction permits as a pretext for demolishing Palestinian homes, particularly in Area C, which is under the control of the Israeli army
World
A recognition from Israel's National Infrastructure, Energy, and Water Minister means that Energean, a British-Greek energy company can draw up plans to develop the reserve. The natural gas field has been named 'Katlan' and is entirely inside Israeli territorial waters
World
According to the government, it was aimed at 'certain positions in the vicinity of Damascus', but anti-aircraft defences intervened and shot down several missiles