WATCH: Iranian blogger couple dancing in public sentenced to over 10 years in prison
The blogger couple - Astiyazh Haghighi (21) and Amir Mohammad Ahmadi (22) - shared a video of themselves dancing in Azadi Square in Iran's capital Tehran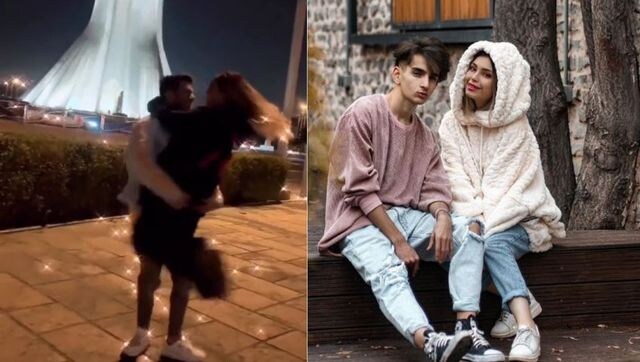 Tehran: Freedom of people in Iran has been at risk under president Ebrahim Raisi. In a latest, an Iranian couple has been sentenced to 10 and a half years in jail for dancing in the streets in support of woman life freedom revolution in the country.
The blogger couple – Astiyazh Haghighi (21) and Amir Mohammad Ahmadi (22) – shared a video of themselves dancing in Azadi Square in Iran's capital Tehran.
Haghigi and Ahmadi were reportedly arrested on 10 November last year. They danced to support the ongoing protests in Iran which started in September last year after 22-year-old Kurdish woman Mahsa Amini allegedly died in custody of the Iranian morality police.
Apart from jail term, a two-year ban has been imposed on the couple for using cyberspace and a two-year ban on leaving Iran for dancing on the street. They have been charged with "encouraging corruption and public prostitution".
Haghighi and her fiancée have also been charged with "colluding with the intention of disrupting national security and promoting propaganda."
Amini was arrested on 13 September last year by morality police for her "incorrectly" wearing the mandatory hijab.
After her death on 16 September, the Iranian government denied that she was assaulted and has accused the US and Israel of orchestrating the protests across Iran.
Massive protests erupted in Iran following her death with reports suggesting that at least 479 people, including 68 children, were killed during the uprising.
Also Read: 'To destroy beauty': Medics reveal Iranian forces shooting female protesters at faces, breasts, genitals
Gender-based violence has been rampant since the 1979 revolution in the country which brought about the rule of Iran's ayatollahs. Women have been, for long, at the receiving ends of brute force launched by Iranian authorities to maintain order in the country.
Wearing of the hijab has been made compulsory in Iran in 1983. In 2006, the unit started patrolling the streets and were tasked with enforcing the laws on Islamic dress code in public.
Don't Miss: 'Pure propaganda' say activists, as suspense prevails over abolition of morality police in Iran
As per the Iranian law, all women above the age of puberty must have their head properly covered and wear loose clothing in public.
Read all the Latest News, Trending News, Cricket News, Bollywood News,
India News and Entertainment News here. Follow us on Facebook, Twitter and Instagram.
World
The protests in Iran have been met with a brutal security crackdown which according to rights groups has claimed the lives of over 500 protesters since September 2022
World
In a resolution, the European Parliament condemned 'in the strongest terms, this atrocious attempt to silence women and girls in Iran.' It also urged EU member states to facilitate the issuance of visas, asylum and emergency grants to those who need to leave Iran, 'particularly women and girls'
World
Sepideh Gholian expressed hope for the release of other women seen as political prisoners by activists, including the environmental campaigner Niloufar Bayani, the women's rights campaigner Bahareh Hedayat and German-Iranian dual national Nahid Taghavi