US Secretary of State Blinken starts Mideast tour as Israel-Palestinian violence flares
Israel is reeling from an attack that killed seven civilians outside a synagogue in annexed east Jerusalem Friday, a day after the deadliest army raid in years in the occupied West Bank claimed 10 lives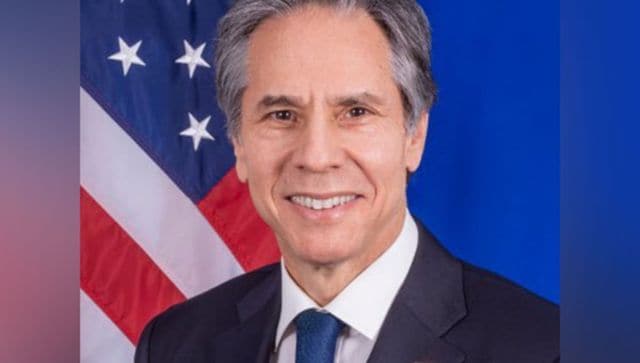 Cairo: US Secretary of State Antony Blinken kicked off a Middle East trip in Cairo on Monday focussed on urging calm amid an escalation of violence between Israel and the Palestinians.
Washington's top diplomat met Egypt's President Abdel Fattah al-Sisi and was later set to travel to Israel and the Palestinian territories to urge steps "to de-escalate tensions", the State Department has said.
Israel is reeling from an attack that killed seven civilians outside a synagogue in annexed east Jerusalem Friday, a day after the deadliest army raid in years in the occupied West Bank claimed 10 lives.
"We've seen horrific terrorist attacks in the last couple of days that we condemn and deplore," Blinken told Saudi TV channel Al Arabiya while in Cairo.
"The most important thing in the near term is to try to get some calm," he said, adding that he wanted to speak to leaders on both sides and "to hear from people as well who are being affected by this in their daily lives".
The United States has historically taken a lead on Middle East diplomacy, and Egypt, which has relations with Israel, has long served as a mediator in the Middle East conflict.
Blinken was due to meet Israeli Prime Minister Benjamin Netanyahu, a veteran leader who returned to power late last year at the helm of a right-wing government, and Palestinian leader Mahmud Abbas.
Dangerous developments' –
Blinken had long planned the visit, but the trip takes on a new urgency after some of the worst violence in years.
A Palestinian gunman on Friday killed seven people outside a synagogue in a settler neighbourhood of east Jerusalem, and another attack followed on Saturday.
On Thursday, an Israeli army raid on the Jenin refugee camp in the occupied West Bank had killed 10 people, in the deadliest such operation in years.
Israel said it was targeting Islamic Jihad militants and later hit sites in the Hamas-ruled Gaza Strip in response to rocket fire.
Netanyahu's cabinet has vowed a tough response, and his security cabinet moved Sunday to punish "the families of terrorists that support terrorism" with home demolitions and other measures.
The government is also planning to rescind the rights to social security benefits of attackers' relatives, and steps to make it easier for Israeli citizens to obtain permits to carry firearms.
Abbas met with CIA chief William Burns in Ramallah late Sunday to discuss the "dangerous developments", according to the official Palestinian news agency Wafa. The US embassy declined to comment to AFP.
'Death spiral' –
The latest bloodshed has heightened international concern, and Pope Francis on Sunday deplored the "death spiral".
French President Emmanuel Macron urged all parties to avoid feeding a "spiral of violence" and Russia's Foreign Minister Sergei Lavrov also called for "maximum responsibility" on all sides.
Blinken on Monday met Sisi, whose office did not immediately reveal the content of the talks, and then Egyptian Foreign Minister Sameh Shoukry.
The diplomats and intelligence services of Egypt — a major recipient of American military aid — are regularly called upon to intercede between Israelis and Palestinians.
Blinken's visit is part of the Biden administration's efforts to engage quickly with Netanyahu, who had tense relations with the previous Democratic administration under Barack Obama.
Blinken is expected to reiterate US support for a Palestinian state, a prospect few expect to advance under the new Israeli government.
The State Department said Blinken would call for the preservation of the status quo at the flashpoint Al-Aqsa mosque compound, which is holy both to Jews and Muslims.
Itamar Ben-Gvir, a far-right ideologue who holds a security post in Netanyahu's government, in early January defiantly visited the site, which Jews call the Temple Mount.
Read all the Latest News, Trending News, Cricket News, Bollywood News,
India News and Entertainment News here. Follow us on Facebook, Twitter and Instagram.
Opinion
Through the visit to Moscow, Xi also seeks to intensify China's strategic partnership with Russia, which he perceives as fundamental to push back against America's hegemony
World
Members of Congress have been demanding information about the August 2021 withdrawal from Afghanistan after 20 years
World
The Wagner Group that is essentially fighting against US-led NATO arms and ammo in the Ukraine War has made a special demand from the United States