US: Police under fire again after 'killing' black man with no legs, watch video
A shaky cellphone video posted on Twitter depicts Lowe, whose legs were amputated at the knees, leaving the wheelchair and stumbling along the pavement while being pursued by police officers brandishing weapons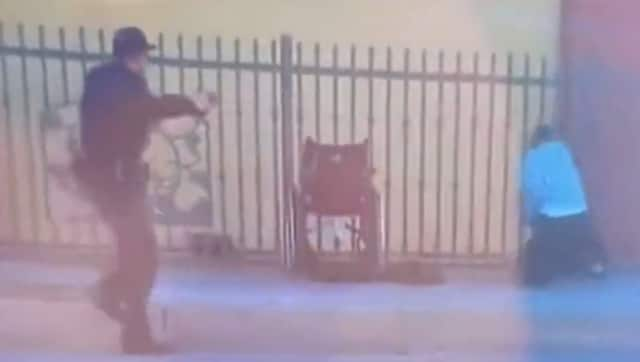 Los Angeles: A national outrage against the use of force against a disabled person has been ignited by the killing of a double amputee who was carrying a huge knife and was shot by police in Huntington Park, California.
According to police, Anthony Lowe, a Black man who lost both of his legs last year and was still waiting for prosthetics, stabbed someone on Thursday before being shot roughly ten times in the upper body with a stun gun.
The family of Lowe questioned the need to execute a man who required a wheelchair for mobility.
"Since Anthony was disabled when he was shot, if anyone else had done so, they would currently be in jail for murder, so I want to bring about truth and justice," said Ebonique Simon, the mother of Lowe's 15-year-old son.
The stabbing victim, a 46-year-old male who is stable in the hospital and awaiting surgery, was identified by Lt. Hugo Reynaga of the Los Angeles County sheriff's homicide squad, which generally handles officer shootings
involving Huntington Park police.
Reynaga stated on Wednesday that Huntington Park police are composing a report on the incident.
Due to the ongoing investigation into the incident, Huntington Park police declined to comment on Lowe's passing or describe what occurred before to the interaction.
According to a statement from Huntington Park police, the unnamed officers involved in Lowe's death have been placed on paid administrative leave while the investigation is ongoing.
Lowe's family claimed that they have been receiving conflicting information from police since the day he was shot dead.
Lowe had been living with his mother after losing both of his legs, the family claimed, despite the police telling them they had thought he was homeless. They were also told that Lowe brandished a knife as he charged the cops, but
Simon pointed out that a witness' account did not seem to corroborate that.
She claimed that the incident was not depicted in the video, which the entire world has now seen.
"I even don't want my son to answer his phone. He shouldn't view the videos, in my opinion," she said.
A shaky cellphone video posted on Twitter depicts Lowe, whose legs were amputated at the knees, leaving the wheelchair and stumbling along the pavement while being pursued by police officers brandishing weapons.
The footage, which obscures the circumstances of the encounter, does not show the shooting.
Huntington Park, California police officers shoot dead Anthony Lowe Jr, a double amputee man who tried to run away from them on the stumps of his legs. The cops said they were afraid Lowe would throw the knife he had at them. pic.twitter.com/y4FjqED4Hy

— Mike Sington (@MikeSington) January 31, 2023
The afternoon of January 26, according to a statement from Huntington Park police, officers were called to a complaint of a stabbing victim.
According to authorities, the victim, who had suffered a collapsed lung and internal bleeding, said that a Black man in a wheelchair had attacked him.
According to the police statement, "the suspect dismounted his wheelchair, raced to the victim without warning, and stabbed him in the side of the chest with a 12″ butcher knife."
Lowe was then discovered nearby with a huge knife while defying police orders, according to the statement.
Police used two Tasers in an effort to subdue him after he "threatening to advance or throw the knife" at them, according to the statement. Lowe was shot and killed on the sidewalk after that failed, it claimed.
Despite the fact that Lowe was carrying identification bearing his mother's address, his family was not informed until the following morning, according to relatives.
Relatives hailed Lowe as a devoted father, brother, and former dancer who never missed one of his son's football games.
He was the third of eight children, and after losing both of his legs to Texas police last year, he had been living with his mother.
They said they were never informed of the specifics of the contact, the location of the incident, or what caused Lowe to lose his legs.
He was supposed to pick up his prosthetics the following Monday.
Melina Abdullah, a co-founder of Black Lives Matter-LA, told media, "I don't know how police could create any
reason for feeling intimidated by a double amputee in a wheelchair."
Read all the Latest News, Trending News, Cricket News, Bollywood News,
India News and Entertainment News here. Follow us on Facebook, Twitter and Instagram.