US: No injuries in fire at Illinois chemical plant, say officials
La Salle Fire Chief Jerry Janick said he couldn't confirm any explosions. He said it's not known yet what caused the blaze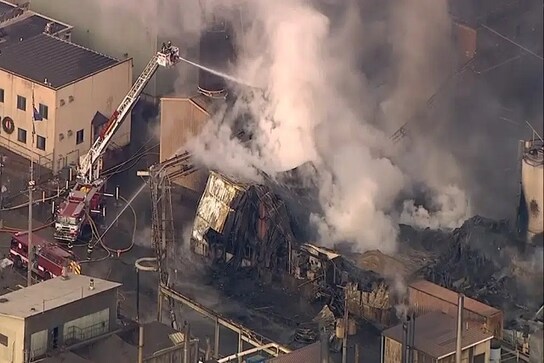 La Salle: Officials said a large fire that sent smoke plumes towering over a northern Illinois chemical plant has been contained and no injuries have been reported.
After the fire began Wednesday morning at Carus Chemical in La Salle, local officials sent an emergency alert advising people who live in the city's third and fourth wards to shelter in place. That order was lifted at 5 p.m.
Carus Chemical workers were evacuated from the plant and all them have been accounted for, said La Salle Police Chief Mike Smudzinski.
There were reports of explosions being heard at about 9 a.m. followed by smoke that was visible from the plant, the News-Tribune reported.
La Salle Fire Chief Jerry Janick said he couldn't confirm any explosions. He said it's not known yet what caused the blaze.
In a statement, a Carus official said the fire began in the plant's shipping area.
"We are thankful everyone is safe, and we are also grateful to the La Salle Fire Department and crews from the surrounding area who responded to address this situation to keep the area safe," said Allen Gibbs, the company's vice president of operations. "Carus' priority is to protect the health and safety of the employees, emergency personnel who are responding to this fire and the nearby community."
Read all the Latest News, Trending News, Cricket News, Bollywood News,
India News and Entertainment News here. Follow us on Facebook, Twitter and Instagram.  
World
R.M. Palmer said in a statement late Saturday that everyone at the company was 'devastated by the tragic events' and 'focused on supporting our employees and their families'
World
Seymour Hersh called the Nord Stream natural gas pipelines sabotage one of Washington's 'dumbest' decisions in years
World
Dozens of rescuers had searched for the miners in six interconnected legal mines, where officials are now investigating whether there was appropriate airflow