Unhappy with NYC's 'hospitality', Mexico migrants make surprise move to Canada
The migrants have been given bus tickets to Plattsburgh, a city in New York, and from there they have to take care of their own expenses to take taxis and shuttles to travel to Quebec in Canada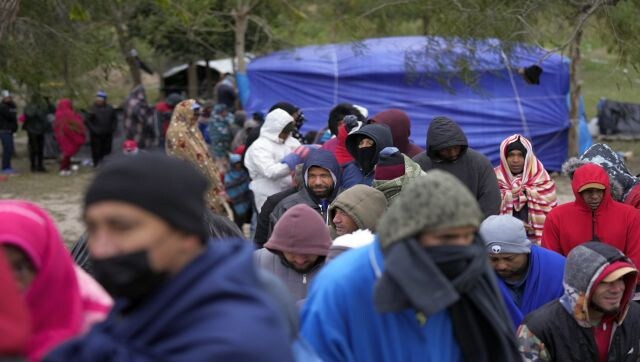 New York: Unhappy with the hospitality of New York, migrants from Mexico are now fleeing to Canada on taxpayer-funded buses.
According to an exclusive report by The New York Post, National Guard soldiers have been distributing free tickets to migrants who want to start afresh in Canada.
The Big Apple has been at the centre of the migrant crisis in US, with many hotels, where the migrants were being housed, complaining about the menace created by them. Last month, the Mayor of New York Eric Adams said that there's "no room" for migrants in the city anymore.
Adams also ordered migrants to move out of the taxpayer-funded hotels and seek shelter at the Brooklyn Cruise Terminal, a move that was rejected by a number of migrants.
Govt-run programmes for migrants
Mayor Adams said that the administration is entitled to pay companies and organisations to facilitate migrants who wish to move from one place to another.
"Some want to go to Canada, some want to go to warmer states, and we are there for them as they continue to move on with their pursuit of this dream," said Adams.
A City Hall source said that many Catholic Charities also help migrants to move from New York.
A spokesperson of the Catholic Charities Community Services said that it has helped "thousands of new migrants" to relocate by covering their travel expenses.
The migrants have been given bus tickets to Plattsburgh, a city in New York, and from there they have to take care of their own expenses to take taxis and shuttles to travel to Quebec in Canada.
'Canada safer than America'
A native of Venezuela Raymond Peña arrived at the Plattsburgh bus station at 4 am on Sunday. He said, "The military gave me and my family free bus tickets. I am going to Canada for a better quality of life for my family."
Another migrant named Manuel Rodon said, "I feel like Canada will be safer. It is a much quieter country than America."
Canada 'surprised' by migrants' arrival
Canada was reportedly not anticipating the arrival of these many migrants into the country.
According to BBC, Quebec Immigration Minister Christine Fréchette said that the latest development has come as a "surprise".
She highlighted that the issue of negotiation to update the Safe Third Country Agreement has become more pressing than ever.
The treaty requires migrants to make an asylum claim in the first country they arrive in, whether it's US or Canada.
Read all the Latest News, Trending News, Cricket News, Bollywood News,
India News and Entertainment News here. Follow us on Facebook, Twitter and Instagram.
World
Britain last week set out details of a new law barring the entry of asylum seekers arriving in small boats, a proposal some charities say could be impractical and criminalise the efforts of thousands of genuine refugees.
Photos
Followers of Donald Trump from all over the US converged in New York City to extend their support to Donald Trump. The former US president is facing a likely indictment over hush money paid to porn star Stormy Daniels
Explainers
The city has spent millions of dollars converting upscale hotels, modest motels, and even office buildings into housing for an influx of migrants who have arrived on buses from the southern border since last spring